Peyton Morse's parents convinced his death was '100% preventable'
David and Stacy Morse voiced their frustrations with the investigations and detailed the culture at the fire academy where their son died
---
Craig Fox
Watertown Daily Times, N.Y.
LAFARGEVILLE, N.Y. — The parents of fallen city firefighter Peyton L.S. Morse are convinced that their son's death was "100% preventable."
Six months after his death, David M. and Stacy L. Morse are still seeking answers about why their 21-year-old son died after having a medical emergency while training at the state Academy of Fire Science, Montour Falls, on March 3. He died nine days later.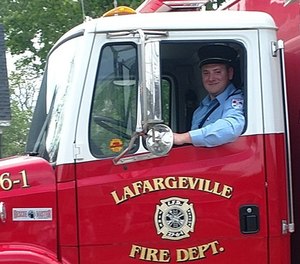 His last words are haunting. "Help me. I can't breathe," he pleaded to instructors before being stricken.
That help came too late.
It's with those words that Mr. and Mrs. Morse haven't given up finding out what happened.
They are demanding justice for their son and that those responsible are "held accountable," Mrs. Morse said.
In a nearly three-hour interview in their LaFargeville home, Mr. and Mrs. Morse talked about their frustrations with the progress of the investigations into their son's death. They expressed anger with how fire academy instructors handled the situation that day, accusing them and the state of stonewalling the investigation.
They stressed that they want to make sure another recruit doesn't go through what Peyton did.
[Read next: Parents of fallen N.Y. FF pleased violent crimes unit is joining investigation into son's death]
The medical emergency happened in his third week at the state fire academy. The week is sometimes called "Hell Week."
In the time he was at the academy, Peyton was the sixth trainee who went to the hospital. Three of the six were taken for dehydration.
In a phone call to his parents during training, he told them how academy instructors belittled and unfairly targeted the only two female recruits in the class, one to the point that she was brought to tears.
He came to her aid, telling the instructor to back off.
"He was one who always did the right thing," Mr. Morse said. "I think he stood up for them."
His parents wonder whether the instructors also targeted him for sticking up for the female recruit, Mr. Morse said.
They maintained that the academy had a reputation of having a culture of harassment, an atmosphere similar to fraternity hazing. Instructors, who are fire officials from fire departments across the state, have been known to yell and scream at recruits.
"They're big men who are little guys," he said.
Several fire chiefs have expressed concern about their recruits being injured while training at the academy in recent years. His parents believe that atmosphere played a role in Peyton's death.
His medical emergency happened while he was using a Self Contained Breathing Apparatus — or SCBA — during training. It's been determined that the breathing apparatus was in proper working order.
His parents insisted that their son had no health issues. He was a healthy young man who was a three-sport athlete in high school and remained involved in intramural sports during his years at Siena College in Loudonville.
Doctors who treated Peyton at a Sayre, Pa., hospital told them he had a healthy heart and lungs and he had no health problems. The autopsy also cleared Peyton of any heart problems, his parents said.
Insisting it was "100% preventable," they believe that something "external" was the cause of his death.
He was so healthy that his organs were donated to three people who are alive today, they said.
The parents said that there were a number of witnesses at the fire academy who saw what happened, including other recruits, academy instructors and fire chiefs from across the state who were there. Several recruits gave statements about what they saw. The parents also have hired a private investigator to find out what happened.
At about 1 p.m., Peyton was inside a 20-foot-long tunnel made of plywood while wearing an air pack and a mask covered with tape when the incident occurred.
He was going through the tunnel that simulates what a firefighter might experience during a fire. Alarms on his breathing apparatus went off before the firefighter was found not breathing.
In an Aug. 25 letter to Lt. Gov. Brian A. Benjamin asking for an independent investigation, Mr. Morse wrote that Peyton "was having trouble breathing, asked for help, and was placed at the back of the evolution box, and the instructor sat on the top."
"He again indicated he was in distress. He asked for help. He said he couldn't breathe. Nothing was done," Mr. Morse wrote.
The breathing apparatus indicated he was low on oxygen and the non-movement alarm went off, according to the letter.
It was only then instructors intervened, but it was too late, he wrote.
Paramedics and an ambulance were not at the scene. Instructors had to leave the building to find an automated external defibrillator, or AED, Mr. Morse said.
That day, Peyton was on his sixth tank of air, way over the safe number for a firefighter, Mr. Morse said.
Between three and five instructors were within a short distance from the tunnel when it happened, according to information gleaned from different sources, his parents said. They waited to do something.
"Help me. I can't breathe," Peyton was heard saying.
When instructors got to him, he was unresponsive, his parents said.
"Any of those instructors could have helped him," Mrs. Morse said.
For the most part, Mr. and Mrs. Morse have been displeased with the progress of a series of investigations.
They did get some good news last week, when Schuyler County District Attorney Joseph G. Fazzary requested and was granted by state police leaders to add a team of investigators to the case. The state police Violent Crimes Unit in Canandaigua, previously called the Major Crimes Unit, will now assist.
"We've been hopeful and we're still hopeful," Mr. Morse said.
They have confidence in Mr. Fazzary and his investigation, they said,
The state police investigation had been headed up by a sole investigator, a member of the state police Horseheads station. His office was located in the state fire academy near the academy's administration offices, Mrs. Morse said.
They believe that state police initially thought that Peyton had a health condition and died of cardiac arrest.
The Bradford County Coroner's Office has determined the cause of death was an anoxic brain injury, or lack of oxygen to the brain, cardiac arrest and consequences of physical exertion while using the breathing apparatus.
But Peyton's parents said the health issues that occurred that day were caused by no one helping him when he said he couldn't breathe, causing the lack of oxygen to his brain and eventually the cardiac arrest.
Once the coroner's office made its determination, the state police investigator might have decided that's all he needed to conclude that there was nothing more to Peyton's death and to decide not to pursue the investigation further, the parents surmised.
They were kept in the dark for six months. Besides the tragedy of losing a son, they were unable to start the grieving process because the investigation was at a standstill.
"We hit a wall and everything was left hanging," Mrs. Morse said.
They also said they're displeased with an investigation by the state Public Employee Safety and Health Bureau and whether it will get at the truth of what happened.
PESH was practically pushed into conducting the investigation, Mr. Morse said, so they are not expecting much from its findings.
They also said that they've been impressed with the professionalism of the representatives from the National Institute for Occupational Safety and Health.
But NIOSH has only a staff of eight that is responsible for investigations throughout the country, Mrs. Morse said. NIOSH also is only looking at how to prevent such an incident from happening again.
Neither PESH nor NIOSH conduct criminal investigations, Mrs. Morse said.
The Morses won't say whether they plan to file a lawsuit. But a Court of Claims notice of intent has been filed, the first step in filing a suit against New York.
They also expressed disappointment with state officials for not responding to numerous letters and emails that expressed their concerns about the lack of accountability for what happened to Peyton that day.
They've also sent letters to Gov. Kathleen C. Hochul, former Gov. Andrew M. Cuomo, Attorney General Letitia A. James and the state inspector general's office asking for an independent, thorough investigation into Peyton's death. None of them have responded or have publicly acknowledged Peyton's death.
Mrs. Morse hopes to meet with Gov. Hochul — both Irish Catholic — to talk as "one mother to another mother."
While nothing can be done to bring Peyton back, his parents said, the state needs to make sure that something like this doesn't happen again.
"This is a bigger issue," Mrs. Morse said.
The way training is done must change and the academy's administration should be removed, they said. Recruits should be taught "adult-based learning," in an environment that allows recruits to learn about firefighting, he said.
While it's been a parent's worst nightmare, Mr. and Mrs. Morse said it was the community who helped them get through some of the darkest days.
In those early spring days, numerous yellow hearts — yellow was their son's favorite color — were put up at LaFargeville Central School and throughout town.
So many people, firefighters, farmers and others, all of whom never met Peyton, lined up on bridges the day Peyton's body was brought back from Sayre, Pa., to say goodbye.
And the community support continues.
Mrs. Morse remembered the man who rang their doorbell a few months after Peyton's death. The day Peyton died, Mr. Morse was at a grocery store shopping when he got the horrible news. He rushed out to his car, dropping some groceries in the parking lot.
Another shopper saw that he was upset about something and came to help him pick up the items. It was that man who showed up at their door. The man was there just to see how the grieving father was doing, Mrs. Morse recalled.
Mr. Morse, a retired state trooper, said he talked his son into not following in his footsteps. Instead, his son decided to pursue a career in firefighting. Before joining the Watertown Fire Department, Peyton belonged to the LaFargeville volunteer department, serving as assistant chief.
"I think it was always in him," his father said.
Peyton, a member of St. John the Evangelist Church in LaFargeville and the Clayton Franciscan Mystery Players, also considered entering the priesthood.
A bagful of cards sent by people told stories about Peyton coming to their aid, offering words of encouragement and how he was there for them when they needed someone.
His mother was surprised by the outpouring of love for their son.
His son was wiser than his age, Mr. Morse said.
"He made me a better father," he said.
Peyton's bedroom windows are decorated with those same yellow hearts that were put up throughout the community last March. His father also put a red light bulb — a red light is a symbol of support of firefighters — in his ceiling fan in the second-floor bedroom.
Otherwise, his parents have left their son's room the way it was before his death. It's too early to do anything but to keep it the same, his mother said.
Photos of Peyton and his older brother, Parker, on happier days, dominate one wall in the family's barroom. They are photos of family vacations to Disney World and other faraway places. The parents packed for the vacations during the night and woke the two boys the next morning to surprise them with the trips, Mrs. Morse remembered.
His son's death has also taken a toll on Mr. Morse's physical health. He ended up in the emergency room in August with health issues. Since March, he's lost 40 pounds.
A friend of the Morses, a parent of a child who died, warned Mr. Morse how difficult it would be. It's a club no parent ever wants to join, the friend told him.
His life would be forever changed.
___
(c)2021 Watertown Daily Times (Watertown, N.Y.)
McClatchy-Tribune News Service