NIOSH: No PPE, safety officer in rope rescue training LODD
Student-instructor ratio, lack of personal protective equipment, no safety officer contributed to Chip Imker's death during skills class
---
A volunteer firefighter in Minnesota died after falling from a climbing rope during a class, according to a NIOSH report.
The ropes skills class had no safety officer and a poor student-to-instructor ratio, and the firefighter, Chip Imker, 35, was not wearing personal protective equipment, all of which contributed to the man's death in May.
Firefighter Imker had been in the Cambridge, Minn., volunteer fire department for one year and five months.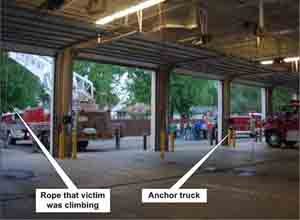 On May 23, the class had ended and students were putting away equipment when Firefighter Imker decided to climb one of two suspended ropes to try to reach the other rope. When the instructor and fire chief saw him, they asked him to stop and get down. Imker lost his grip, investigators say, and fell headfirst six to eight feet to the asphalt.
Although fellow firefighters performed emergency medical aid and he was taken to a local hospital, Firefighter Imker died from blunt force head trauma.
No safety officer was present at the scene, and Firefighter Imker was wearing civilian clothes without any personal protective equipment. These factors in combination with a 19:1 student-to-instructor ratio, according to the report published Oct. 5, contributed to his death.
After this investigation, the department followed the NIOSH suggestion that fire departments ensure a qualified safety officer is present in practical skills training environments.
"A qualified safety officer can prevent students from attempting a skill beyond their level of training," the report said. "... After the drill is over the students might tend to relax their guard just like at a fire incident, and allow the discipline of safety to take a secondary priority in seemingly common activities such as salvage, overhaul and clean-up."
NIOSH also recommends that practical skills training environments meet minimum levels of personal protective equipment. These levels are to be determined by the instructor and enforced by the safety officer.
"If the victim had been wearing a helmet his injuries would likely have been much less severe," the report said.
NIOSH's final recommendation to fire departments with regard to this incident is to keep a 5:1 or better ratio of students to instructors.
This particular training session was supposed to have two instructors from the local technical college, but one was unable to attend. The remaining instructor and the fire chief decided to proceed as scheduled because most of the class focused on classroom and demonstrative skills.
With 19 students and a large drill site, the firefighters were able to spread out and possibly not be supervised at all times.
States should also routinely inspect and keep records of any ropes and equipment used in fire department training, the report said, even though the rope and equipment's performance was not a factor in Imker's death.