Firefighter charity sees several firsts on aid trip
Working with a corporate sponsor, to managing a larger team to, live-fire demonstrations, IFRM broke new ground
---
The International Fire Relief Mission's aid trip to help build the first-ever fire department in Barraterre on the island of Exuma in the Bahamas brought several firsts for the group. Chief among those were the size of its team.
The on-site team can be as few as three or four members. On this trip 11 members brought expertise in everything from establishing community-based rehab to wildland firefighting to engine operations to fire department administration. There were eight other support members.
One such expert came from IFRM's newest corporate partner Lion Apparel to teach about the construction, function and care of firefighter PPE.
IFRM President Ron Gruening says this is a great opportunity for fire service manufacturers who want to help the firefighting community outside the U.S. borders.
"In addition to giving back to the firefighting community in a very real and profound way, they are able to get their foot in the door of expanding markets," he said. "Any corporate sponsor is invited to join us in country to address the firefighters, chief officers and other decision makers who will be driving equipment purchases as those fire services grow."
Inside track
As IFRM's capacity to provide more structured analysis of needs and on-site education grows, so too grows the opportunity for corporate sponsors. With IFRM now advising whole nations on fire service development and improvement, partners can get a seat at the table with purchasing decision makers very early in the process.
An example of this was seen during the IFRM team's last day on its trip when key members participated on an hour-long radio program about their efforts, followed by a two-hour meeting with island government officials.
In that meeting officials discussed their needs, resources and the next steps for the island to further develop not only the fire service in Barraterre, but on the entire island. With Barraterre now a functional fire department, other communities on Exuma are looking to replicate that build out.
As the central fire service in the capital, Nassau, gets more involved with efforts on Exuma, the potential is there that they will seek IFRM assistance on other islands.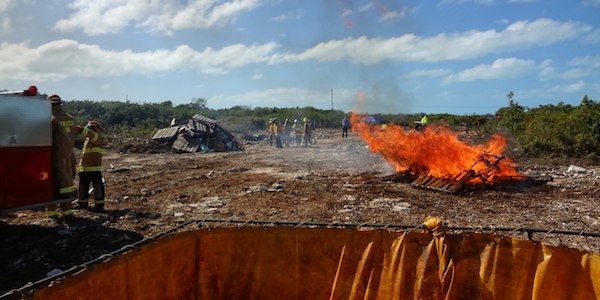 Live action
Another key first for IFRM were the live-burn demonstrations conducted for the new volunteer firefighters. Leading up to the live burns, the recruits were given demonstrations on wildland firefighting, PPE and SCBA use, radio use, incident command system, pump operations and hose deployment.
There were one wildland burn and three simulated structure fires — piles of wood pallets — scheduled. The simulated structures were small, medium and large. The weather that day was sunny and in the mid 80s; it was warm.
Islanders can convey a lethargic attitude to those not used to that way of life; firefighting is no different. The volunteers moved at their own pace to don gear, pull a trash line and attack the small burning pallet, or what was left of it. The hand line attack on the larger pallet when much the same.
Yet when the fire was in the overhaul stage the evolution went from training to emergency.
Man down
Chief Thomas Plunkett heads IFRM's operations and was both commanding and mentoring the Barraterre chief during the evolutions. He noticed one firefighter sitting on the tailboard, talked to him briefly, didn't like the answers and sent him to the rehab tent.
While walking with an IFRM escort, the firefighter passed out, hitting his head on the rocky ground.
That's when island lethargy was replaced with a scene familiar to U.S. responders. In no time, the downed firefighter was stripped of his turnouts, shaded and cooled with water.
We had a plan for if something went wrong. He came to shortly after; had he not, we were already planning the next steps in his care and transport.
On IFRM's first day with the new firefighters through a light drill in PPE. IFRM members took each firefighters' vital signs before an after the exercise. Several firefighters were unable to finish the four-station drill. Four other firefighters had blood pressure readings so high that IFRM recommended they not be allowed to participate in physical activity.
While someone going down on scene was not a first for any of the IFRM team, it was the first glimpse the new volunteers had at a real emergency scene. We can only hope that the real-life training brought a sense of urgency and perhaps brotherhood to these new firefighters.