Rapid response: 3 active shooter, mass killing truths
A gunman's attack at Fort Lauderdale-Hollywood International Airport is a reminder of soft-target vulnerability and to prepare everyone to "stop the bleed"
---
What: A single gunman killed five and wounded eight at the Fort Lauderdale-Hollywood International Airport, earlier today. A series of photos of a bystander assisting a victim with bleeding before receive medical care by EMS confirms the injury pattern we know to expect — hemorrhage.
Why it's significant: The Fort Lauderdale airport mass shooting reaffirms the continuing need for EMS providers, as well as our partners in law enforcement and fire and rescue, to continue preparing for and training to respond to mass shootings.
Top takeaways: As I watched this incident unfold, viewed the initial press conference and read early news reports, I am reminded of three truths about mass shooting preparedness and response.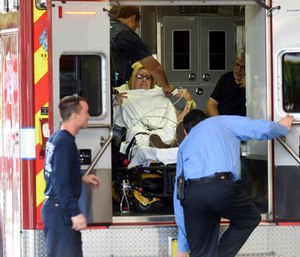 Truth 1: Mass shootings can happen anywhere
Night clubs, schools, churches, businesses, restaurants and movie theaters are among the soft targets recently chosen by lone gunmen for committing horrific killings. Airports are not a new target. In 2013, a gunman killed a TSA agent at LAX. Before, and even moreso since that incident, airports have had a heavy security presence. But that hasn't deterred gunmen from seeking out vulnerable airport visitors and employees. In March 2016, dozens of people were killed at the Brussels airport and metro stations.
Attacks outside of secure screening areas, like those found at every airport and sports stadium, are especially worrisome as there is a funneling and concentration of potential victims entering or leaving the secure area. Many of those areas also have the added complexity of difficult ingress for emergency responders coming from outside the airport or stadium.
Continue to recognize these soft targets, plan to respond to them and partner with local law enforcement to best understand the potential threats.
Truth 2: Stand up, practice and prepare to deploy a rescue task force
An increasing number of jurisdictions have recognized the importance of collaborating with law enforcement to stand up a rescue task force, practice entering and moving through the warm zone and preparing personnel with additional personnel protective equipment. Continue making this a priority in station and all-company level training.
At any mass shooting incident emergency responders have two priorities; stop the killing and stop the dying. After the gunman at the Fort Lauderdale airport was taken into custody, immediate actions included, as needed, hemorrhage control, airway management, assuring adequate ventilation and rapid transit to definitive care.
Truth 3: Everyone needs to know how to "stop the bleed"
Once the threat of additional killing is neutralized, or moved away from victims, everyone has an obligation to stop the dying. EMS personnel, police officers and bystanders play a critical role in stopping the dying by identifying the most severely injured, controlling severe bleeding with commercial or improvised tourniquets, using basic maneuvers to maintain an open airway and moving patients towards casualty collection points.
EMS has unlimited choices to teach injury prevention and emergency response procedures to their community. In my opinion, three of the most important are:
1. Compression only CPR and AED use for victims of cardiac arrest.
2. Move, escape, or attack for active shooter incidents.
3. Stop the bleed for severe, uncontrolled hemorrhage.
We want bystanders to take action, like this Twitter user sharing how his wife was able to give verbal instructions to a victim bleeding somewhere outside the Fort Lauderdale airport. From the photo, it looks like a bystander was assisting with direct pressure. I don't know if the police officer had a tourniquet on his belt for self-care, buddy care or victim care, but it would be great if every police officer in your response area was carrying a tourniquet. 
Fortunately my wife told the woman to raise victim's hand up to slow the bleeding pic.twitter.com/Vh5q0ba4z6

— Maxwill Solutions (@MxWllSolutions) January 6, 2017