Rapid response: Fort Lauderdale shooting response
There are three early takeaways all fire and EMS departments can learn from in this mass-shooting incident
---
At 12:55 local time, Broward County, Florida emergency dispatch received a call that we all dread — an active shooter in a crowded setting.
The scene was the Fort Lauderdale–Hollywood International Airport, where it appears that a lone gunman exited a plane, removed a handgun and ammunition from his checked bag, went to the toilet to load it, returned and began randomly shooting people in the baggage claim area.
One witness said he emptied one magazine, reloaded and fired until that was empty. So far, there are five confirmed dead and at least eight injured.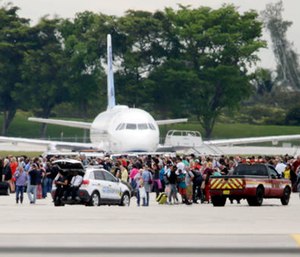 In the coming weeks, we'll learn more about the incident and the fire and EMS response. There are these three early takeaways from the incident's initial reports.
1. Use the podium
Broward County Sheriff Scott Israel did a good job of using his time at the podium during a live update to inform people not to use 911 for this incident to keep the lines clear, but to use it only for other emergencies. The department also used its Twitter feed to instruct people to use its nonemergency number or 311.
This, like many fire chiefs who use on-scene media briefings to push fire safety messages, is a smart communication tactic. Give the information that needs to get out, field the questions that need answering and use the platform for ancillary, yet important information.
2. Plan for wide-area response
EMS and fire responders had to not only deal with the shooting victims, but were presented with several others who were injured trying to evacuate. Medics had to attend to the five who died and at least eight others who were injured.
While the shootings occurred in one area, it is not clear how many of those injured were in that area. Clearly having victims in different locations at a large airport adds to the stress of triaging, reaching and treating the victims.
This incident is a good reminder of the difficulties in getting rigs and medics to patients who may be scattered over large, complex and crowded areas. And that's not something that's easy to train for.
3. Get tactical
It appeared from early images from the scene that the medics were not equipped with body armor. It's also not clear if they went into the scene knowing it was secure or if the possibility of another shooter was in play.
Broward County Department of Fire Rescue, which serves the Fort Lauderdale–Hollywood International Airport, was placed under the control of the Broward County Sheriff's office in 2003. The department has 700 personnel and 23 ALS rigs among its fleet. The department does include a tactical medics team.
We can assume that the tactical medics team was deployed where it was most needed. Having medics and police under the same administrative umbrella likely made for smoother communications and resource deployment.
We don't all have the luxury of tactical medic teams or close working relations with law enforcement. However, given the times we live in, both need to be on the short list of things to acquire and develop.