Boston's Hotel Vendome fire: 9 firefighters killed in collapse
How post-fire risks contributed to the fatal 1972 collapse just minutes after the fire was called under control
---
By Greg Rogers
On June 17, 1972, at 1435 hours, a fire was called in at the Hotel Vendome in Boston. Hours later, it would become the site of the darkest day in Boston Fire Department history.
Though the fire was discovered by construction workers and reported immediately, it's believed that the fire was burning for an unknown period before discovery. The blaze consumed the upper floors and roof before it was called under control in just under three hours. Minutes later, a large portion of the building collapsed, trapping several firefighters.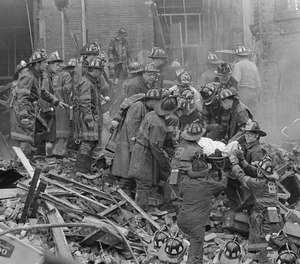 In the end, nine firefighters lost their lives and another eight were injured.
Construction modifications compromised structural integrity
Hotel Vendome was built in 1871 on the corner of Commonwealth Avenue and Dartmouth Street in Boston's Back Bay section. Like many of the buildings of that era, the hotel was of ordinary construction.
Shortly after initial construction, a load-bearing wall on the first floor was removed to allow for an open floor plan. As part of that project, an arrangement of wrought iron I-beams and cast-iron columns were erected to carry the load that was originally supported by the wall. This created a concentrated load on part of a basement wall. Engineers later estimated the load over a one-foot square space on the basement wall to have been 175,000 pounds.
For about 90 years, the building was well known and hosted numerous weddings, parties and other events. Unfortunately, the Vendome would fall from grace in the 1960s; four fires broke out between 1968 and 1969, two of which were greater-alarm fires.
In 1971, A developer purchased the property and intended to renovate it. The initial plans were denied, but the developer appealed the decision and plans were ultimately approved. However, a subsequent investigation by the Massachusetts State Fire Marshal revealed that the Boston Building Department failed to properly review the structural changes and adequately monitor work on the property.
The renovations included significant changes to the building, including modifying the form and function of the first floor. The 100-year-old building would be modified to house shops in an open concourse on the ground floor. The hotel rooms of the upper floors would be converted into apartments, and the building would see a second life as a mixed-use property. A portion of the basement wall that carried the weight of the steel columns and beams from the first floor was removed to allow for the passage of ductwork for an upgraded HVAC system.
Fire operations' role in collapse
For nearly 100 years, the building was dangerously close to the capacity of its support structure, but the events of June 17 pushed that danger over the edge of its limits.
Fire suppression operations delivered between 5,000 and 10,000 gallons of water to the structure, adding 42,000 to 84,000 of live load to an already compromised building. Some of this water was accumulated on floor surfaces, but a substantial volume of water was also absorbed into plaster between floors and ceilings.
Court proceedings regarding the incident included testimony from several engineers and architects. There was little consensus regarding the cause of the collapse except that fire suppression operations was a likely factor. It's notable that the building stood for nearly 90 years after the first major renovation and for an additional eight months after the wall was breached for the ductwork. The fact that the collapse occurred after a fire indicates that the fire or firefighting operations likely contributed to it.
The structural modifications to the first floor and basement wall were also discussed at length by engineers, and most agreed that the removal of the first-floor wall and placement of the iron support structure caused undue stress on the basement wall.
The risk of compromised structures
Type III construction carries specific fire spread and collapse concerns, but the risks of building modifications and shoddy engineering are not limited to older structures. Modern commercial and residential buildings can also be hiding risky elements, and unless we get inside and see what changes have been made, the true risk factor is unknown.
Firefighters operate in compromised structures every day – and not just in larger buildings in old cities. Nearly every community has buildings undergoing construction or renovations at any given time, and these buildings bring increased risks to firefighters. We must contend with rapid fire spread, restricted building access and a variety of unknowns such as changes in layout, increased or unfactored loads, and on-site changes.
Post-fire risk factors
In many cases, the most dangerous conditions exist after the fire has been extinguished. This is due to several factors:
1. Fire damage. We know that heat and flame impingement weaken and rapidly degrade building components. Structural components fail at varying degrees based on their material, age and how well they are constructed.
2. Firefighting operations and tactics. While the fire itself may cause substantial damage, firefighting operations also affect building stability and structural integrity. Ironically, in our efforts to gain control of the fire and to limit spread, we sometimes cause damage that increases risk. This damage may be through forcible entry techniques, suppression, ventilation or overhaul practices. The application of water not only adds weight to a building but can also degrade the structural integrity of certain materials. In the case of the Hotel Vendome, plaster acted as a sponge, adding weight while simultaneously weakening the material.
3. False sense of security. Following a high-risk event, firefighters usually return to a less-vigilant state. As we are advancing hose lines, setting up ladders and conducting searches, we are hypervigilant; we expect something to go wrong at any moment and we are primed to react. But, once a fire is declared under control, we tend to relax. Our vigilance wanes and we breathe a sigh of relief that the fire is out – this is unwise. Firefighters should consider the overhaul period to be an active phase of the firefight. Until the building can be adequately surveyed, a collapse hazard should be assumed.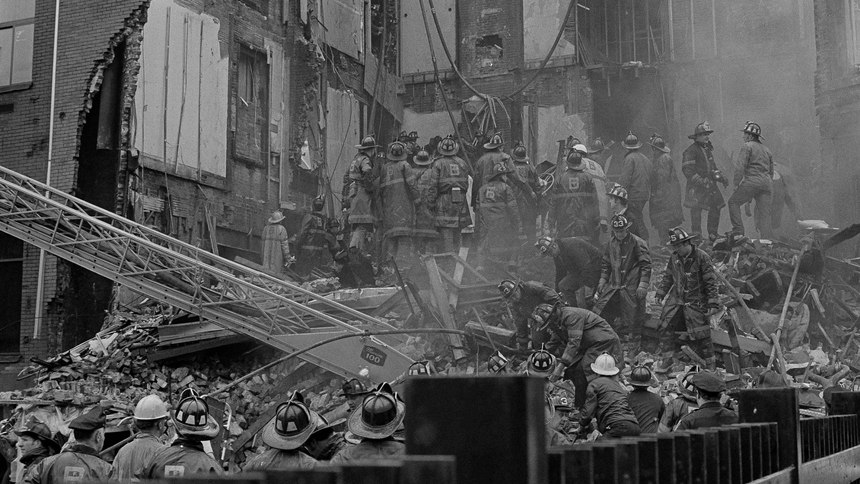 Boston firefighters dig through a mound of rubble following the collapse of the back corner of the historic Hotel Vendome in Boston's Back Bay section, June 17, 1972. (AP Photo/Frank C. Curtin)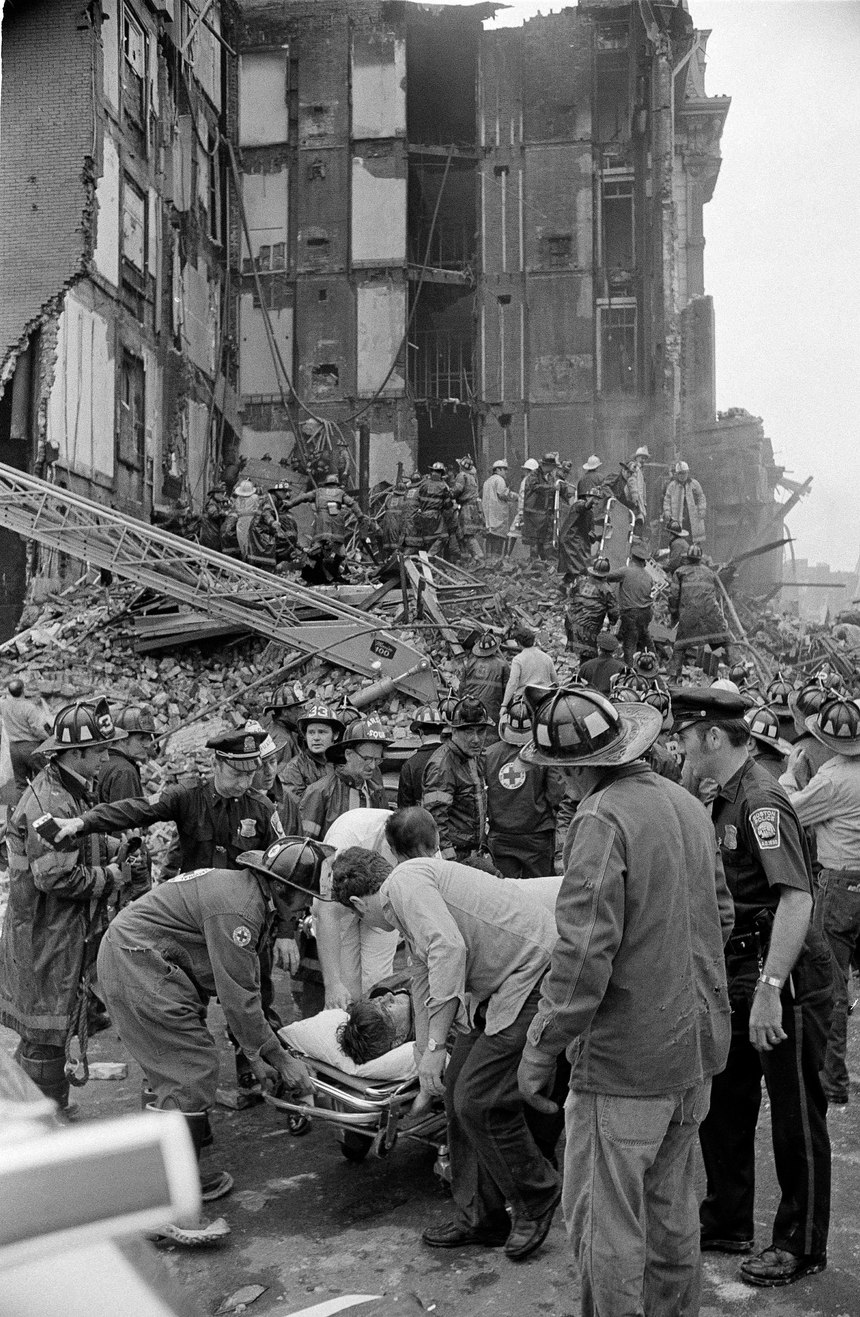 Boston firefighters rush the victim of a hotel wall collapse to an ambulance in foreground while dozens more probe the rubble of the historic Vendome Hotel in background for more victims, June 17, 1972. (AP Photo/Frank C. Curtin)
Boston fire department ladder truck is buried in rubble following collapse of corner of century-old Hotel Vendome in Boston's Back Bay, June 17, 1972. (AP Photo/Frank C. Curtin)



Hotel Vendome: Lessons learned for Boston Fire
Buildings undergoing renovations are inherently more dangerous to firefighters. Even with good construction practices, thorough plans review and strict compliance, it can be difficult for fire departments to stay ahead of the risks posed by limited information, plus frequent changes and developments. _
In many cases, fire department plan reviews are not conducted by line personnel. It's important for line personnel to be aware of changes to buildings where they respond. While the administrative side of building plan review is often and appropriately handled by staff officers, these officers should inform operational crews about changes that may affect their safety.
The modifications of the Hotel Vendome's first floor, combined with the fire suppression activities during the incident, contributed to the building's fatal collapse. Even though the modifications were made between 90 years and eight months before the fire, proper building inspections and fire department familiarization visits may have prevented the devastating loss of life. The chiefs assigned to command that incident may have made different decisions if they had been better informed.
The Boston Fire Department now has a construction safety division that is involved with the permitting and inspection process of construction projects within the city. This helps to reduce risks to both firefighters and the community and helps keep firefighters informed about changes within their districts.
Honoring the fallen and learning from the past
Today, a memorial stands in a park across from the former Hotel Vendome, which is still standing. The building was repaired and now houses luxury apartments.
June 17, however, remains the darkest day in history for the Boston Fire Department. The men who gave their lives that day should never be forgotten:
Lt. Thomas J. Carroll
Lt. John E. Hanbury
Firefighter Charles E. Dolan
Firefighter Joseph P. Saniuk
Firefighter John E. Jameson
Firefighter Thomas W. Beckwith
Firefighter Paul J. Murphy
Firefighter Richard B. Magee
Firefighter Joseph F. Boucher Jr.
Warriors are taught to know their enemies, and as the late Francis Brannigan wrote, "The building is your enemy, know your enemy." Firefighters must work with local building departments, code enforcement officers and contractors to stay abreast of construction processes, beginning with plans review and throughout the construction process. This is where we can identify risks that can be communicated throughout our departments and passed along from one generation of firefighters to the next.
About the author
Greg Rogers is a content developer for Lexipol with over two decades of experience in fire and emergency services. He is a retired battalion chief from the Ridge Road Fire District in Greece, New York, where he developed and implemented programs that improved service delivery and firefighter safety. He is a certified fire instructor with experience in emergency vehicle operations, engine company operations, and building construction. In addition to his fire service experience, Rogers has a background in maritime search and rescue and law enforcement with the U.S. Coast Guard and Coast Guard Reserve. Rogers holds a degree in fire protection and has studied at the National Fire Academy as well as the U.S. Coast Guard Chief Petty Officer Academy.
References
Foster, A. Frank. "Inquest Report on Collapse of Walls and Deaths of Firemen during June 17, 1972, Fire at Hotel Vendome."
Sneider, Joseph G. "The Report of the State Fire Marshal on the Circumstances of the Vendome Fire on June 17, 1972".
"Investigation of Collapse at the Hotel Vendome". Boston Fire Department.
Vahey, John. "Without Warning: A Report on the Hotel Vendome Fire June 17, 1972". Boston Sparks Association, Inc.
"The Hotel Vendome Fire and Collapse." Boston Fire Historical Society.