Change is inevitable: A brief history of the 1980s fire service
Technology, NFPA standards and a visionary leader drove key changes to help extinguish antiquated operations
---
The 1980s began a long and controversial transition for the fire service. Fire service professionals saw important changes in the form of hiring practices, fireground operations, national firefighting standards, and new technology.
But first, long-standing problems had to be faced, ultimately leading to some significant fire service advancements.
Arson and MFAs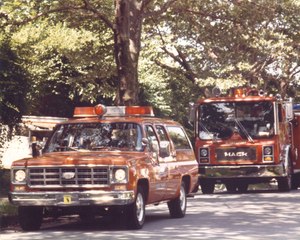 As the decade started, American cities were in decline, mostly due to a struggling economy and rampant crime.
Arson – a significant problem in urban areas – was directly responsible for what became known as the "War Years" in American firefighting. The term was first applied to extreme fire activity seen by FDNY companies in the South Bronx in the early 1970s. Over the years, the term has been used to describe similar urban fire activity in other U.S. cities that occurred into the mid-1980s. These arson incidents were often linked to property tax valuations and arson-for-profit insurance schemes, and used as a weapon by civilian protesters. Some arsonists, not content to just burn buildings, set traps for firefighters.
Arsonists and pranksters commonly used false alarms to distract or annoy firefighters. They might pull the handle on a fire alarm box to misdirect responding fire apparatus away from the fire building. Once firefighters regrouped and made their way to the target, they usually found a building already well-involved in fire.
Street boxes were also attractive to kids who knew that pulling the box brought fire engines. High rates of malicious false alarms (MFAs) were a significant cost to fire departments.
Fortunately, technological advances in telephones and the rising cost of MFAs ultimately led to the removal of street boxes in American cities. Further, greater reliance on land-line telephones drove improvements in public safety dispatch and led to 911 communication centers. Finally, the long-standing arson problem compelled the creation of state and national initiatives to improve arson investigation and prosecution efforts.
Firefighter disputes
Even amid technological advancement, the economic problems of the 70s that spilled over into the 80s fueled tax revolts, which, when successful, led to cuts and furloughs in city services, including fire and police departments.
For a few weeks in early 1980, Chicago firefighters went on strike over a dispute with the mayor regarding a promised contract. Mayor Jane Byrne walked back her campaign pledge to give firefighters a contract. Previous Chicago mayors had favored handshake agreements with firefighters rather than written contracts. But Byrne reneged on her contract promise and instead limited her interaction with the firefighters to a mere discussion about collective bargaining. Fire union members were divided, and the rift in the department's membership lasted for years.
Then in 1982, a taxpayer revolt led Boston to cut public safety jobs. An arson spree followed, carried out by a small group that included a security guards, police officers and firefighters. Several would eventually be arrested and convicted in federal court for their part in setting 163 fires – fires that affected houses, churches, factories, restaurants, a Marine Corps barracks, and the Massachusetts Fire Academy. A total of 281 firefighters were injured in the fires, some with disabling injuries.
Suburbanization, EMS and apparatus
For city-dwellers, crime and arson were motivation to flee to safer suburban communities. But migration to the suburbs raised new challenges. Rapid suburbanization of once rural or urban-fringe areas created a demand for new houses, new schools and new roads. This infrastructure required expansion of electric grids, public water supply, sewage and storm water systems, and, of course, new fire stations.
Creating or expanding regional and county fire departments was an opportunity to build a new fire service. Decision-makers in this process looked for help, and the NFPA supplied the guidance in the form of national standards that seemed to cover every aspect of firefighting and related equipment.
As the decade progressed, the number of fires steadily declined, leading public officials to question the need for idled firefighters. Fire chiefs responded by introducing new services, like EMS. This approach was particularly prevalent in those new suburban departments.
Technological change
The 1980s economic situation also forced a shakeout in fire apparatus builders. American LaFrance abandoned its historic factory in Elmira, New York, for Virginia. A string of ownership changes, loss of market share, and declining sales led to its final demise in 2014.
E-ONE emerged as a major fire truck builder. The company introduced its 110-foot aerial ladder, a CFR-approved ARFF vehicle, a 95-foot platform aerial, and a 135-foot aerial ladder. Its aerial apparatus employed torque box construction that provided rigidity and resistance to twisting on the truck chassis.
American fire departments had traditionally relied on 2½- and 3-inch hose for supply lines, while in Europe, fire departments had long use large-diameter hose (LDH) with quick-connect couplings. The LDH concept slowly made its way into American-style firefighting along with much firehouse debate on the pros and cons of such big hose.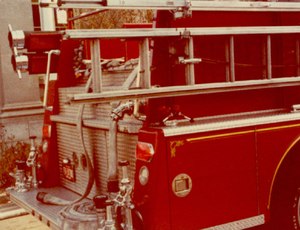 Safety, training and command in focus
In Phoenix, Fire Chief Alan Brunacini envisioned a safer and more customer-friendly fire service. While serving on the NFPA Board of Directors, Brunacini helped shape the modern fire service, particularly around safety and incident command.
NFPA 1500, a standard covering fire service occupational safety and health, was a notable product of his vision. The standard was controversial to say the least. It called for the end of open-cab apparatus and three-quarter-length rubber boots, among many other things – things that simply bugged many firefighters, to put it mildly. This standard gave those with liability on their mind the ammunition to remake the American fire service, attempting to put an end to the "old-school ways" of doing business, especially fireground freelancing.
[Watch: Why don't people understand the dangers of freelancing?]
In 1985, the NFPA published Brunacini's book "Fire Command" in which he promoted a scalable system of fireground decision-making. While the concepts of command and control existed in varying degrees, it was Brunacini who formalized the approach and brought it to departments across the country.
The followers of the two-model command systems (individuals and entire agencies) argued the merits of their preferred systems well into the 90s. It eventually took an act of terrorism against the United States on September 11, 2001, to put an end to the debate. The country adopted a single all-hazard national incident management system (NIMS), using the incident command system (ICS) model for incident command and control.
With NFPA standards more tightly focused on firefighter training, health and safety, the move to objective-based certified training became the norm, as did the position or roles of training and/or safety officer.
Live-fire training procedures changed after a training fire in Michigan claimed the lives of three firefighters. Just as tailboard riding passed into history with NFPA 1500, the use of flammable liquids for "enhancing the experience" of live-fire training in acquired structures was banned by responsible training agencies and fire instructors. If you never personally experienced a live-fire training failure, with injuries, in an acquired structure, fueled by a lack of due respect for gasoline, you can likely thank NFPA 1403: Standard on Live Fire Training Evolutions.
The fire service learns about liability
Risk and hazard mitigation also grew in the 1980s, and "liability" became the watchword. Lawyers exploited the old-school ways still well entrenched in fireground operations and station life. Fire service leaders quickly learned to pay attention to problems of negligence and malfeasance, turning their focus to policies and procedures and an increased focus on safety.
Even as liability concerns grew, as the fire service began adapting to a safety mindset, not everyone was on board. The changes played out differently department to department and varied by jurisdiction. Some embraced change and others resisted, but by the outset of the 1990s, the American fire service began to look and act differently. Firefighters entered the 1980s looking like the past, and in 10 years began to look like the future.
---

Read next
The 'War Years': A brief history of the 1970s fire service
"America Burning" spotlights firefighters, legends propose new tactics, and smoke detectors change the game