Data analysis: Basing fireground decisions on human behavior patterns
Fire-Rescue International speaker Joshua Reichert gives his insight into why firefighters should preplan their strategies based on how people react in fires
---
Eastern Kentucky University University Fire Protection and Paramedicine Sciences Assistant Professor Joshua Reichert will be speaking at the International Association of Fire Chief's Fire-Rescue International conference on the importance of understanding human behavior patterns in fire. If you're interested in attending, you can register here.

By Shelbie Watts, FR1 Editorial Assistant
Fires can be unpredictable, but human reaction doesn't necessarily have to be. Instead of learning what to do (or not to do) after an error is made, why not understand what people's actions will be ahead of time to come up with a better plan?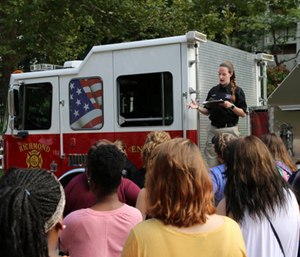 Eastern Kentucky University Fire Protection and Paramedicine Sciences Assistant Professor Joshua Reichert hopes to get that point across in his seminar, "Human Behavior in Fire," at the International Association of Fire Chief's Fire-Rescue International conference in August.
Reichert is a six-year veteran of the Peoria Heights Fire Department in Illinois and got his M.S. from the International Masters of Science in Fire Safety Engineering Program at the University of Edinburgh in Scotland after graduating from EKU with a degree in Fire and Safety Engineering Technology. 
Preparing a strategy, according to Reichert, should include predicting what those involved in the fire scene will do based on an understanding of how they will behave when evacuating. 
Variables considered in fire evacuation plans
One of the biggest factors to consider when creating a search and rescue, and fire attack plan is to consider how the people inside are reacting in the moments after the fire is discovered.
"Probably the most important information for me to relay is focused around what people do in the time people are notified of a fire until they decide it's time to get out of there," Reichert said.
That fire response behavior pattern is based on characteristic aspects:
Age.
Gender.
Experience with fire.
Cultural background.
Where the fire is located.
Your location relative to the fire "determines your sense of whether you're going to investigate the fire or if it's not your responsibility and it's time to go," Reichert said. "If someone is in their house and they hear a smoke detector, they're more likely to say 'that's not normal, I need to protect my domain and see what's going on,' but if you're at work, you're like 'alright, see ya, we're out of here.'"
If firefighters are aware of these variables before they arrive at the scene, they have a better chance at figuring out a person's evacuation tactics and where people might be.
Preplanning fire escape routes
According to Reichert, a lack of human behavior awareness in the fire service is caused by what is described in psychology as "hindsight bias."
"Hindsight bias is where we see a lot of things, and it makes so much sense to us that we just say 'yeah we knew that all along,'" Reichert said.
Reichert hopes that understanding the behavior patterns of fire victims ahead of time instead of learning from past issues will prevent barriers, such as blocking an evacuation point.
"[Firefighters] may come up to a commercial building and try to push through the front door and everybody's trying to come out of that door, and afterwards, when you start reviewing, you say, 'maybe everybody is going to be using the front door because that's the exit that they're the most familiar with, that makes a lot of sense.' If they're told ahead of time, I'm hoping we can start preventing that and we can help on the preplanning side of the fire."
Analyzing data to protect the community in future blazes
A key element to utilizing human behavior knowledge and even investigating fires relies on collecting as much data about what happened on a fire scene as possible, including:
What do firefighters see from the moment they arrive on the fireground, to the moment they pull away?
What are the people inside doing?
Where are the people at?
If there is a fatality:
Where were they found?
What were they doing?
What time of day was it?
"All of this information helps us collect a solid database that we can later turn around and relay to the fire service," Reichert explained.
Remembering to record that type of data in an effort to better help the community in future blazes is one of the biggest takeaways Reichert hopes his audience will gain in his presentation.