FRI 2022 Quick Take: With America 'still burning,' U.S. fire administrator lays out a plan
Speaking to a room of chief and company officers, Dr. Moore-Merrell outlined a plan to track suicides, attack wildfires and refocus data-gathering
---
SAN ANTONIO, Texas — Addressing one of the larger gatherings of fire professionals since the onset of the COVID-19 pandemic, U.S. Fire Administrator Dr. Lori Moore-Merrell outlined the steps the USFA are taking in coordination with other federal agencies to address pressing issues facing the fire service.
In her keynote speech at the IAFC's Fire-Rescue International, Dr. Moore-Merrell differentiated wildland fires from wildfires and how that distinction makes a difference in funding. She also emphasized the need to adequately define and track firefighter suicides – an action not currently happening in a formal way in the fire service. And noting that any of her speeches wouldn't be complete without a discussion of data, Dr. Moore-Merrell described plans to better capture meaningful data relevant to fire departments.
Read the top takeaways from her speech and let us know your thoughts in the comments.
Top quotes from Dr. Lori Moore-Merrell
We still have a fire problem in America. America is still burning. Many times over the years, we've said, 'Our fire problem is down, fires are down.' Because that's what our data said. Fires are not down, and our data are wrong."
Notice I haven't said anything about wildland, and I did that on purpose. I need you to be talking about the wildfire problem. If we keep saying the wildland fire problem, do you know what happens every time we say that? The [Department of the Interior] and [the Department of Agriculture] get more money. We've got to make sure our decision makers know the difference."
Trees have been burning for hundreds of years. Our problem is when we begin to clear those trees and build homes in that geography. It wasn't the trees that were burning, it was the geography and location. And to think the homes we build in that location are not going to burn, we're kidding ourselves."
We should never be talking about suicide without talking about behavioral health; we don't talk about 'post-', without talking about 'pre-.'"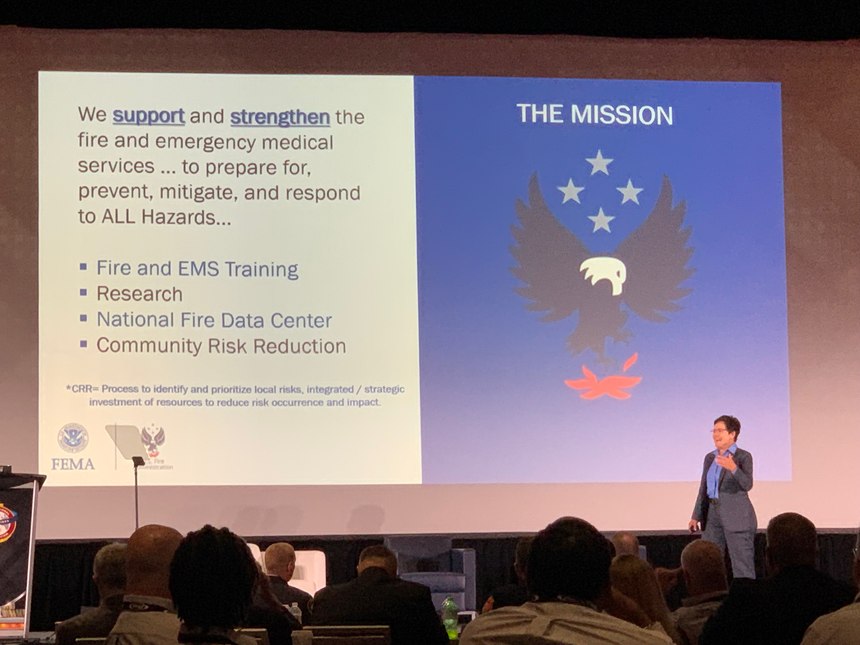 Top takeaways
1. Addressing the wildfire problem: In her remarks, Dr. Moore-Merrell emphasized the impact of wildfires in suburban and urban areas and the necessity of training crews to respond. According to the NFPA, 88% of structural fire departments in the U.S. respond to interface fires, but only 40% have the training in interface multiple structure strategy and tactics.
"Yes, we can cross train into wildland, but are we training our suburban and urban firefighters for the WUI? Are we training for that wildland-urban interface?" she asked FRI attendees. "Some of you are, but most of you are not, and it is now a nationwide problem."
Words matter: Pivot from "wildland fire" to "wildland interface."
Train all firefighters in wildland-urban interface.
Fire tactics change when it's one house on fire on a street versus six houses on fire. 
Fund departments: Fire Management Assistant Grants (FMAG) grants; Building Resilient Infrastructure and Communities (BRIC) grants, if fire departments have expanded to cover what was once forested areas
Department leadership should connect with local FEMA administrators for coordination on wildfire planning, prevention and mitigation efforts. 
New Wildland Fire Mitigation and Management Commission was created as part of the 2021 Bipartisan Infrastructure Law in December 2021, and is tasked with forming federal policy recommendations and strategies related to wildfires.
2. Recalibrate data points: With her extensive background in fire service data analysis, Dr. Moore-Merrell is looking to expand the use of informational data sets within the USFA as well. As part of that, the USFA is:
Looking to create a system that will accurately track firefighter suicides.
Planning to reauthorize and push to make live the National Firefighter Cancer Registry website and encourage its use by departments.
Streamlining fire service data into a cloud-based system to reduce human error when inputting information.
3. Unify the fire service voice through collaboration and discussion: As part of the 1974 legislation that created the USFA, the agency was given the authority to hold an annual conference to facilitate progress in the fire service. This year, the agency will hold the first U.S. Fire Administration Summit, a roundtable discussion, at the National Emergency Training Center in Emmitsburg, Maryland, and online.
More information about the summit to follow.
Follow FireRescue1's ongoing coverage of Fire-Rescue International at our FRI 2022 resource page.
Watch Dr. Moore-Merrell's presentation by clicking on the YouTube link below: