The ugly truth about firefighting the public doesn't understand
They will never feel the profound sadness that we do as a result of seeing too much
---
By Michael Morse
We know what we see is real. We know how it feels. We live with the memories, and know that more will come.
We are tuned in to every aspect of the firefighting life. We know when a brother or sister is lost, and we mourn in our own way, no matter how far away the incident was that took them from us. We don't have to know the name of the deceased, or their story, because we are the people who make the ultimate sacrifice. Inside every one of us lives a small part of the rest, and we feel the loss more profoundly than people could imagine.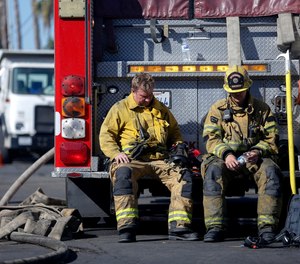 The truth is, this is not the easy life that the general public wants to think it is. This is far more than shopping for lunch, parades, Dalmatians and Fire Prevention Week. This is life, and loss and tragedy. This is insomnia, and injury and depression. None of us gets through it unscathed. None of us expect to. Some of us will not get out alive, and we know all too well that someone could be us.
So we protect the public from whatever misfortune comes their way, and put out their fires, and tend their wounded, and keep them as safe as we can. We pull the dead from the car wrecks, and cover the bodies at fire scenes so the news cameras won't bring the horror into the nation's living rooms. We protect our people from more than just the physical; we keep them from knowing the truth.
The truth is ugly and devastating. People will tell us that they can imagine how horrific it was for us, but they will never, in a million years, really imagine the depth of that horror.