IAFF president accused of financial misconduct
Union officials say Harold Schaitberger improperly withdrew from pension coffers, failed to pay taxes and used union funds for personal expenses
---
Chris Sommerfeldt
New York Daily News
WASHINGTON — The longtime boss of the country's largest firefighter union is facing heat over a string of serious financial misconduct accusations, making his close ties to Joe Biden a point of contention.
Harold Schaitberger, the powerful president of the International Association of Fire Fighters, has been accused by his own treasurer of taking out $1 million from union pension coffers despite still working there.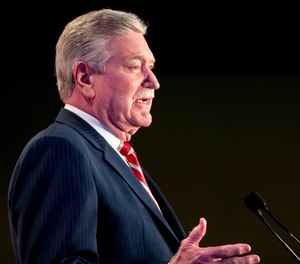 The treasurer, Edward Kelly, also alleges Schaitberger has failed to pay taxes on millions of dollars in income over the past two decades, in addition to apparently using union funds to cover personal expenses.
Kelly laid out the allegations in a recent memo, in which he wrote that Schaitberger's actions likely warrant "a federal government investigation."
The union, which has more than 300,000 members, including many FDNY firefighters, declined to comment Thursday beyond saying that it's conducting an "internal" review of Kelly's allegations.
The damning claims could be concerning to Biden, whose presidential campaign has welcomed Schaitberger as a speaker on the stump several times.
Schaitberger was also one of the only prominent organized labor leaders to endorse Biden early on in the race, as most others threw their support behind Bernie Sanders or Elizabeth Warren.
"Joe Biden continues to be the strongest and most influential voice for hard-working Americans like firefighters and their families, just as he has been throughout his entire career," Schaitberger said in a statement announcing his endorsement in April last year.
Schaitberger's ties to Biden extend beyond the endorsement.
The union boss has been advising Biden on a range of critical issues during the campaign, including potential vice presidential picks, according to New York Magazine.
The Wall Street Journal, meanwhile, reported Thursday that thousands of dollars worth of bar tabs, steak dinners and music downloads are among the personal expenses that Schaitberger allegedly used union funds to cover.
A spokesman for the Biden campaign declined to comment on Thursday.
———
©2020 New York Daily News
McClatchy-Tribune News Service