Firefighters rescue man who 'cemented' his head in microwave
It took an hour for firefighters to free the man's head from the microwave after he purposely put it there for a YouTube prank
---
By FireRescue1 Staff
BIRMINGHAM, England — Firefighters who had to rescue a man who "cemented" his own head inside a microwave said they are "seriously unimpressed."
TIME reported that YouTube personality Jay Swingler was filming a stunt as part of his channel's "extreme Christmas calendar" series, which consists of Swingler and his friends challenging each other to do things for the month of December.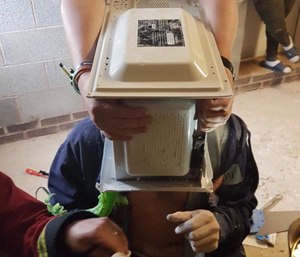 After mixing quick-dry spackling paste and pouring it around his head, which was wrapped in a plastic bag and placed inside the microwave, Swingler became trapped. His friends tried to free him for an hour and a half but eventually had to call for help.
Firefighters managed to free Swingler's head after an hour.
"As funny as this sounds, this young man could quite easily have suffocated or have been seriously injured," Watch Commander Shaun Dakin said. "Taking the microwave apart was tricky, because a lot of it was welded. We video-called our technical rescue colleagues for advice and eventually managed to get him unstuck."
We're seriously unimpressed ?.
Five of our firefighters were tied up for an hour this afternoon, freeing a YouTube pranker whose head had been 'cemented' inside a microwave oven. Read more: https://t.co/6bZReGuKQX (Photos © West Midlands Fire Service) pic.twitter.com/2ch2UhszeH

— West Midlands Fire (@WestMidsFire) December 7, 2017
"He was very relieved when we removed a large chunk of the Polyfilla with a screwdriver, allowing him to breathe more easily," Dakin added. "But we had to be extremely careful with the screwdriver, working so closely to his head. It took us nearly an hour to free him. All of the group involved were very apologetic, but this was clearly a call-out which might have prevented us from helping someone else in genuine, accidental need."
Swingler still managed to get a video out of the incident, which he posted to his YouTube channel, TGFbro.