Calif. state FFs take 7.5% pay cut in deal with governor's administration
The firefighters' union negotiated the cuts down from 9.23% as the state seeks to fill a $54 billion budget deficit
---
Wes Venteicher
The Sacramento Bee
SACRAMENTO, Calif. — California state firefighters are taking a 7.5% pay cut in exchange for two flexible days off every month under a one-year agreement with Gov. Gavin Newsom's administration.
Most state unions negotiated variations on core terms of a 9.23% pay cut in exchange for two days of flexible time off per month under cost-saving deals with Newsom. Newsom mandated the reductions to help close a projected $54 billion budget deficit.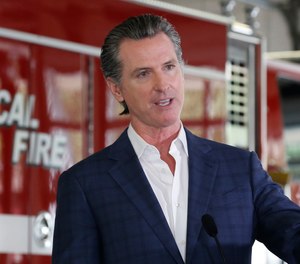 Several of the agreements reach the number partly by suspending various types of special pay, such as night differentials and holiday pay, to minimize the monthly impact to all workers' paychecks.
State firefighters don't have as many of those special types of pay as other groups of workers, so their union asked the state to cut their pay by less than 9.23%, said Tim Edwards, president of Cal Fire Local 2881.
"They had to come off of us a little bit to make it equal," Edwards said.
The firefighters' agreement, like others, suspends the contributions they normally make to their retirement health care. For firefighters, the suspension amounts to 4.4% — among the highest percentages among state worker groups.
Firefighters' take-home pay is going down by 3.1%, Edwards said.
That compares to a cut to take-home pay of 6.93% for SEIU Local 1000, 7.23% for state engineers and .62% for correctional officers, whose agreement suspends holiday pay for most state holidays and suspends several pay differentials.
All of the state's unions except one, a group of fewer than 1,000 HVAC workers, reached pay cut agreements with Newsom's administration by a July 1 deadline. The pay reductions go into effect with this month's paychecks and the leave days became available July 1.
The state's overall budget savings for each unit of workers varies by just a few tenths of a percentage point, and for all is about 9%, CalHR spokesman Andrew LaMar said.
Firefighters will receive 16 hours of leave per month through the state's personal leave program, the same amount as most other state workers. Edwards said that doesn't translate to two days per month off for firefighters, who work under shift arrangements that generally include days longer than eight hours.
The firefighters reached a one-year agreement, rather than the more common two-year deal, partly because under the state's minimum wage laws, entry-level firefighters would make less than the minimum wage starting in January 2022, when the minimum will reach $14 per hour, Edwards said.
Former Gov. Arnold Schwarzenegger spared firefighters when he furloughed state workers during the Great Recession, partly because furloughing them was found to increase overtime.
Newsom insisted on across-the-board cuts, and said he would include himself and his own staff.
———
©2020 The Sacramento Bee (Sacramento, Calif.)
McClatchy-Tribune News Service