Wash. city avoiding overtime, considering pay cuts amid pandemic
The city received backlash after a fire engine was temporarily taken out of service and a 10% wage cut for all city employee was discussed
---
By Laura French
TUKWILA, Wash. — A city in Washington is not filling overtime needs and is reportedly considering a wage cut of up to 10% for all city employees amidst the COVID-19 pandemic, firefighters say.
Tukwila Firefighters IAFF Local 2088 said in a Facebook post Monday that one of the department's fire engines was temporarily taken out of service, replaced with an aid vehicle and staffed with two firefighters instead of three.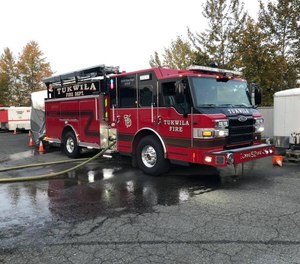 "The City of Tukwila and the Fire Chief have chosen to reduce staffing today and the impact will be felt by the residents of Tukwila," the union posted. "During the peak of this pandemic is not the time to reduce staffing."
The union said in a Facebook comment that the cut had been made to avoid overtime expenditures, and Lois Keller, whose husband is a Tukwila firefighter, told FireRescue1 the city avoided using overtime to fill in for a firefighter who called out sick.
The union said in an update Tuesday morning that the engine was back in service with its usual three firefighters.
The city is seeking to mitigate the impact of revenue losses projected to reach $6 million over the next few months, according to KING5.
IAFF 7th District Vice President Ricky Walsh told KING5 a 10% pay cut for all city employees had been discussed, which he said was "a terrible decision by the city officials."
Keller told FireRescue1 that the prospect of a wage cut during the pandemic was "shocking to say the least, and terrible for the first responders' morale."
"The Tukwila firefighters' and police officers' job duties have not changed, they aren't working less, they aren't less effective, but quite the opposite," Keller wrote in an email. "They have been asked to do more. Their job just got more challenging and riskier."
Tukwila Deputy City Administrator told KING5 that the city has not made any decisions yet about cutting pay.