3 Dallas FFs file $100M lawsuit over injuries from gas explosion
The suit against the apartment complex, its management companies and Atmos Energy claims negligence led to the explosion
---
Domingo Ramirez Jr.
Fort Worth Star-Telegram
FORT WORTH — A $100 million lawsuit has been filed in Dallas County on behalf of three Dallas firefighters who were severely injured last year during an apartment complex gas explosion.
The lawsuit was filed against the Dallas apartment complex, its management companies and Atmos Energy, claiming negligence led to the explosion on Sept. 29, 2021.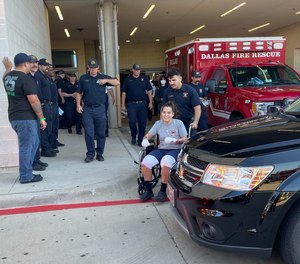 Severely injured in the explosion were Dallas fire Capt. Christopher Gadomski, Engineer Ronald Hall and Firefighter Pauline Perez, who suffered burns and other significant injuries.
The firefighters are seeking $1 million for medical expenses, lost wages and permanent injuries, and they are asking for a $100 million judgment against all the defendants for their gross negligence, according to the suit.
The lawsuit identified the defendants as Highland Hills Apartments, Odin Properties and Management, Mountain Creek Apts. and Atmos Energy.
Officials from those companies could not be reached for comment on the lawsuit.
During a domestic dispute, a suspected gunman opened fire on an apartment building, and a bullet from that shooting causing a gas leak hours before the explosion, according to the suit. The suspect was later arrested and charged.
A Dallas County grand jury indicted Phillip Dankins on a charge of aggravated assault with a deadly weapon in the case.
The lawsuit claims the bullet did not cause the explosion as the Texas Railroad Commission determined that Odin Properties and Mountain Creek Apts. operated an unregistered natural gas master meter that failed to meet minimum federal and state standards.
The lawsuit makes these claims:
Failing to draft and implement policies to ensure safe operation of Odin's natural gas system, including timely leak detection.
Failing to conduct a hazard analysis, including an analysis of the known risk of gun violence on the property and a resulting leak.
Failing to secure the Highland Hills complex to minimize the risk of trespassers and gun violence to people and property.
Failing to implement an emergency plan in the event of a leak, valve shut off procedures, and evacuation of buildings if an ultra-hazardous condition existed.
Failing to employ qualified persons to address leaks within Odin's system with knowledge of valve locations and emergency procedures.
Failing to adequately inspect the natural gas system, conduct leak surveys, and perform preventative maintenance.
Failing to install overpressure equipment or excess flow valves to minimize active leaks and cut off gas supply automatically.
"This pattern of unsafe, hazardous practices must stop," said Brant J. Stogner, lead attorney for the three injured firefighters, in a news release. He is with the law firm Abraham, Watkins, Nichols, Agosto, Aziz & Stogner in Houston. " "The lives of three firefighters — public servants — were forever changed by this explosion. As a result of years of ignoring safety, ignoring crime, and failing to comply with the minimum state and federal requirements, the Highland Hills Apartment complex and its gas system became a ticking time bomb waiting to explode."
The firefighters responded to what initially was believed to be a carbon monoxide leak at Highland Hills Apartments.
Apartment employees used a drill, not a master key, to open the front door to get into the apartment where firefighters discovered a severed gas line, according to the suit. The gas supply had not been shut off, and the building had not been evacuated.
Perez entered the apartment while Gadomski and Hall were just outside of the apartment with management attempting to locate the main service line.
Without warning, a massive gas explosion occurred, causing severe burns and injuries to the firefighters.
___
(c)2022 the Fort Worth Star-Telegram
McClatchy-Tribune News Service