Bill honoring fallen Md. firefighter signed into law
The bill, which is named for Frederick County Battalion Chief Joshua Laird, is meant to prevent pipes from failing after a lightning strike
---
Jack Hogan
The Frederick News-Post, Md.
FREDERICK COUNTY, Md. — A bill named for Joshua Laird — a Frederick County Department of Fire and Rescue Services battalion chief who died in August battling a two-alarm fire — was one of more than 100 that Gov. Larry Hogan signed into law Thursday.
The new measure is meant to prevent pipes from failing after a lightning strike, which is what ignited the fire Laird was fighting when he died.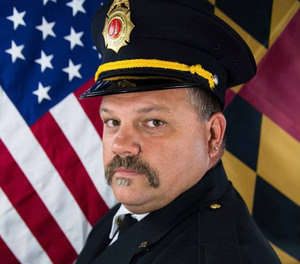 Sara Laird, the wife of the late firefighter, attended the signing at the State House in Annapolis with her daughters and Frederick County Fire Chief Tom Coe, among others.
"It means a lot to me and my daughters," she said, adding that she hopes the legislation will prevent similar deaths and property loss.
The bill, HB1052, is also named for Howard County Department of Fire and Rescue Services Lt. Nathan Flynn, who died in 2018 from injuries he sustained after responding to a seven-alarm house fire, according to the Howard County Times.
Lightning also caused the fire that Flynn was battling.
The Flynn and Laird Act will require a certain type of pipe and tubing in gas piping systems — arc-resistant and jacketed, if corrugated stainless steel tubing (CSST) is used for natural gas and propane pipes — in new residential or commercial buildings, or when replacing lines in these structures, to prevent lightning strikes from igniting fires.
"The ensuing gas-fed fires caused millions of dollars in property loss, but moreover, those fires have cost lives," Coe said during a bill hearing in March.
The purpose of the bill was to prevent more first responders from being killed, bill sponsor Del. Marvin Holmes Jr., D- Prince George's, said during the hearing.
On Thursday, Hogan also signed into law a bill from Del. Karen Lewis Young, D-District 3A, to establish a $5.5 million trust fund for designating and maintaining 9-8-8 as the universal phone number for a national suicide prevention and mental health crisis hotline.
The governor has signed more than 180 bills into law since the General Assembly concluded its session April 11. Of those, three have been from Frederick County lawmakers, including Lewis Young's bill, HB293, to create a 9-8-8 Trust Fund. The other two are from her husband, Sen. Ron Young, D-Frederick.
On April 12, Hogan signed SB299, Brynleigh's Act, which will require that all Maryland public schools have at least two staffers trained in seizure recognition and response beginning in the 2023-2024 school year. Del. Ken Kerr, D-District 3B, sponsored the bill in the House of Delegates.
Hogan also signed SB50, which exempts Peace Corps members who grew up in Maryland from paying out-of-state tuition at public colleges and universities.
Bills the governor does not take action on, whether by signing into law or vetoing, will take effect on a predetermined date. The website for the governor's office lists two more tentative days for bills signings — May 12 and 16.
---
More about Battalion Chief Joshua Laird
---
Below are some of the other bills sponsored by lawmakers from Frederick County's eight-member delegation that passed in the legislature this session.
SB648The Senator Ronald Young Alcoholic Beverages Act of 2022 makes several changes to requirements that Frederick County businesses must follow to acquire or retain a license to sell alcohol, such as repealing the requirement of having one certified crowd control manager on a licensed property for every 250 people present while alcohol is being sold.
The bill would expand the renewal period for an annual license. The time period is currently March 2 to April 1. The new period is Jan. 1 and April 15
An amendment in the final days of the session from the Economic Matters Committee named the bill for Young, who sponsored it, as a tribute to him in his final session before retiring.
Sen. Michael Hough, R-Frederick and Carroll counties, was also a sponsor, but the committee's amendment removed his name from the bill in a move that he said was petty.
"It doesn't matter," Hough said. "It's immaterial."
But the senator took issue with the committee's decision to change a local bill.
"This is serious stuff," he said. "These alcohol bills are important to running our county."
SB838The state Department of Transportation would spend $4 million in the fiscal year beginning in summer 2023, and at least an additional $4 million each year thereafter, to help counties provide elderly and handicapped transportation services, under a bill that Young sponsored in the Senate and Lewis Young spearheaded in the House of Delegates.
Frederick County could see $3,700 more annually in state funding for the service, known in Frederick County as TransIT-plus, and the amount would grow each year. After an additional $3,700 in 2024, the county would receive $7,500 the following year and more than $11,000 the next.
Tens of thousands of elderly and handicapped residents rely on the service for door-to-door transportation, mostly to dialysis or other health-related appointments. While Frederick County has doubled its TransIT-plus funding in the last five years to keep up with rising demand, contributions from the Department of Transportation have remained stagnant.
SB952Sens. Young and Hough sponsored a bill to change the process by which vacancies are filled on the Frederick County Board of Education. Current law calls for the county executive to appoint a replacement who would serve the remainder of a term in the event of a vacancy. Under the senators' bill, vacancies on the board will be included on ballots in the nearest election and an appointee of the county executive will fill the open seat in the time preceding the election.
SB649The two senators, along with Kerr in the House of Delegates, sponsored a bill to direct to Heritage Frederick a portion of fees from marriage ceremonies performed by the county's Circuit Court clerk. The heritage society, which keeps some marriage records, will get $15 of each $25 ceremony fee.
SB146Parking a nonelectric vehicle in a space reserved for electric vehicles would carry a civil fine of $100, under a bill from Young.
HB229Pharmacists would be permitted to administer injectable medications for treatment of sexually transmitted infections after a bill from Lewis Young is enacted into law.
HB374The Maryland School for the Deaf staff and personnel would be placed in a collective bargaining unit, the latest in a series of bills from members of the county's delegation over the last few years to increase protection for those employed at the School for the Deaf, said Kerr, who sponsored the bill with Del. Carol Krimm, D-District 3A.
SJ11Hough spearheaded a resolution stating that Maryland "stands in solidarity with the government and people of Ukraine as they resist the unprovoked invasion of their territory by the Russian Federation."
___
(c)2022 The Frederick News-Post (Frederick, Md.)
McClatchy-Tribune News Service