Ohio senator introduces bill to reimburse first responders for train derailment costs
A fund created by the measure would give first responders financial resources to replace equipment, pay workers overtime and address other urgent costs
---
By Sabrina Eaton
cleveland.com
WASHINGTON, D. C. — U.S. Sen. Sherrod Brown of Ohio on Thursday joined with both of Pennsylvania's U.S. Senators to introduce legislation that would create a new fund, paid for by companies that ship and carry materials via railroad, that would be used to reimburse local first responders for expenses they accrue when train derailments occur.
It was spurred by the experiences of the Pennsylvania and Ohio first responders who responded to the Feb. 3 Norfolk Southern derailment in East Palestine, Ohio, that spilled toxic chemicals such as vinyl chloride, butyl acrylate, ethylhexyl acrylate, and ethylene glycol monobutyl ether.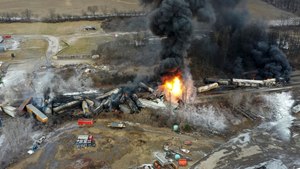 Federal and state officials, fearing the vinyl chloride tanks would explode, set them afire, creating a massive plume of thick black smoke. Other chemicals seeped into local streams, killing fish and traveling down into the Ohio River.
The fund created by the "Assistance for Local Heroes During Train Crises Act" would give emergency responders, firefighters, and law enforcement the financial resources needed to replace equipment, pay workers overtime, and address other urgent costs as well as compel railroads to notify local officials and emergency response groups when hazardous materials are moving through their communities.
"Ohio communities should not have to foot the bill for corporate negligence and greed," said a statement from Brown, a Cleveland Democrat, adding that those communities often aren't warned that hazardous materials are passing through and lack resources and training to respond to derailments.
Brown and his Democratic Pennsylvania colleagues joined with Republican U.S. Sen. JD Vance of Cincinnati on a separate rail safety bill that would require well-trained, two-person crews aboard every train, substantially increase maximum fines the U.S. Department of Transportation can issue for safety violations, and expand HAZMAT training grants for local first responders by increasing fees assessed to railroads.
The bipartisan "Railway Safety Act of 2023″ would also create new safety requirements and procedures for trains carrying hazardous materials like the vinyl chloride released in East Palestine, such as requiring rail carriers to provide advance notification and information to state emergency response officials about what they are transporting, setting rules for train size and weight and imposing requirements to prevent blocked rail crossings.
In a Wednesday interview, Brown predicted the bipartisan bill will pass the U.S. Senate with votes from all its Democrats and at least a dozen Republicans, but said he and Vance are "not moving really fast" as Ohioans in the House of Representatives, including Marietta's Bill Johnson and Akron's Emilia Sykes, draft their counterpart to the bill. He said he anticipates a markup "fairly soon" in the Senate Commerce Committee.
"What we've learned the hard way is that when you have a toxic, a terrible train crash like we've had in East Palestine, the costs are socialized," Vance told FoxNews on Wednesday. "A lot of the costs of cleaning this thing up are going to be borne by taxpayers. Well, if taxpayers are going to have to bear the cost, trains have to crash less frequently and I think that's something our legislation helps with."
The state of Ohio filed a lawsuit against Norfolk Southern on Tuesday, alleging that it violated numerous state and federal laws, including Ohio's solid waste, air pollution, water pollution, and hazardous waste laws.
It seeks a declaratory judgement that Norfolk Southern is responsible for covering costs and damages for the emergency response to the derailment, and asks Norfolk Southern to pay for the damage done to the local environment, property and finances of area residents, as well as civil penalties and court costs.
©2023 Advance Local Media LLC.
Visit cleveland.com.
Distributed by Tribune Content Agency, LLC.
McClatchy-Tribune News Service