No greater love: Honoring the sacrifice of Firefighter Jared Lloyd
Tragedy can help remind us of our ultimate mission and our ability to serve as unifiers
---
There is a Bible verse that most of us have heard: "Greater love hath no man than this, that a man lay down his life for his friends" (John 15:13).
This verse is often invoked in the context of self-sacrifice, and the verse seems quite appropriate in the case of the line-of-duty death (LODD) of Firefighter Jared Lloyd.
After listening to part of the communications released from that fateful night, we know that the fire department was dispatched to an assisted-living facility, a three-story wood-frame structure, just past midnight for "smoke in the building." As the fire progressed and the residents were being evacuated, the communications center received a call from a person trapped in Room 306.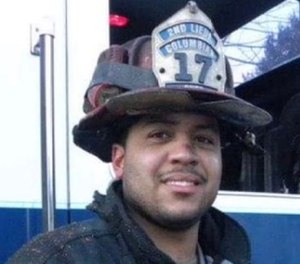 It appears that the call center representative stayed on the line with the resident as firefighters, including Jared Lloyd, fought their way to the Room 306. Several times, the dispatcher indicates that the resident is still on the line and in need of rescue.
As the fire advances, the communications center indicates that they've lost contact with the resident. About the same time, a mayday is reported and the communications center notifies Command that the mayday is coming from Room 306 – it's Firefighter Lloyd.
As we now know, Firefighter Jared Lloyd died while trying to get to that resident. The fire was so intense by then, it seems little could have been done to rescue him. Lloyd's body was recovered the next day.
Firefighter Lloyd was a member of Spring Valley Fire Department Engine 17. He leaves behind two young sons.
[Read next: Fundraiser set up for 2 young sons of NY FF killed in assisted living facility blaze]
The investigations into this fire and the deaths of Lloyd and the resident have begun.
Several firefighters and other residents were injured, and some are still in medical treatment.
One report that surfaced in the local media indicated that the fire alarm system might have been turned off prior to the night of the fire. There are conflicting reports whether the structure had a partial or full sprinkler system.
These local, state and federal investigations will continue and ultimately come to some conclusions, but now is the time we need to mourn Lloyd's death, embrace his family, surround his sons with our love, and never forget Lloyd's sacrifice.
At a time when this country is so divided, this is the time we can learn from Firefighter Lloyd's death and remember that we are all first Americans. This firefighter was a volunteer who heard the fire call in the middle of the night and responded with one thought in mind – there were people who were in trouble and needed firefighters to save them. He didn't ask who they are. He only knew that they called us to help make things better on the worst day of their lives.
Let all of us in the fire service remember that we stand alongside our brother and sister firefighters, police officers and our military to protect our country and our neighbors.
I believe that we in the fire service can be the example to every citizen in this great country that race, color, ethnicity or religion doesn't make any difference to us – we come when they are in need. We can also take the lead in an effort to unite this country instead of divide it; to honor one another, without prejudice; and to live our lives as the example of the motto, "One nation, under God, indivisible, with liberty and justice for all."
We owe no less to our brother, Jared.
Stay safe!