Chief Don Abbott, Project Mayday founder, dies
Abbott spent years helping to coordinate the Phoenix Fire's Command Training Center, and later served as the president of Command Emergency Response Training
---
By FireRescue1 Staff
INDIANAPOLIS — Don Abbott, a retired chief officer and founder of the Project Mayday program, died on Saturday following a five-year battle with health issues, reported FirefighterCloseCalls.com.
Abbott spent approximately 20 years working in the fire service in the Indianapolis area. After his retirement, he spent 10 years traveling the country and presenting an interactive fire-service training diorama called Abbottville. During his career, Abbott spent years helping to develop and coordinate the Phoenix Fire Department's Command Training Center, and later served as the president of Command Emergency Response Training (CERT). In 2015, Abbott launched Project Mayday, a comprehensive study of mayday responses, incidents and prevention.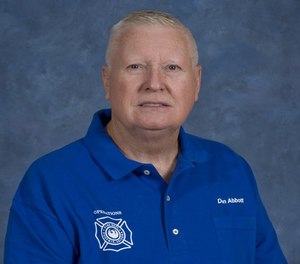 Chief Billy Goldfeder wrote in The Secret List announcement of Abbott's passing, "To today's firefighters, Don and his exhaustive work is why we better understand the need for disciplined incident command/control, firefighter staffing and the realities of mayday." 
Chief Marc Bashoor interviewed Abbott on the Side Alpha Podcast earlier this year, discussing the origins of his Project Mayday research and how firefighters can share their mayday stories.
Some of Abbott's recognitions: In 2002, he received the ISFSI's Innovator of the Year award, and in 2006 he received the George D. Post Instructor of the Year Award. In 2014, the IAFC's Hazardous Materials Committee gave Abbott the John Eversole Lifetime Achievement Award. Additionally, at the time of his death, Abbott was in the process of being inducted into the National Fire Heritage Center – Hall of Leaders, Legends and Legacies Class of 2023.