116th Congress adjourns with mixed results for first responders
Coronavirus response dominates Second Session; suicide, LODD benefits pass
---
"Schoolhouse Rock!" fans and others of a certain age may fondly recall the educational tune "I'm Just a Bill." The song is as true as ever for the 116th sitting of the U.S. Congress, as hyper-partisanship exploded over the first true global pandemic in a century, the worst civil unrest in over 50 years failed to compel any change to federal law, and congressional committees took to holding hearings by video conference over physical presence.
Looking back at past bill passages, President Carter signed into law almost 190 of the 1,300 bills passed by Congress from 10,000 introduced between 1979 and 1980, according to the Resume of Congressional Activity. Thirty years later, President Obama signed almost 400 of the 2,900 bills passed by a rare super majority of his party in Congress. More recently, a First Session of the 116th Congress passed 1,138 bills in 2019, and only 105 became law.
A far smaller number of bills applied to the fire service in 2019-20. Nonetheless, a look back at legislative accomplishments for the public safety sector is merited, even as another lame duck session looks to finish more like a lion than a lamb.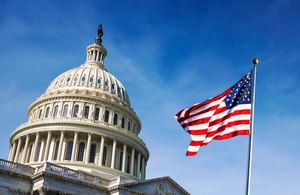 Early appropriations
The 116th Congress came into session in January 2019 during what would become the longest partial government shutdown in U.S. history, the result of staunch debate over the allocation of federal funds to construct a wall along the Southern border.
Mostly in the form of funding bridges known in D.C. as continuing resolutions, President Trump would sign 10 appropriations bills into law over the next two years, though the first product of the First Session was the Government Employee Fair Treatment Act of 2019, which guaranteed federal workers' pay as soon possible after the shutdown, which concluded on Jan. 25, 2019.
Appropriations are defined as spending money, of course, so whether your agency had grants or other federal allocations in the pipeline through the Department of Homeland Security (DHS) for equipment, Health and Human Services (HHS) for medical care, or the FEMA for disaster preparedness, those monies were put on hold. Most federal funds for public safety come out of just a few of the dozen annual spending bills. (Note: The Library of Congress provides this handy tracker. See also the House committee's agencies alongside jurisdiction.)
Pandemic strikes
The big story of the year, of course, is the coronavirus pandemic, which ultimately created significant activity on the hill.
Congress finished its first action sending an emergency funding bill to President Trump a week before he declared a national emergency on March 13. Governors began imposing state-by-state lockdowns at that time – and as 2020 wore on, the House would institute temporary voting and remote committee hearings while the Senate continued in-person sessions. Over two dozen members would contract the virus. And more recently, another wave of infections is again bearing down on the nation as fall turns to winter.
Suicide hotline, LODD benefits pass
Depression, anxiety and related psychiatric conditions are frequently found among those in high-pressure occupations like public safety or the military. They are a feature of civilian life, too, as constituents try to get through the pandemic at home or otherwise limited from normal life.
Five months after first passing the Senate, the National Suicide Hotline Designation Act of 2020 became law. The bill set 9-8-8 as a single, nationwide suicide prevention and mental health crisis hotline. The Law Enforcement Suicide Data Collection Act joined the statute books weeks after initial passage by Congress, directing the FBI to create and report on a suicide data collection program among that sector as it does with uniformed crime statistics. To date, no counterpart formally exists for firefighters, though the Firefighter Behavioral Health Alliance solicits unofficial reporting.
The House did pass a bill in September that the Senate may pass among a slurry of last-minute bills worked out over the session. The Helping Emergency Responders Overcome (HERO) Act would create a Public Safety Officer Suicide Reporting System to track suicide incidence in the public safety community, and more directly, use career and volunteer members of fire departments or EMS agencies to serve as peer counselors.
The bill, by Rep. Ami Bera (D-Calif.), would also provide for educational programs by U.S. Fire Administration about the "culture ... different stressors... challenges encountered" among active and retired personnel, plus "evidence-based therapies for mental health issues common" in the fire service. Moreover, the legislation targets post-traumatic stress disorder (PTSD) among fire/EMS: "Losing those who keep us safe will only make the crisis worse," Rep. Greg Gianforte (D-Mont.) said during House floor consideration. The bill has a good chance in the Senate.
A dozen Democrats cosponsored elder Republican Senator Chuck Grassey's (R-Iowa) bill to extend the Public Safety Officers' Benefits Program (PSOB) to public safety personnel fatally stricken by COVID-19. The bill gained momentum after Grassley's legislation differed from a House version, just as the pandemic's first wave passed from May into summer.
Ultimately, the House passed Grassley-Booker (Sen. Cory Booker (D-N.J., primary cosponsor) without even floor discussion. Reps. Jerry Nadler, since-defeated Rep. Max Rose (D-N.Y.), a pair of freshmen claiming influence and others were quick to put out laudatory press releases.
Nadler and Rose were also outspoken alongside the New York delegation in finally securing near-permanent funding and authorization for the James Zadroga, Ray Pfeifer, and Luis Alvarez Permanent Authorization of the September 11th Victim Compensation Fund after entertainer John Stewart, Alvarez and others personally visited Capitol Hill. The program will now support those who worked the pile for 70 years. Alvarez died weeks before final passage of the bill.
Having revisited the fund three times since it was first created, even Congress had had enough.
"Every sick responder and survivor should be treated with the same dignity and compassion regardless of when they became sick," Nadler argued, "and no one should be forced to spend their last days walking the Halls of Congress begging us to reauthorize this program."
'I know I'll be a law someday'
Retired public safety officers will have to wait for federal assurances that state benefits will be kept intact under a bill by recently reelected Sen. Gary Peters (D-Mich.) without action in committee.
Fire-police in 14 states who help manage on-scene containment have so far been left out of death benefits under the aforementioned PSOB program. A bill by Rep. Joe Courtney (D-Conn.) and Sen. Richard Blumenthal (D-Conn.), offered each session since 2011, would add them, but got nowhere in committee.
While Congress did manage to pass emergency spending bills to address the pandemic – albeit more smoothly before the landmark CARES Act in March – a slate of wildfire bills did not move, though federal funds did flow to Western states even as eight fires scorched over 100,000 acres each. Further, the Senate did pass a resolution honoring fallen wildland firefighters.
'Most bills never even get this far'
Telecommunicators care about networks of tomorrow as much as today, which is why administrators should stay tuned for a "National Strategy to Secure 5G and Next Generation Wireless Communications" directed by the Secure 5G and Beyond Act. The Secure and Trusted Communications Networks Act is similarly focused on cybersecure componentry, a persistent vulnerability to critical infrastructure of which vendors and suppliers should be apprised.
Retiring Rep. Peter King (R-N.Y.) sponsored the Emergency Medical Services for Children Program Reauthorization Act of 2019, which extended for five years grants for emergency pediatric care access and research out of HHS.
The House acted to stop the spectrum auction in September after raising the issue with reporters in March. Federal Communications Commission (FCC) commissioners could revisit the issue after current Chairman Ajit Pai departs the agency as the Biden administration enters office.
The Pandemic and All-Hazards Preparedness and Advancing Innovation Act of 2019 sponsored by Senator Richard Burr (D-N.C.) passed six months before COVID-19 arrived on American shores. As we covered in April, "coronavirus was simply not on the radar."
The bill sought to improve a rapid response fund, bolster medical volunteerism through coordination and limited liability. Still, Congress was focused on mass-casualty incidents like natural disasters, emerging infectious diseases, and chemical, biological and nuclear attacks. The Congressional Research Service assembled a wide-ranging reference page for the federal government's response from labor and operations to funding and social welfare here.
Comprehensive legislation based on the current pandemic may not be seen for years, but definitive action against PFAS made it into the fiscal 2021 defense authorization after the Senate conferees prevailed against inclusion of key provisions for fiscal 2020. Look for more about the PFAS issue once the defense bill is finally disposed.
Agencies act, too
While the FCC met near-universal opposition to auctioning off the T-band spectrum relied upon by public safety agencies around the nation, the FCC was widely praised for its rulemaking that wireless carriers enable Z-axis location accuracy. Knowing vertically where a caller is will enable 911 call takers to relay which floor they are on, a terrific gain for police and fire responding to a range of incidents in high-rise buildings. (Note: See the FCC's timeline on this action here. Read their Report and Order here.)
SAFER grants are a lifeline to many departments, as acting DHS Secretary Chad Wolf acknowledged in visiting a Jacksonville fire station in May. Wolf announced a three-year cost share for hiring and retainment, seeing even early in the pandemic that budget pressures would put staff coverage at risk. Whether Congress appropriates more for state and local governments struggling themselves to make payroll remains to be seen. The lame duck will soon be followed by a new Congress and a new administration.