Black and Latino Philadelphia firefighters upset by local union's Trump endorsement
The firefighters' organizations said they were not consulted before IAFF Local 22 announced the break with IAFF national leaders' endorsement of Biden
---
By Laura French
PHILADELPHIA — Philadelphia's Black and Latino firefighters' organizations have responded to the Philadelphia Firefighters and Paramedics Union's endorsement of President Donald Trump for reelection. 
The presidents of Club Valiants, the fraternal organization for African American firefighters in the city, and the Spanish American Professional Firefighters Association said their organizations were not consulted by the union prior to the endorsement being announced on Tuesday, according to The Philadelphia Tribune.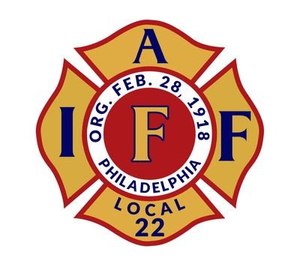 Philadelphia Firefighters and Paramedics Union IAFF Local 22 President Michael P. Bresnan said in the endorsement announcement, "The members of Local 22 respectfully break with the undemocratic IAFF endorsement of Joe Biden and pledge our full support to President Donald J. Trump," adding that the endorsement should be "a wake-up call to IAFF leaders that have lost touch with the will of the membership." 
Bresnan stated that members surveyed "overwhelmingly" chose Trump. National IAFF leadership endorsed former Vice President Joe Biden for president in April 2019.
Trump had been scheduled to visit Philadelphia this weekend to thank union members for their endorsement before announcing that he and first lady Melania Trump have tested positive for COVID-19 and will be in quarantine.
Club Valiants President Lisa Forrest, who became the first African American woman to be promoted to battalion chief at the department on Tuesday, told the Tribune that the endorsement is "a slap in the face and poor judgment." 
Forrest said IAFF Local 22 did not survey all of the members and criticized the timing of the announcement, which was published on the same day as Forrest's historic promotion. 
Spanish American Professional Firefighter Association President Demetrio Olivieri said there was "no inclusiveness in the decision-making process" by IAFF Local 22, adding that the endorsement showed a lack of respect, according to the Tribune. 
Local 22 Vice President and Political Director Chuck McQuilkin told The Philadelphia Inquirer that members were surveyed through an email that did not state it was for an endorsement, and that 577 out of the union's 4,700 members responded. McQuilkin said Trump received about 400 votes and Biden received about 100 votes. Respondents could also say they supported a different candidate or that they didn't plan to vote. 
McQuilkin told the Inquirer that he thought it was a bad idea for the union to get involved in a presidential election and that the endorsement has caused division among the membership.