NY FF-EMT faces criminal charges for allegedly shoving city manager
Ogdensburg Firefighter-EMT Brian L. Kirby was issued a criminal summons in connection with the alleged incident during a union protest against City Manager and acting Fire Chief Stephen P. Jellie
---
By Ellis Giacomelli
Watertown Daily Times, N.Y.
OGDENSBURG, N.Y. — Following months of contention between municipal officials, fire personnel and the Ogdensburg firefighters' union, a city fireman was charged this week for allegedly shoving now-City Manager Stephen P. Jellie in September at City Hall.
State police issued Brian L. Kirby, 52, a criminal summons Wednesday, on a second-degree harassment charge after a physical contact incident was reported to have occurred at City Council's Sept. 28 meeting. He is scheduled to appear in Ogdensburg City Court on Nov. 2.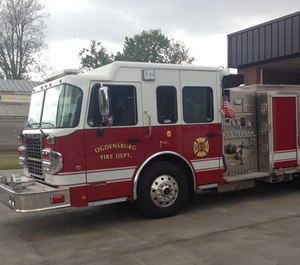 Mr. Jellie declined to comment specifically about whether any city administrative action has been taken against Mr. Kirby as the incident is an open personnel matter he is not permitted to discuss.
A fourth shift firefighter and EMT, according to the city website, Mr. Kirby was among dozens of people who gathered outside City Hall on Sept. 28 in protest of Mr. Jellie's appointment as permanent city manager.
Mr. Jellie, who also serves as acting fire chief, said he filed a police complaint of workplace violence after Mr. Kirby attempted to push through City Hall doors as officials were letting people into the building.
At meetings this fall, capacity inside City Council chambers has been cut to about 30 to comply with COVID-19 guidelines, with members of the public ushered in and out of the building during public comment periods at regular meetings. Meetings are accessible via live video, though host audio issues continue to be a hinderance for virtual participants.
"As city manager, I do not condone or dismiss acts of workplace violence for any reason," Mr. Jellie wrote Friday in an email to the Times. "There are too many channels and forums to voice concerns and grievances. The City of Ogdensburg's Workplace Violence Prevention Program is in place to do just that, prevent these sort of incidents from occurring, and when incidents do occur, they are handled appropriately."
About 100 people convened to express dissent over Mr. Jellie's permanent appointment, which passed by a 4-3 City Council vote during the Sept. 28 meeting -- a more than two-hour event that saw Fire Capt. Gerald H. Mack ejected by Mayor Jeffrey M. Skelly for being disruptive. Two other individuals, including Councilor Daniel E. Skamperle, left on their own after directing unwarranted comments at the mayor.
Jason T. Bouchard, president of Ogdensburg Firefighters International Association of Fire Fighters Local 1799, and Samuel A. Fresina, president of the state Professional Fire Fighters Association, both spoke to the crowd a few hours before the meeting began.
"In the short span of 80 days, the city manager, who has no experience running a municipality or leading a civilian fire department, has undermined the safety of a proud north country community that has been protected by career fire fighters for more than 150 years," Mr. Fresina said.
Mr. Jellie was hired as interim city manager in July following a 4-3 City Council vote and former manager Sarah Purdy's June 30 retirement.
Amid intra-Council disagreement -- Mr. Skelly, Deputy Mayor John A. Rishe and Councilors Steven M. Fisher and William B. Dillabough have opposed Councilors Michael B. Powers, Nicole L. Kennedy and Mr. Skamperle on nearly every major voting issue this year -- city officials and fire personnel have publicly sparred since August.
The fire department lit blue lights in memory of Ogdensburg police Sgt. Scott A. Reed, who died by an apparent self-inflicted gunshot wound while off duty Aug. 13. Mr. Jellie initially told the department to remove the lights after he was asked by Mr. Skelly to make sure the display was not part of the Back the Blue movement. After discussion with the department, Mr. Jellie agreed to allow the lights to remain for a 30-day mourning period through Sept. 12.
Conflict continues over a Sept. 6 memo in part barring fire department personnel, on or off duty, from speaking with the media about department business. In a Sept. 17 response to Mr. Jellie's memo, members of the firefighters's union filed an improper practice charge against the city with the state Public Employment Relations Board.
"As I have stated publicly and privately, the challenges the city of Ogdensburg faces are real and imminent," Mr. Jellie wrote. "We must work proactively and collectively to resolve them so our community can survive this turbulent period and ultimately revive."
City Council's next meeting is scheduled for 7 p.m. Oct. 26.
St. Lawrence County Editor Tom Graser contributed to this report.
___
(c)2020 Watertown Daily Times (Watertown, N.Y.)
McClatchy-Tribune News Service