Cincinnati firefighters on the forefront of cultural change
How one department association promotes diversity and the power of voting
---
The death of George Floyd last month in Minneapolis has led to both peaceful and violent demonstrations across our country.
Firefighters have been in the throes of these protests when fires ignited, responding to vehicle and building fires. What's more, some firefighters have even been attacked, and apparatus damaged, during demonstrations that turned to riots.
Now, one group of firefighters is using their voice as a calming element in their community.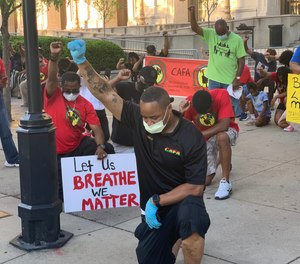 Protesting racism and promoting department diversity
Cincinnati Firefighter William West III, the president of the Cincinnati African American Firefighters' Association (CAFA), led a recent event that included a peaceful march by firefighters, their families and the public from the Cincinnati City Hall to the steps of the Hamilton County Courthouse.
The purpose of this eight-block march through the heart of the downtown area was not only to show solidarity with the peaceful demonstrations of the Cincinnati community, but to also be an example to all, especially the youth of the city, that the real power of the people is the power of their vote to select their elected officials.
"The march and rally was a time for us to live our motto of being involved personally in our lives, our job and our community, and that you can be in solidarity while demonstrating peacefully for change," West said. Further, in an interview with Fox19Now, West added: "The main message is to our youth. We want to make sure we are setting a positive example for our youth. We don't want them to think a brick through a window is a solution."
CAFA was founded in 1980, and the founders' intent was to help recruit and promote African Americans into the Cincinnati Fire Department to help diversify the department. The association just celebrated its 40th anniversary, and West is the seventh president since its inception.
The following is the CAFA Mission Statement: "Our mission is to obtain equitable and fair treatment for our members. Take an active role making conditions better, both, on our job and in our communities. Our objectives include, but are not limited to, recruitment and promoting of minorities, to diversifying the CFD, to developing the skills of our members, and to developing a peaceful work environment. We will live up to our motto of 'being involved personally' in our lives, on our job and in our community."
One of CAFA's most successful ongoing programs is the Public Safety Academy (PSA) adopted by the Cincinnati Public School System. Young men and women enrolled in school and interested in becoming a firefighter or police officer can enroll in the Academy. Once they have successfully completed the PSA and graduated from high school, they are eligible to receive an additional five points to their Civil Service entrance examination score.
West proudly pointed out to me that the current Chief of the Cincinnati Fire Department, Roy Winston, is a graduate of their PSA program.
With that as a background, the CAFA membership decided to hold their peaceful march on June 10, and members were asked to wear some type of identifying gear that linked them with CAFA. More than 100 firefighters and family members attended along with members of the Cincinnati Sentinels, their counterparts from the Cincinnati Police Department.
West also told Fox19Now: "We also have a very good working relationship with our police officers. We don't want the community to misunderstand that all police officers are bad. We want them to get that understanding that when you call 911, it's a positive thing, and we're coming to help."
At the courthouse, they were addressed by Cincinnati City Councilperson Jeff Pastor, who spoke about how groups such as CAFA are not only a calming influence on the community, but also serve as an example of how true cultural change can be accomplished, especially in these challenging times now faced by both the City of Cincinnati and our nation.
A prime example
International Association of Fire Chiefs (IAFC) President Chief Gary Ludwig recently called for the creation of the Fire Chiefs Equity and Inclusion Council to in part address the need for diversity within the fire service. I believe that CAFA is a prime example to all of us of how firefighters can be a positive influence for lasting change in both the fire service and their community.
Stay safe!