Alternative methods for packaging a downed firefighter
Traditional methods can be cumbersome under high-stress conditions
---
By Anthony Chrepta
Firefighter rescue has always been a difficult task, both physically and mentally.  Firefighters assigned to rapid intervention crews/teams (RIC/RIT) must be proficient in several operations and techniques, including one that comes up time and time again – firefighter packaging.
What is firefighter packaging?
As one of the most important operations during a rescue, packaging a firefighter gives the rescue crew the ability to remove the firefighter by grabbing or using almost any part of the PPE, most notably the SCBA. When we package, we are effectively attaching the firefighter's bottom half to the top half, preventing the loss of turnout gear while they are removed from the structure.
The death of Captain Vincent Fowler
A 1999 line-of-duty death illustrates the importance of firefighter packaging. FDNY Captain Vincent Fowler ran out of air while operating in a basement. When rescue crews pulled him from the building, Fowler was missing his turnout coat and pants, as he was not packaged. He was transported to a medical facility but died the next day.
According to the FDNY's final investigative report following the incident, "Many units and individuals participated in the removal of Captain Fowler." Additionally, during the rescue effort, members encountered hoarding and maze-like conditions in the basement and a narrow staircase for egress. Safe removal of a firefighter in these conditions is almost impossible.
Further, it should be noted that the first firefighters who came to Fowler's aid were his own crewmember and other units operating in the vicinity. This is not surprising considering that Project Mayday stats show us that RIC only affects a rescue 7% of the time; the downed firefighter's crew and other crews in the building affect the rescue more than 50% of the time.
Standard packaging methods
Because most mayday rescues are performed by non-RIC companies, we need to adapt our methods of packaging a firefighter. What can we do to ensure that non-RIC crews can package a firefighter for rescue efficiently and proficiently, taking into consideration that many may not even be trained in basic firefighter rescue? The market is flooded with gadgets and equipment designed for packaging, but non-RIC crews won't always be carrying these items while operating in the building.
The most common packaging method involves using the waist strap of the SCBA. In this technique, the strap is placed between the legs and fastened. It sounds simple but can be difficult in the moment, particularly when experiencing all the stressors of a firefighter rescue deployment.
Converting the SCBA waist strap is difficult and does not work on larger firefighters.  The Drag Rescue Device (DRD) found in turnout coats does not fully package the firefighter, as the coat must be attached to the pants. Other methods that propose using webbing or other similar sling devices are not realistic due to rapidly deteriorating fire conditions. 
Engaging in a firefighter rescue is a high-stress and emotional event, often causing the loss of fine motor skills and tunnel vision. As such, any type of technical rescue method that involves complex movements will likely be unsuccessful.
Packaging alternatives    
Here are two packaging alternatives that cost little or no money and are easily carried by firefighters. Keep in mind, our goal here is to attach their bottom to their top.
Common hose strap: For this packaging technique, use a common hose strap. Often thought of as an "old school" tool for the salty engine firefighter, it's a good trick to keep up your sleeve.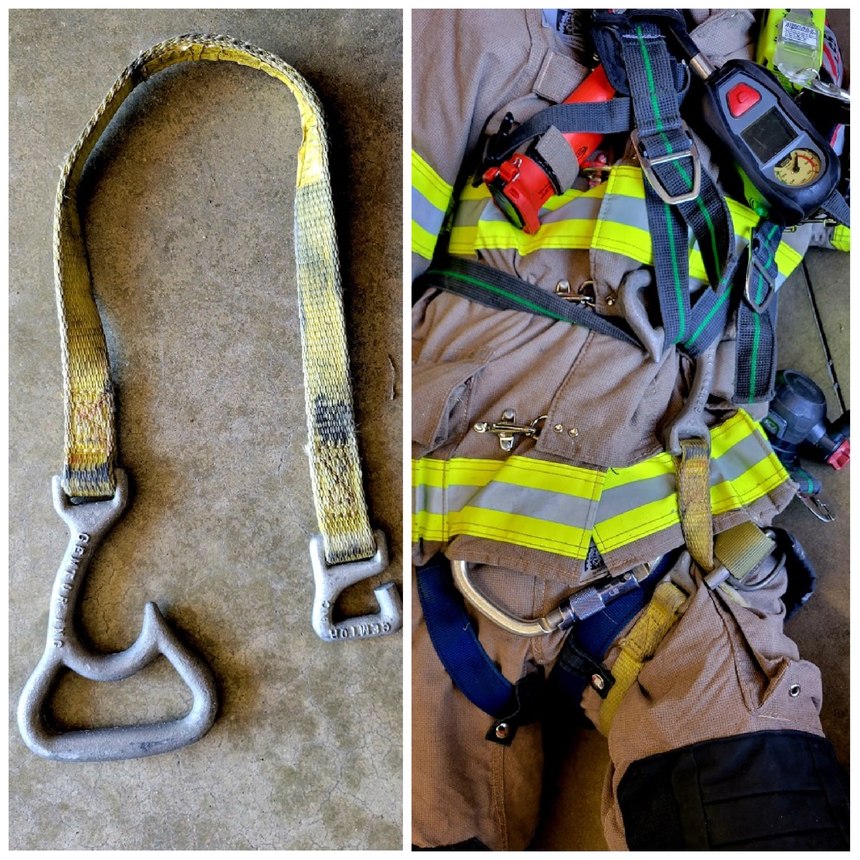 Notice the strap goes through the legs and grabs both SCBA shoulder straps. This technique is for ground drags only; do not put a firefighter out of a window with this, as it's not fully locked onto the shoulder straps. The other downside is it's not adjustable and won't work on larger firefighters.
Harness carabiner/pompier hook: If the firefighter has a harness with a large carabiner or pompier hook, loosen the shoulder straps of the SCBA and grab both.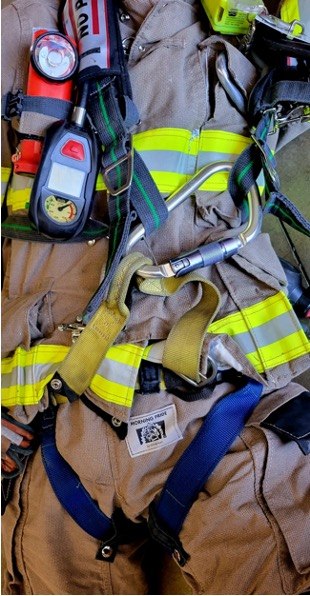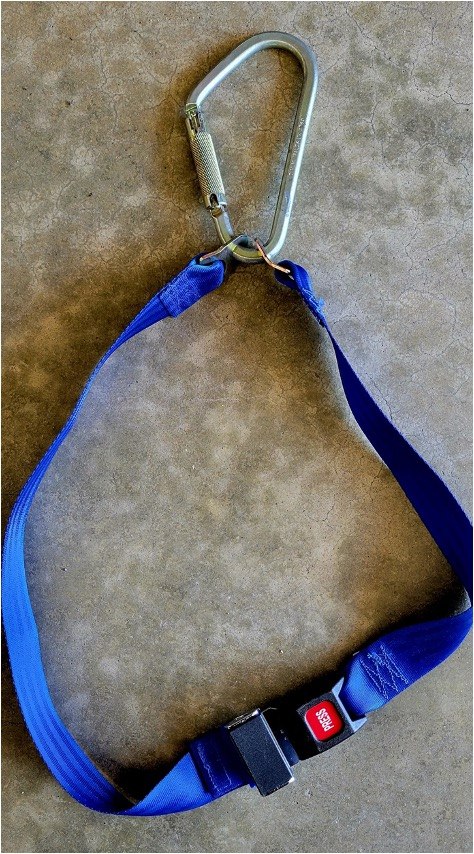 Pictured here is an older class 2 harness carabiner/pompier hook that only requires double action to open so I can operate it with one hand. It's attached to a lap-seatbelt. I use this as a hose strap, saw strap, and to control a door that is being forced. In the event of a firefighter rescue, I grab both SCBA shoulder straps with the carabiner and buckle the seatbelt between the legs. This will work just like the harness and the hose strap. This strap is super strong, adjustable and it folds up nicely in my coat pocket.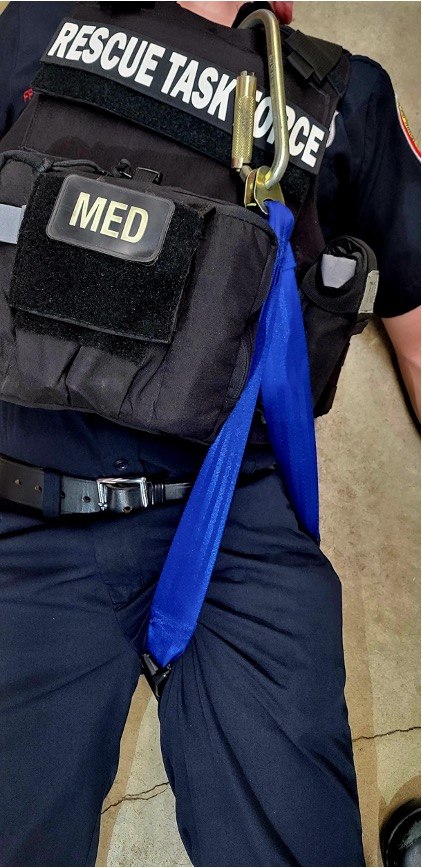 It can be used in myriad situations, including active shooter scenarios, as many of us on the fire side are now training for active scenes. We need to package here too.
Practicing saves lives
I urge you to find what works for you based on what you carry. Be aware of the non-rated snap hooks from the hardware store that could easily fail. Additionally, it's always good practice to tighten and place an overhand knot on the SCBA shoulder straps after packaging. Remember, you are your best chance at survival, followed by your crew and then other crews in the building. Practice packaging skills as if your crews' lives depend on it.
Stay safe.
About the author
Anthony Chrepta serves as a firefighter with Monroe (N.J.) Fire District 2, and volunteers with Wayside Fire Company in Tinton Falls, N.J. Chrepta also works as a Rescue Specialist with NJ-TF1 FEMA USAR.