Your volunteer retention playbook: How to maintain membership
Four common retention pitfalls, plus simple solutions for improving department culture and keeping firefighters happy
---
What's the process for bringing new volunteers into your department? Do you simply provide the new member gear, a pager and a T-shirt and expect them to succeed?
Even for officers who see the clear fault in that approach, some likely find themselves wondering how to meet the needs of the department and their recruits – a lot of work for a volunteer officer, perhaps more than they want to take on. While it does take work, officers must recognize that fostering new members is critical to the future of the volunteer fire service – critical in getting members to stay.
In the accompanying article on recruitment, "Your volunteer recruitment playbook: How to develop the plan and execute," I touched on firefighter retention and the reasons we believe firefighters are leaving the ranks.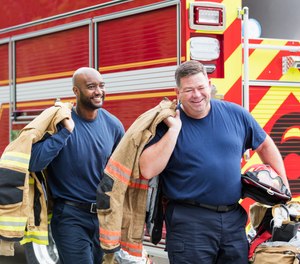 The more likely reasons for our retention issues fall into four categories:
Lack of quality training and leadership;
Culture of cliques that exclude others;
Generational differences that cause tension; and
Lack of camaraderie or sense of community.
Let's break down each reason to better understand what we can do to eliminate these issues.
1. Lack of quality training and leadership
Just because we were successful in recruiting new members doesn't mean our job is complete. A recruitment plan must include a path for new members to become fully trained and developed public servants. After all, there is nothing worse than wasting a fully committed volunteer due to lack of training or lackluster leadership.
Remember, as department officers, we made a promise to these new recruits to provide them the training they needed to keep themselves and those around them safe. Make sure you have a quality training plan ready. Focus early trainings on what Seattle Captain (ret.) Mike Gagliano calls the "flawless execution of the basics." Assign them a mentor who will provide continuous coaching for success.
2. Culture of cliques that exclude others
This is far more common than we think. Chief officers do this subconsciously. Why? Because those members who show up more tend to be given the "better" jobs on the fireground. Why? Because we trust them more. As a result, those members tend to hang within their own group. In addition, generational cohorts tend to stick together.
We must identify cliques within our department and ensure that we are spreading the workload more evenly. Yes, this is easier said than done, especially when safety is involved. However, we must, at a minimum, have a group conversation about expectations; this can help diffuse the situation without hurting anyone's feelings. Simply explain: "If you want better jobs on the fireground, then show up to more trainings."
Further, make a solid effort to break up these exclusionary groups by teaming members who might not normally choose to work together. This might also involve having some difficult conversations in private with your veteran members. Explain to them that they are the future of this department, and the responsibility lies with them. Challenge them: "Where will we be in 15 years given our current situation?" We never know day to day who will show up, so forming that brotherhood and sisterhood bond starts with leaders and veterans. It starts with culture.
3. Generational differences that cause tension
When I joined the department, the older "salty" members complained about my generation and called us weak. But 30 years before that, the veteran members of my department also complained about the incoming generation. This type of complaining has been going on since firefighters learned to complain.
It's time we put our differences aside and focus on what we have in common – our desire to help the community. The sooner we can focus energy on the advancement of the department, the sooner we can work together as a team.
Remind the older members that their family, friends and neighbors will benefit from change, spending money and/or technology. Remind the younger members that everything we do is for the benefit of the community we serve. Remind newer members that the "saltier" members have, in fact, seen and done a few things, and still have a lot to offer the department.
Cohesiveness is achieved by defining specific goals, mixing new and old experiences, and reaching these goals as a team. And when things go right, celebrate your successes together.
4. Lack of camaraderie or sense of community
Feelings cannot be forced. We cannot force a member to have pride in the department or a sense of community, or even camaraderie with another firefighter. We can only facilitate an atmosphere that focuses on teamwork, all while moving toward a common goal of providing better service for our community.
Consider the U.S. Army. Despite coming from all walks of life with many diverse backgrounds, soldiers form an unbreakable bond that comes to bear during even the most extreme situations. Why? Because they were trained to depend on each other when their environment gets hairy (similar to ours). When things get tough, they lean on each other, because they trust each other.
This is how we need to train our members. Put members in simulated situations where they are forced to lean on each other. Team members who wouldn't normally choose each other and facilitate solidarity. A simple Google search yields hundreds of team-building exercises that promote trust and communication that can be carried over to the fireground.
Now that we have touched on the retention issues plaguing our agencies, let's now consider some solutions to overcome these retention pitfalls.
Start a mentorship program
The best way to help ensure retention of newly recruited firefighters is to implement a mentor program.
Each recruit should be assigned their own mentor, typically not an officer, but rather an active firefighter with 5 years or more experience, who would report additional to the chief officer. The mentor serves as a sounding board for recruits, sometimes afraid to talk with their officer.
The mentor should be tasked with overseeing training, answering questions, introducing the recruit to active members, and ensuring that all associated documentation is up to date. The mentor is the go-to person for the recruit. Through this process, the mentor will gain valuable experience in dealing with personnel and equipment issues. What better way to gauge the abilities of a potential future officer?
Form committees within your department
I am a huge proponent of committees. I believe wholeheartedly that committees can help halt a  downward trajectory and increase morale within your agency.
Start by establishing three to five committees. Assign two to three firefighters per committee, and task them with handling various equipment needs, regulatory compliances, and divisions.
Require them to report at each meeting on needs, updates and improvements made within their committee. Ask to hear from each member and continue to task them with activities that fall within their respective committee. Hold them accountable for these duties and be clear with your expectations.
How do committees fit into retention?
You're giving members a voice at the meeting. They have ownership and feel like a member of the team.
You're giving members responsibility within the department. Responsibility = commitment; commitment = pride; pride = retention.
You're breaking down generational barriers by promoting healthy working relationships among members.
You're relieving overworked officers of basic tasks.
Some examples of committees:
Small equipment: This committee is tasked with starting, checking and maintaining all small engines and equipment within the department. Repairs and issues should be brought to the membership's attention via the meeting report as well as updates and potential new equipment purchases. Let these folks spec new equipment. Trust them.
ISO/NFPA/OSHA compliance: ISO, NFPA, OSHA compliances can be difficult for small departments to manage. Create a committee to research NFPA/OSHA standards to ensure your agency is compliant. Task the members with not just bringing non-compliance to light but also brainstorming solutions before presenting to the membership.
PPE: This committee is charged with categorizing, inventorying and issuing PPE. It is also in charge of PPE NFPA compliance and developing new gear specs when the time comes to purchase.
Speaking of PPE, here's an example of why it's important to include non-officers on purchasing committees: My department was awarded a PPE grant. We formed a purchasing committee that was ultimately given the responsibility of choosing the gear our department will be wearing for the next 10 years. The committee included interior firefighters, only two of whom were officers and none who worked too closely with department finances. This allowed them to go beyond the bottom line to focus on the equipment.
The committee was tasked with meeting with seven vendors and demonstrating several sets of gear from each vendor. They returned a set of specs that were sent out for bid. Once the bids returned, the chief and I worked with the group on the financial side.
The committee chose a vendor and presented the PPE request of choice to the membership for vote. Members asked several questions, and the committee answered without issue. In the end, the process gave the committee members a sense of responsibility and belonging.
Show your appreciation
Most chief officers know that we will never get a formal thank you from the thousands of people we help during our careers. But the "thankless" element of the job should really only relate to interactions with the public.
I know what you're thinking: "No one ever thanked me for running into burning buildings." You're right, me either. But times have changed, members have changed, and if we are serious about the retention, we must adapt. Thank your members for showing up and let them know you appreciate their time.
There are many other ways we can thank our members. Length of service awards, response stipends and training incentives are some of the best ways to show appreciation. These tokens of appreciation can come in the form of a department shirt, plaque, gift card or even monetary payment. I know my department can't afford these things when we can barely cover PPE upgrades, so we apply for funding to help with this. Let's tackle this next.
Apply for grants
The most underrated grant in the fire service is the Staffing for Adequate Fire and Emergency Response (SAFER) Grant. This grant has a portion of funding dedicated solely to the recruitment and retention of volunteer firefighters.
By developing a recruitment and retention plan, you can apply to have your marketing, training and retention programs funded without matching any funds. This program, as I have experienced myself, is an absolute game-changer when it comes to recruiting and retaining volunteers.
Several retention tools are covered through SAFER grants:
Retention/training
Tuition for training: Funding for a training to advance members' careers.
Basic firefighter training: Funding designed for the recruit to earn a basic level of certification as your department requires.
Retention/acknowledgement
Length of service awards: Funding to purchase length of service awards for current members and even recruits outlined in your recruitment plan.
Response stipend: Funding to provide firefighters with a monetary payment or gift card based on response totals (also can be utilized as a recruitment tool).
Training incentives: Funding to provide firefighters with a clothing incentive when training requirements are met or exceeded. (How many chiefs get nagged about a new department hoodie? Make them earn it.)
When applying for grant funding, especially a SAFER grant, it's important that you identify the need, research the core issues, and develop a solution. This is referred to as a basic Applied Research Project (APR), and you don't have to be a scientist to make one.
Grants are all based on the basic premise of needs vs. wants. As a grant writer, I always envision myself at the desk of the peer reviewer considering if this funding request is for an actual need or simply a want. You have to prove to me that there is a need, and a quality APR usually answers this question for me.
If this all sounds a little too much for you to handle, remember that grant writer fees are 100% reimbursable if awarded. There are many grant writers who can help you through each step of the process. Reach out to someone and give your agency the best chance of being successful.
Be the change
While there is no single solution to our retention issues, I have seen these tactics work to recruit members, train them, and retain them as quality, volunteer firefighters. I know that if you put in the work, use the resources, and keep up the recruitment and retention work, your agency will maintain a quality membership well beyond your days as the member wearing the white helmet.
The future belongs to those who are willing to make the changes. The true test of a fire department is how well the membership operates in our absence. If you feel like you, personally, must be present for your agency to get the job done, then you have failed at preparing for the future, and it's time to change that.
---

Read next
Your volunteer recruitment playbook: How to develop the plan and execute
It starts with getting real about why people aren't joining the department
---