Calif. doctor arrested for intentionally driving Tesla off cliff with family inside, police say
The rescue of four people who survived took hours and involved helicopters and firefighters rappelling down the cliffside
---
By Jessica Schladebeck
New York Daily News
MONTARA, Calif. — A California doctor behind the wheel of a Tesla that plunged 250 feet off an infamous cliffside in California purposefully drove his vehicle over the edge, according to authorities.
Dharmesh Patel was arrested late Monday on suspicion of attempted murder and child abuse, the Golden Gate Division of the California Highway Patrol said on Tuesday. He will be transported and booked in the San Mateo County Jail as soon as he is released from the hospital, police said.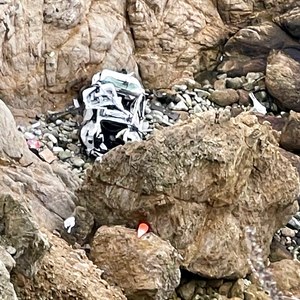 "CHP investigators worked throughout the night interviewing witnesses and gathering evidence from the scene," the highway patrol said in a statement.
Patel, 42, was in the car with his 41-year-old wife, Neha and their two children — a 7-year-old girl, and a 4-year-old boy — on Monday when his Tesla careened off Highway 1 at a spot called Devil's Slide.
The treacherous stretch of road along the San Mateo County coastline, about 15 miles outside of San Francisco, is notorious for fatal crashes. But authorities said they "have developed probable cause to believe this incident was an intentional act."
All four people inside the vehicle survived the incident, a feat officials have dubbed a miracle.
Their rescue — mired by constant rain, heavy wind and crashing waves — took several hours and involved helicopters and firefighters rappelling down the cliffside to reach the Tesla sedan.
The car had flipped over several times before it became wedged against the cliff, just feet from the surf, said Brian Pottenger, a battalion chief for Coastside Fire Protection District/ CAL FIRE. First responders were forced to use the jaws of life to gain entrance to the vehicle. Crews were then able to pull the kids out of the back window and bring them up the cliff in a rescue basket.
Both children had sustained musculoskeletal injuries and were rushed to the hospital by ambulance.
The adults suffered traumatic injuries and had to be hoisted up the cliff by helicopter. They were then both flown to the hospital, the battalion chief said
Patel is listed as a radiologist at Providence Holy Cross Medical Center in the Mission Hills area of Los Angeles, KABC reported.
"Providence Holy Cross Medical Center is deeply saddened to learn of a traffic incident involving one of our physicians and his family," said the statement. "We are extremely grateful there were no serious injuries. We will not respond further, as this incident is under investigation."
With News Wire Services
©2023 New York Daily News.
Visit nydailynews.com.
Distributed by Tribune Content Agency, LLC.
McClatchy-Tribune News Service