Texas FD honors teen who saved drowning boy
The 14-year-old was recognized alongside firefighters and received a letter of commendation at a quarterly award ceremony
---
Kelsey Bradshaw
Austin American-Statesman
AUSTIN, Texas — Yahir Gomez is a 14-year-old high school freshman, he plays soccer, he's the lead singer and guitarist in a band with his friends and he hopes to be an electrical engineer one day.
He's also a hero.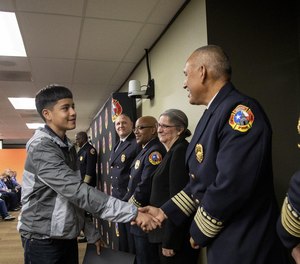 Gomez, along with dozens of firefighters, was honored at the Austin Fire Department's quarterly award ceremony Monday for saving a boy who nearly drowned over the summer at an East Austin apartment complex.
Sharing the spotlight with Gomez was firefighter Dalton Ray, who was lowered 70 feet down a chimney at the Dobie Center on Guadalupe Street last December during the rescue of an 18-year-old man who had fallen. Ray was awarded a medal of merit for his efforts.
Gomez received a letter of commendation, which is a recognition of service that goes above and beyond, fire officials said.
Firefighters had responded to the apartment complex where Gomez lives on July 17. Gomez was with a handful of his friends in the corner of the complex's swimming pool around 4 p.m. when he noticed a boy was face down in the water, he said.
Gomez swam over to the boy, who he guessed was around 6 years old.
"I was shocked and scared. I didn't know what to do," Gomez said.
He yelled to the people standing around the pool and to his friends, "He's drowning! He's drowning!"
Gomez had seen CPR done on TV, so he pressed on the boy's chest with his hands.
"I took him to the edge of the pool and I slightly pushed his chest and he coughed up water," Gomez said.
The boy's brother took him home where his mom called 911, said Austin Fire Division Chief Palmer Buck. The boy was hospitalized, he said.
After the incident, the boy's dad went to visit Gomez at home.
"His dad, he came to my house, and he told me that he wanted to give me some money for doing that, but I said, 'No,' " Gomez said. "I said, 'It's fine. Somebody's life is not worth any money, it's priceless.' "
On Monday, family and friends of award recipients packed into a room at the Austin Energy offices off Barton Springs Road. Firefighters in blue button-down shirts and black ties lined the back wall of the room, and babies could be heard babbling and giggling throughout the ceremony.
Austin Fire Chief Joel Baker kicked off the ceremony. Baker and Buck announced awards, shook hands and took photos with recipients.
Buck said the firefighter crew that arrived to the pool that day asked Gomez what happened. He simply said: "He looked like he was drowning, so I grabbed him.
Gomez, who attends the Liberal Arts and Science Academy, was joined at the award ceremony by his parents, Raul and Patricia, and his little brothers, Raul Jr. and Daniel.
"This was a genuine save and Yahir is a genuine hero," Buck said. "In recognition of his quick thinking and willingness to help another, it is my great pleasure to present this letter of commendation to Yahir Gomez."
———
©2019 Austin American-Statesman, Texas
McClatchy-Tribune News Service