Volunteer water rescue group could shut down unless it finds a new home
Pennsylvania Water Rescue has been saving people from the Delaware and Lehigh rivers for nearly 40 years
---
Christina Tatu
The Morning Call (Allentown, Pa.)
EASTON, Pa. — For almost 40 years, Pennsylvania Water Rescue has been saving people from the swift currents of the Delaware and Lehigh rivers.
Now the group needs someone to save it.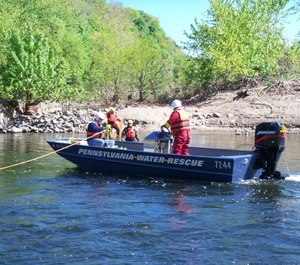 "We were founded in 1982 by people in the community who felt we were needed, but if someone doesn't come forward, we are probably going to close," Chief Branden Bachman said.
The volunteer rescuers were recently told that the 108-acre former industrial complex in Easton where they lease a small building has been sold. They have until June 30 to find a new location. But that won't be easy for an organization that operates on a $20,000-per-year budget and requires significant storage for boats, diving equipment, trucks and other specialty gear.
"We can't afford a $2,000-a-month lease," Bachman said.
The group receives no state funding and the majority of its budget comes from fundraisers like the annual Christmas tree sale on its North 13th Street property near the Simon Silk Mill.
The location is also important.
"Here we are near the water and the major highways. Our core members are from the area. When we talk about locations, it has to be central to our members," the majority of whom live in Forks, Palmer and Easton, Bachman said.
For Easton, situated at the confluence of the Delaware and Lehigh rivers, water safety is always a concern, especially in spring and summer when warm weather attracts many to the rivers for recreation.
The rescue adds an important layer of protection, said Easton City Councilman Peter Melan, who served on the Easton Emergency Squad for 10 years and is a consultant to paramedic groups.
"Any kind of loss is not just a loss for Easton, but a loss for the community," he said.
Since 1991, Pennsylvania Water Rescue has leased its building for only $1 per year plus the cost of utilities. A 2,400-square-foot garage was added in 2004 to house equipment and the group maintains the property.
"We've been silent tenants," Bachman said.
The landlords have changed over the years, as various industrial companies took over.
On Jan. 22, Pennsylvania Water Rescue received a letter from the most recent property holder, Albemarle Corp. of Charlotte, North Carolina, stating the property had been sold and the lease would be terminated.
"I asked who the new property owner is and they told me they don't want to come forward right now," Bachman said.
Northampton County property records list the new owner as Abacus Industrial Holdings LLC of Scottsdale, Arizona. Messages for Abacaus and Albemarle were not returned.
The property includes a dozen parcels adding up to nearly 108 acres split between Easton, Wilson and a sliver in Palmer Township. Paralleling Route 22, it stretches along Wood Avenue, from Hackett Avenue to North 13th Street.
For decades, the property was known as Pfizer Corp. and later Harcross Pigments. It was most recently home to Venator Materials, a corporate spin off of Texas giant Huntsman Corp. That company closed the Easton location in 2017 and the site has been vacant ever since.
The property has been listed as a corrective action site on the Environmental Protection Agency's website, suggesting clean up is needed for some type of contamination. Agency officials did not return a phone call.
A deed in Northampton County shows the property was purchased Dec. 30, for $150,000. It restricts the property to commercial uses. It also requires a vapor barrier be installed before any construction and prohibits dirt from being removed from the site.
Easton Mayor Sal Panto Jr. heard the property was sold to a company that plans to clean it up and possibly resell it, but city officials have yet to receive plans for it. Officials in Wilson also have yet to receive plans.
In the meantime, the Water Rescue has little time to find a home before people start flocking to the water with the arrival of spring and fishing season.
State Rep. Bob Freeman, D-Northampton county, has looked into getting money for the Water Rescue from funds that contribute to volunteer firefighter companies, but state law restricts that money to fire and ambulance agencies.
"They are a really good volunteer organization that does a great job," he said, adding that he tried but couldn't get the support needed to change the rule on the state funding.
Firefighters have basic water rescue training, but Pennsylvania Water Rescue volunteers are trained to do more, such as rescue people from swift currents or cold water, and dive to recover evidence that could help police. There are 15-20 members of the Water Rescue, four of whom are active divers. The group is dispatched up to 20 times a year.
Last year, its volunteers assisted Palmer Township Fire Department twice. One incident involved retrieving an empty car from water outside an apartment complex. The other involved recovering evidence from the Bushkill Creek for an arson case, Deputy fire Chief Jim Alercia said.
"We feel confident having them in our area because we have higher possibilities of having water-related emergencies," he said, noting that a section of the Lehigh River in Palmer is prone to flooding.
Specialized training makes a difference, even if a victim has drowned, as it could result in faster recovery of the body and closure for the family, said Stan Brown, the Water Rescue's assistant chief.
The rescue was formed to provide a better chance of survival for people in danger of drowning, said Bachman, whose father, Ted Bachman, founded the group in 1982 after a spate of child drownings in the area.
A member of the Suburban Rescue Squad at the time, the senior Bachman was intrigued by medical studies that showed a person could be under cold water for an extended period and still be revived. Most of the Lehigh Valley's waterways are cold for much of the year, the younger Bachman noted.
"We wanted to give drowning victims in our area a chance," he said.
———
©2020 The Morning Call (Allentown, Pa.)
McClatchy-Tribune News Service