Rapid Response: Miami-area collapse highlights need for crew focus, partnerships
Crews must focus on the job at hand, not speculate about the cause; we can leave that to the experts
---
WHAT HAPPENED
On June 24, at approximately 1:30 am ET, Miami-Dade 911 began receiving calls for a building collapse in Surfside, a coastal town approximately 7 miles north of Miami Beach.
In a scene visually reminiscent of the Oklahoma City bombing, first responding crews were confronted by a significant structure collapse of a large portion of a 12-floor residential apartment building. Like many coastal buildings, the 11 floors are built above a surface-level parking garage.
The mayor of Surfside described the building as a 134-136 unit building of which "half is gone." Miami-Dade Fire Rescue (MDFR) reports 55 apartments are directly impacted.
[Watch the moment the building collapses.]
Twenty-four hours after the incident, four fatalities has been confirmed, but that number is likely to rise, as there are now 159 individuals missing. MDFR reports responding units assisted 35 people out of the building, treating 10 for injuries and transporting two to local hospitals.
At an afternoon press conference with the governor, local mayors and emergency management officials, it was announced that two additional buildings have been evacuated, with evacuation and family reunification center information provided.
Helicopter video shows an apparent earthen collapse or sinking area of a significant portion below the main building, with cars strewn at odd angles, and previously "underground" support columns now exposed (possibly 10 feet or more). Purely from the examination of that helicopter video, there are no outward indications of explosive-energy, burning or such.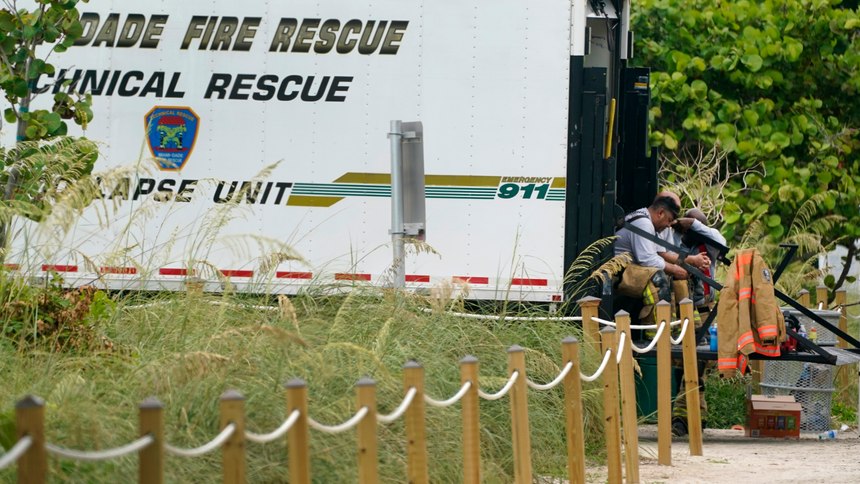 Firefighters wait in a truck near the site of a building that partially collapsed, Thursday, June 24, 2021, in Surfside, Fla. A wing of a 12-story beachfront condo building collapsed with a roar in a town outside Miami early Thursday, trapping residents in rubble and twisted metal. Rescuers pulled out dozens of survivors and continued to look for more. (AP Photo/Wilfredo Lee)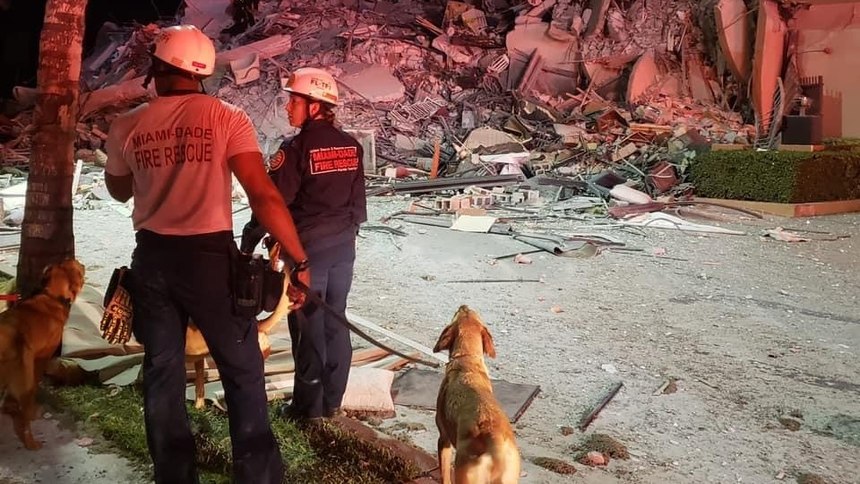 (Photo/MDFR)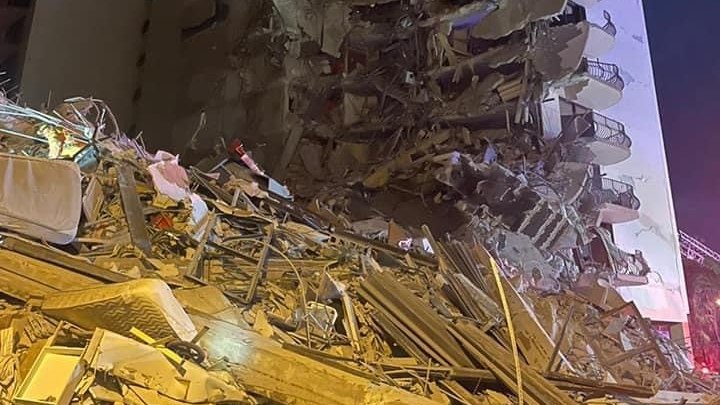 (Photo/MDFR)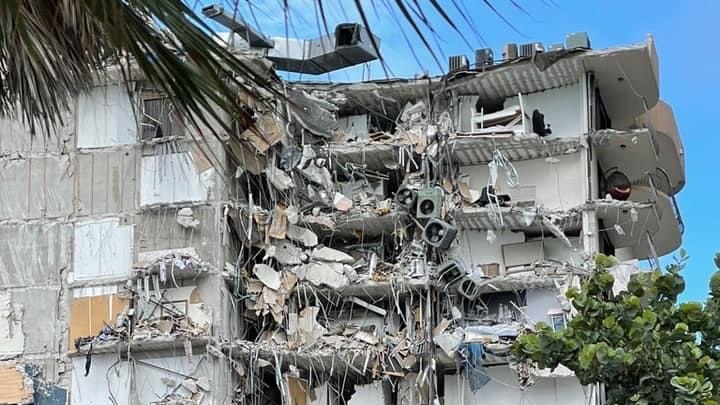 (Photo/MDFR)




WHY IT'S IMPORTANT 
In a heightened era of terrorism, many are quick to theorize this as a bombing or similar terrorist act.
The building being located in a predominantly Jewish area adds to the ethic-terrorism discussion. However, it is critical that we as first responders don't feed that narrative – our mission is response and recovery. We can let the experts identify the causes, whether structural integrity problems, terrorism or something else.
While ALL possibilities will be examined, that will undoubtedly include a look at sinkholes. It's no secret how sandy and shifting the soils in Florida are. If soil conditions resulted in this collapse, this could have far-reaching consequences for any number of buildings in the area.
MDFR brings a significant number of resources to the table for this incident. One might say "this is their wheelhouse." (Check out "Heavy-1," MDFR's technical rescue apparatus.) For most other departments, this provides a great reminder to review your emergency response protocols for large disasters and mass evacuations. Are we all ready with mutual-aid agreements to bring the appropriate resources?
In addition to the obvious complexities of the collapse and ongoing search, this area is located on a fairly narrow barrier island, presenting a traffic access and roadway management a nightmare. Are you working with your transportation department to prepare for incidents that involve similar disruptions?
WHAT'S NEXT
The top priorities for officials at the moment: locating the more than 150 missing individuals, plus the safety of their own personnel. As the fire department clears those hurdles, the engineering and building departments will conduct their analysis and chart a path toward restoration of some normalcy.
Until the exact cause can be pinpointed, any future thoughts for the immediate area are premature. Stay tuned.