2nd suspected gunman arrested in shooting of Chicago firefighter
Police say they believe the car fire the firefighter was responding to was intentionally set and connected to the shooting
---
Paige Fry
Chicago Tribune
CHICAGO — A second man has been charged in connection to a shooting on the Northwest Side earlier this month where a Chicago firefighter was caught in crossfire and hit in the leg, according to Chicago police.
Jermaine White, 29, of the Albany Park neighborhood, is facing one felony charge of aggravated battery with a firearm, police said. He was arrested at 5:30 p.m. Monday in the 2200 block of Bensley Avenue in Lansing, Illinois, which is about 30 miles south of where the shooting took place, police said.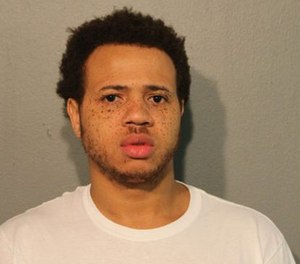 White was identified as the person who shot an on-duty firefighter, who was responding to a nearby call of a car fire, just after 1 a.m. Feb. 2 in the 3300 block of West Wilson Avenue in Albany Park, police said.
White's arrest comes less than a week after Hollis Williams, 29, of Ravenswood Manor, was arrested and charged with four felonies, including unlawful use of a weapon by a felon, aggravated battery of a firefighter, aggravated battery of a police officer and aggravated unlawful use of a weapon in connection to the shooting, police said. He also faces multiple traffic violations.
A judge denied bail for Williams during a hearing Saturday afternoon at the Leighton Criminal Court Building.
When officers tried to arrest Williams on Thursday, he rammed a sergeant's car with the vehicle he was in and then ran over an officer's foot, Chief of Detectives Brendan Deenihan said earlier this week. Williams then got out of his car and ran away before he was caught.
The incident started when firefighters were called to a car fire around 1 a.m. in the 3400 block of West Wilson Avenue, police said.
Detectives learned that two people had set the car on fire, hoping to draw out individuals who lived in the building, Deenihan said. Four people came out of the building, including a woman who got into another vehicle and began driving away.
Two unknown people began shooting at the woman, and two men who were with the woman returned fire, hitting the firefighter in the crossfire, Deenihan said.
Police said Williams was one of the shooters who came out of the building with the woman.
After the shooting, narcotics officers who were familiar with the building used tactics such as undercover buys to help detectives begin to identify those involved. Police are still searching for the others involved in the shooting, Deenihan said.
The 36-year-old firefighter with six years of service was taken to Advocate Illinois Masonic Medical Center after he was shot and is expected to make a full recovery.
———
©2020 the Chicago Tribune
McClatchy-Tribune News Service