Va. first responders encouraged to use 'Heads Up' program
The goal of the Heads Up program is to decrease the unknowns while responding to an emergency call
---
By News Staff 
JAMES CITY COUNTY, Va. — County first responders are encouraging the use of a long-standing program to increase situational awareness when responding to any emergency call.
According to Williamsburg Yorktown Daily, the Heads Up Program allows residents to share information with first responders including medical issues, what language is preferred, whether the patient is mobile or hearing-impaired and any information that could be relevant during an emergency.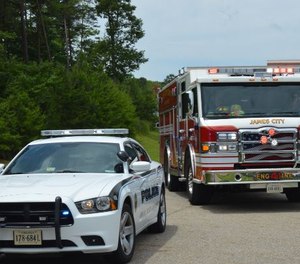 The goal of the program, which started in early-to-mid 2000s, is to decrease the unknowns while responding to a call. Residents can submit their information via an online submission form that can also be printed and mailed to the department.
"The information can be whatever they want to share, such as animals at the home, medical history and more," James City County Assistant Fire Chief Tristan Aiken said. 
The information provided will be connected to the resident's address and uploaded to a computer-aided dispatch system. During an emergency, dispatchers receive a visual alert with all the information that they will share with first responders. The county updates the information to ensure that the data dispatchers are giving first responders is up to date.
The information is also available to first responders in their emergency vehicles via their computers.
The Heads Up Program allows residents to provide information about their pre-existing conditions to the Emergency Communications Center. This information can then be passed on to first responders during an emergency. Learn more & signup on our website. https://t.co/YJ0Smy9by6 pic.twitter.com/ZVAn0sV0au

— James City County Police (@jccpolice) August 20, 2019