Mich. FF terminated after allegedly posting police chief's phone number online
The fired firefighter, who has ongoing racial discrimination suits against the department, reportedly criticized the chief over the shooting of a Black teen
---
By Laura French
LANSING, Mich. — A Michigan firefighter had his employment terminated Wednesday after officials say he posted a police chief's phone number online. 
Former Lansing Firefighter Michael Lynn reportedly posted Lansing Police Chief Darryl Green's contact while responding to a now-deleted Facebook post about the 1999 killing of a police K-9, according to WILX. The response written by Lynn, who is a co-leader of the city's Black Lives Matter chapter, was reportedly critical of the police department for acknowledging the K-9's death but not the death of an 18-year-old Black man who was fatally shot by police the same day.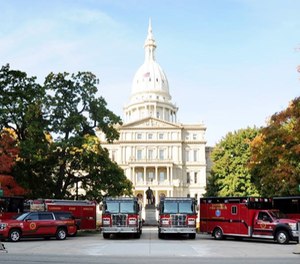 The Lansing State Journal reports that the man Lynn was referring to was Aldric McKinstry Jr. and that Lynn and McKinstry were friends. 
"How about giving chief Green a call and letting him know we feel about his department('s) post about the dog today," Lynn's Facebook post read, according to the Lansing State Journal. 
Lansing Fire Chief Greg Martin said in a statement that Lynn was terminated for violating several department policies. A letter to Lynn from department officials earlier this month said his sharing of Green's number may have violated policies related to ethics, social media use and administrative procedures. The letter also stated that Lynn's actions compromised the safety of Green and the citizens of Lansing, and led Green to change his phone number. 
In the termination letter sent to Lynn Wednesday, Martin states that Lynn's "primary motivation appears to have been a personal one, but it was also apparently to harass," adding, "By posting the phone number of Chief Green and asking individuals to contact him on his departmental cell phone about an issue you knew was controversial and at a time emotions were running high in the community, you compromised the operational efficiency of the Lansing Police Department," according to the Lansing State Journal, which received a copy of the letter from Lynn's attorney. 
Attorney Elizabeth Abdnour, who is representing Lynn in the issue, said his termination is a violation of his First Amendment rights. She also stated that the city allegedly violated the Americans with Disabilities Act by refusing to allow Lynn to attend his own disciplinary hearing over Zoom. Abdnour said Lynn has PTSD and has been living in another state while off work due to duty-related injuries. 
In a statement issued Wednesday, Lynn said his firing was an act of retaliation against him, and that he was not responsible for the community's negative feelings toward the police department. Lynn had previously filed two lawsuits against the fire department and city alleging he was disciplined in retaliation for making complaints about racism at the department, including an incident in which a banana was left on the windshield of his truck.
In the most recent lawsuit, filed in 2019, Lynn alleged his experience with racism at the department led him to suffer from depression and anxiety and take a leave of absence. Lynn is being represented by Attorney Scott Batey in the two discrimination lawsuits, which are still ongoing. City officials have denied Lynn's allegations of retaliation.
Green also denied Lynn's claim that his termination was a violation of his free speech, saying in a statement that Lynn maliciously used information related to his position as a city employee to harm Green and his family.