FRI session outlines key responsibilities for first-due chief officers
Battalion Chief Steve Prziborowski, of the Santa Clara County, Calif., Fire Department, proposed his own version of the acronym
---
By Jamie Thompson
FireRescue1 Senior Editor
CHICAGO — "CHAOS" should not stand for Chief/Captain Has Arrived On Scene, a session was told at Fire-Rescue International in Chicago.
Battalion Chief Steve Prziborowski, of the Santa Clara County, Calif., Fire Department, outlined a range of responsibilities for first-due chief officers or captains during his presentation on Thursday.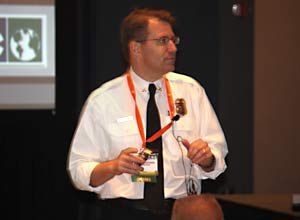 "Firefighter fatalities are caused from a chain of events that may start from the first-due company officer or chief officer," Chief Steve Prziborowski said.
He told the session that failing to set up an incident properly from the beginning can have major impacts on firefighter safety and that the first-due chief or captain will either set the incident up for success or for failure.
They need to be able to manage the incident from "A to Z, and need to be always be thinking five steps ahead, five minutes ahead," Chief Prziborowski said.
Using a different acronym for "CHAOS," Chief Prziborowski outlined how Command and control, Have a plan (IAP), Apparatus placement and accountability, Organize your resources, and Size-up and support the incident were key roles.
"When does size-up start? The day you decided to work for a department is when size-up started," Chief Prziborowski said. "Always be thinking a few steps ahead."
The firefighters of today face a number of challenges, Chief Prziborowski said, including hydrocarbons, more BTUs, and lightweight truss construction.
"The sad part is we are still fighting fires the way we were 30 to 40 years ago, but a lot of stuff has changed drastically," he said.
During the session, Chief Prziborowski outlined 10 key responsibilities for first-due chief officers or captains:
• Safety and accountability of responders and bystanders
• Effective command and control of the entire incident from start to finish
• Continuous size-up and radio reports
• Command and strategic mode determination
• Incident action plan creation and implementation
• Apparatus placement and equipment utilization
• Hose line placement and selection
• Ensure sufficient and appropriate resources and personnel are responding
• Incident benchmark accomplishments and documentation
• Transfer command/close out the incident