31 Dallas FFs quarantined with COVID-19
As the Delta variant spreads, Dallas Fire and Rescue officials are concerned about staffing levels amid an executive order banning mask mandates
---
By Rachel Engel
DALLAS — Thirty-one members of Dallas Fire-Rescue are now quarantined as the latest surge of the COVID-19 pandemic continues.
According to officials, 21 members of DFR have tested positive for the virus, and another 10 have had a recent exposure.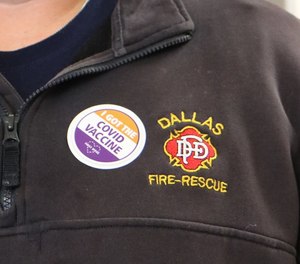 The most recent CDC guidelines recommend fully vaccinated individuals who are exposed to someone with COVID-19 wear a mask for 14 days or until they receive a negative test result.
Jim McDade, president of Dallas Fire Fighters Association, said the staffing levels are a concern amid Texas Gov. Greg Abbott's executive order that bans mask mandates.
This means that fully vaccinated firefighters may have to stay home after an exposure, as the department can't require masks at the fire station.
"There are legal questions regarding how the governor's orders will affect us since the city cannot mandate that we wear masks or order protocols with masks involved," McDade said in an interview with WFAA. "There could be some unintended consequences with staffing with his executive action."
Cases of the virus have increased significantly in the last month, he said.
"We have 21 active cases right now and a few weeks ago, we didn't have any," McDade said. "So, that's very concerning."