3 Fla. firefighters caught in rip tide trying to rescue swimmers
Two St. Pete Beach firefighters swam out to help the swimmers, but got caught in the rip tide themselves, and a third was pulled in after trying to throw a rescue line
---
Jamal Thalji
Tampa Bay Times, St. Petersburg, Fla.
ST. PETE BEACH, Fla. — A massive water rescue was launched Wednesday to pull eight people — five swimmers and three firefighters — out of a dangerous rip current in the Gulf of Mexico, according to the Pinellas County Sheriff's Office.
The incident was reported at about 11:37 a.m. at 4700 Gulf Blvd., a public parking lot just off the beach.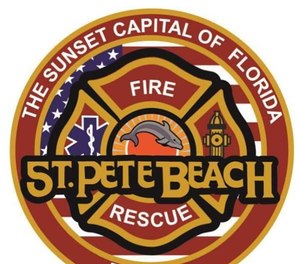 Four swimmers were struggling to return to shore because of the rip current: James Tate, 58; Lisa Tate, 37; Lewis Mazzone, 38; and a fourth woman who was not identified.
They were about 40 to 50 yards offshore, clinging to two Styrofoam boards.
A fifth swimmer, Lonnie Fuchs, 48, managed to swim back to the beach and was treated by paramedics.
Two St. Pete Beach firefighters swam out to help the stranded swimmers, deputies said, but then they got caught in the same rough waves and strong currents.
The unidentified woman was helped back to shore thanks to a rescue rope used by a deputy and a bystander.
But when another firefighter tried to throw a rescue line, he also got caught by the rip current.
First-responders and bystanders were able to pull the three swimmers back to shore with rescue ropes.
A sheriff's boat arrived and rescued one of the firefighters. Two other firefighters grabbed rescue ropes and were pulled back to the beach.
The rescue effort lasted 20 minutes. Fuchs was taken to a local hospital for treatment of non-life threatening injuries. No other injuries were reported.
Remember, the National Oceanic and Atmospheric Administration advises swimmers who find themselves caught in a rip current is to stay calm, let themselves float and swim parallel to the shore to escape.
If the find themselves trapped they should not try to swim back to the beach against the current — that will just tire them out and increase the risk they'll drown.
———
©2019 the Tampa Bay Times (St. Petersburg, Fla.)
McClatchy-Tribune News Service