From Paris to Los Angeles: How the LAFD became the first department in the US to deploy a firefighting robot
Inspired by technology used by the Paris Fire Brigade during the 2019 Notre Dame Cathedral fire, the LAFD recently took ownership of their own firefighting robot
---
While the world was watching the Notre Dame Cathedral burn in April 2019, one member of the Los Angeles Fire Department was mesmerized by another sight: the Paris Fire Brigade's firefighting robot.
Deployed alongside the team of pompiers (firefighters), Colossus, the 1,100-pound tank-like robot was credited with suppressing the flames when the decision was made to withdraw members from the blaze to prevent loss of life.
Shortly after the historic fire, LAFD Chief Ralph Terrazas made a call to Assistant Chief Wade White, who is in charge of the department's Supply and Maintenance Division.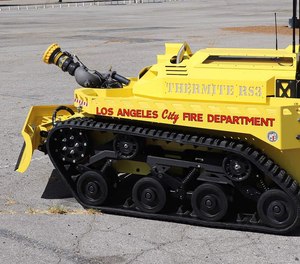 "He says, 'Hey, go find out about this robot that helped put this fire out,'" White recalled of the chief's request.
And he did.
In October 2020, the LAFD unveiled Textron Systems' Thermite Robotics System 3 – RS3, for short – the newest member of the department.
White detailed this state-of-the-art addition to the team and how he sees the RS3 being utilized in the future.
RS3 capabilities could reshape the fire industry
From warehouse fires to incidents involving barricaded suspects, White is confident the RS3 will make a noticeable difference in how the department approaches a variety of operations.
"That's what Chief Terrazas has really been about – let's take a look at technology that's not associated with the fire department and see how we can bring it in to make what we do safer and more efficient," White said. "We've been using the RS3 every place we can, and we're coming up with different ideas on how to deploy this thing."
White is confident that because of the almost endless possibilities of the RS3, it may not be the department's only robot for long. 
"Putting this thing out there, letting it do its job and letting the organization see what it's capable of will be a determining factor on how many more units we put in place," he said.
Far beyond a simple motorized hose, the RS3 is equipped with multiple high-definition video cameras and thermal imaging cameras (TICs). As an added bonus, the RS3 is not mortal, meaning it can keep firefighters out of harm's way in some scenarios.
"I can afford to lose one of these wonderful machines," he said in an interview with the Los Angeles Times. "I cannot afford to lose a firefighter."
In November, the LAFD sent the RS3 into a basement fire at an incident in Alhambra that was only a few modifications away from making history.
"We went into a basement-type loading dock that was filled with combustibles that no firefighter can get into," White said. "This machine was able to go in there and put thousands of gallons of water on that fire and knock the steam out of it."
Unfortunately, that's when the machine broke.
"We're just a hair away from being heroes on this one," White told Textron Systems following the incident. "If the motorhead hadn't sucked the foam in, that thing would have done what we needed it to do in that basement."
And while the naysayers point to this situation as a strike against the machine, White takes a different approach.
"There are people who say, 'The machine broke,'" he said. "I go, 'Yeah, it broke. We're the first ones in the country that have put this to use, and we're using it in a manner that hasn't been used by other departments. So, yeah, it's going to break.'"
Working with Textron Systems, the department was able to come up with a solution to the problem.
"We're putting a kind of snorkel intake system onto the unit so that it takes the air from up above, which is somewhat cleaner," White said. 
Even as the technology wows many, there are others who are hesitant about relying heavily on the RS3. But, White said, that is par for the course for the industry.
"There's two things firefighters don't like – the way things are and change," he joked. "I think as the culture changes and we socialize the RS3 to the organization, we'll show that it's a tool to use, very similar to the tools we've put in place in the past."
And life-saving tool: "It's going to keep us from exposing firefighters to what we shouldn't be exposing them to," White emphasized. "Building collapses, carcinogens, extreme heat – it's going to save lives and it's going to keep people from getting hurt."
Building a firefighting robot playbook
When the LAFD took delivery of the RS3, it didn't come with a guidebook that laid out when and how to use it during an active fire. Those decisions will come through what White called "free research and development" for Textron Systems from a team of firefighters he has assembled.
"I've locked [the team] up in a room, and they're supposed to put together all the administrative stuff on how we deploy," White said. "We have an expectation from the leader of our organization, Chief Terrazas, to put a guidance document in place so that the entire organization is on the same page on how to deploy it."
White's team will create a set of parameters for the RS3, including what situations it is eligible to be used in, what limits should be adhered to when considering its use, how it should be operated and by who.
"It's going to be a living document," he said, noting that the recommendations would be tested and updated frequently.
"Firefighters are notorious for breaking things," White said. "That's what we look at – how is this thing going to perform in the environment we go into?"
The RS3 was delivered with an already impressive list of specs, even before any modifications were recommended by White's team. The firefighting robot:
Can output 2,500 gpm of either water or Class A foam
Includes a 36.8 horsepower engine
Is outfitted with an 8,000-pound-capable winch
Can travel up to 8 mph
Has a runtime of 20 hours without refueling
Still, White and his team came up with a few accessories and enhancements that will allow the RS3 to be tailored even more to the needs of the fire service.
"We've made some changes to the machine that's going to make it bigger, better and faster," he said.
One of the modifications includes changing the configuration of the front dozer blade from a V-shaped pattern to a straight pattern, White said, "which should help us as far as pushing debris out of the way."
The guidance document will cover every aspect pertaining to the RS3 – operational, maintenance, training – and will be updated as White's team uncovers new ways it can benefit the fire service.
[Read more: How to buy firefighting drones]
Firefighting robot training
Once the RS3 playbook has been sketched out, LAFD will assign two team members to be in charge of the robot's maintenance – to essentially "babysit" it.
"They'll get to know it very well, what its personality is, what's breaking and what we can improve on," White said.
He compared the RS3 to the use of unmanned aerial vehicles (aka drones) and the need for true subject-matter experts who have been trained to use it properly.
"It's not like anybody can get behind the controller and start operating," he said. "Very similar to our drone program, we have to have people that are going to be certified on how to operate it so that when they're in an incident, they don't hurt anyone, and they don't get it into a situation where we could destroy it."
The LAFD recently sent two department members to Textron Systems' Maine research facility to be trained and certified on how to operate the RS3.
The RS3 showed up dirty to its unveiling
The price tag of the RS3 is unsurprising for a firefighting robot, but thanks to the fundraising efforts of the LAFD Foundation, the entire purchase was made possible through donations, including a contribution from the Elon Musk Foundation.
In total, the foundation raised $272,000 to purchase the RS3, and the plan was to unveil it to the press at a demonstration at Dodgers Stadium on Oct. 13. But as is often the case in the fire service, plans took a backseat to the mission.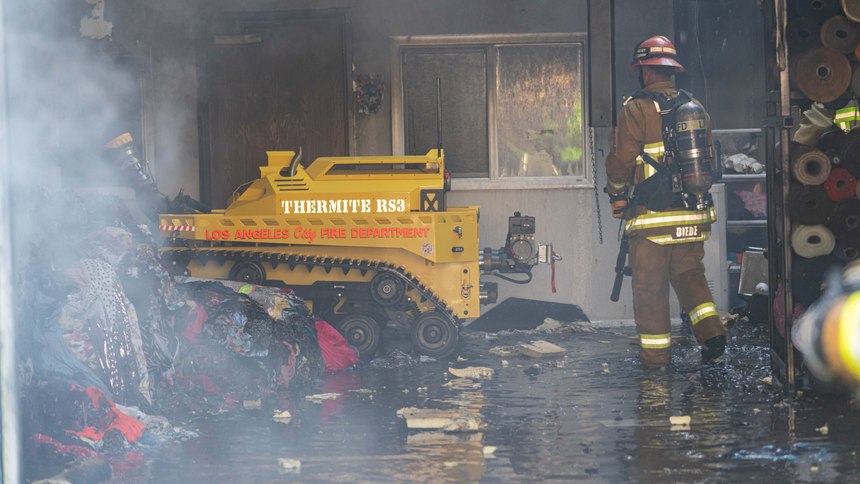 The RS3 did make it to the demonstration, just a little late and dirty after being rerouted to an impromptu response to a fire engulfing two textile buildings in downtown Los Angeles.
After all units were pulled from the buildings due to concerns of a collapse, the RS3 used its front dozer to push its way in and began attacking the blaze from the inside, the Los Angeles Times reported.
This type of situation is exactly why Terrazas made the phone call to White after watching the Colossus do its thing in Paris.
"It's a solution for when we get into an operational situation where we don't want to deploy firefighters based on structural collapse," White said.
That's when it's time to send in the robot.
Next: Listen as Chief Terrazas details the impact of Los Angeles County case surges, member vaccination efforts, and mental health help for firefighters.