Baltimore fire chief, union spar over claim that department doesn't have enough EMS units
IAFF Local 734 shared an audio clip of someone saying there were no units to send to the scene of a quadruple shooting
---
Jessica Anderson
Baltimore Sun
BALTIMORE — The union that represents Baltimore firefighters and paramedics says the department lacks enough personnel after a particularly violent weekend in the city. The city fire chief said that is absolutely not true.
The Baltimore Firefighters Union IAFF Local 734 said on Twitter that following a quadruple shooting Sunday night in Carroll Park, requests for additional medical units were met with "communications replied 'we have NO units to send you," according to the tweet. The union posted a clip of audio from the call.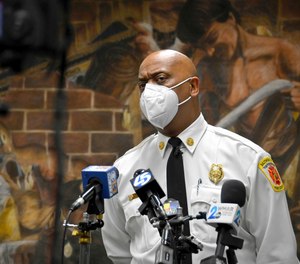 Baltimore Fire Chief Niles R. Ford, however, said that the audio clip was misleading, and the appropriate personnel were available and did respond immediately to the shooting.
"The messaging on the audio was incorrect and inaccurate," he said at a news conference Tuesday afternoon at the department's downtown headquarters. "There were units available to respond in this incident. And we did. In fact, units responded, rendered care, and transported patients to area hospitals."
Ford said the initial call for a shooting was made at 8:12 p.m. and "immediately two units were dispatched at 8:12 p.m."
A few minutes later, at 8:23 p.m. the incident commander overseeing the department's response requested two additional EMS units, which were dispatched, Ford said. One was sent at 8:23 and another at 8:24 p.m. At 8:28 p.m. another EMS unit was requested and responded.
"As you see, there were units available to respond in this incident," Ford said.
Ford said the statement cited in the fire union's tweet did not come from the department's communications, but was made between units on the ground at the shooting scene.
During the multiple shooting in Carroll Park, when 3 additional #BCFDEMS units were requested, communications replied "we have NO units to send you." The delays in service cannot be measured. Our dedicated members still provided world class EMS care until ambos arrived. SOUND UP https://t.co/GwxKQnzNhr pic.twitter.com/CcpY8quzVN

— Baltimore Firefighters IAFF Local 734 (@BCFDL734) May 3, 2021
"When you hear someone say that we have no units left, it basically that was pertaining to a staging at the scene," he said.
In an interview Tuesday morning, Baltimore Firefighters Local 734 President Rich Langford said his members are stretched thin routinely because of the high volume of calls, which have remained flat in recent years. But the call volume, coupled with recent personnel vacancies, has led to overworked paramedics and EMTs and longer call times, he said.
"The system is completely overwhelmed," Langford said. "The fatigue is weighing on the members."
EMS units are not only dispatched to homicides and shootings, but also to calls such as car crashes, gas leaks and medical emergencies.
At any given time, Langford said, there are 26 EMS units working in the city. The units can be overwhelmed quickly by a string of violence or other serious calls.
In the past, the summer months were busiest and caused the most strain. Now that feeling exists all the time, he said.
After the fire chief's news conference, Langford said that EMS units quickly freed themselves up Sunday.
"What we are concerned about is that when more EMS units were needed there were none available at that very moment," Langford said. "At some point, the FD administration and Chief Ford are going to have to acknowledge the problem and work on solutions with the union. These occurrences are happening multiple times every day.
"Our members take great pride in their job and went available to respond," he said.
Ford acknowledged that the department is busy.
"We have one of the busiest EMS systems in the country" he said, adding that the department has "consistently increased EMS units as well as started new programs" to meet the demands.
He noted that units are constantly returning to service.
"It's a moving target," he said.
He said the department might have ambulances that are at a hospital, which initially might seem unavailable. But they can be freed to respond to calls as they come up.
City Councilwoman Phylicia Porter, who represents the Carroll Park area, expressed concerns about the fire department staffing and said she plans to work with the mayor's office and the union to remedy the issues.
"This is not something we want to perpetuate in the city," she said.
Baltimore Sun reporter McKenna Oxenden contributed to this article.
___
©2021 Baltimore Sun
McClatchy-Tribune News Service