Calif. to hire nearly 1.4K FFs in anticipation of harsh fire season
Gov. Gavin Newsom said more than $80 million will be set aside to prepare for wildfires
---
Michael Williams
San Francisco Chronicle
SACRAMENTO, Calif. — Anticipating another devastating year for wildfires in California, Gov. Gavin Newsom announced Tuesday he was setting aside more than $80 million in emergency funding for firefighting in preparation for this year's fire season.
The $80.74 million includes funding to hire a surge of nearly 1,400 Cal Fire firefighters, with most of the funding going toward crews building fuel breaks and defensible spaces in vulnerable communities before the peak of the fire season later this year, Newsom's office said.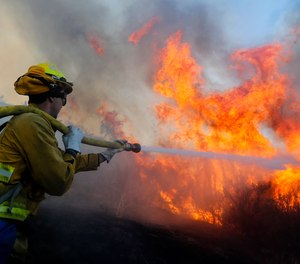 The bulk of the funding will provide for 1,256 seasonal firefighters through June 30, Newsom's office said, primarily crew and engine staffing, and the hiring and training of fuel management crews. The firefighters will augment eight existing crews and create 12 new Cal Fire crews and six seasonal and six permanent Conservation Corps crews, officials said.
The state will also hire 24 seasonal firefighters who will join California National Guard hand crews. An additional 119 firefighters will staff Cal Fire's helicopter crews, with hopes they will be ready to deploy by May.
Last year's fire season was the largest in California's history, burning more than 4.2 million acres, Cal Fire said — roughly 4% of the state. Nearly 10,000 fires were recorded, damaging or destroying more than 10,000 structures and killing 33 people.
Experts have raised concerns that wildfires may soon be a year-round reality for California because of the state's warming and drier climate.
"In California, climate change is making the hots hotter and the dries drier, leaving us with world record-breaking temperatures and devastating wildfires threatening our communities," Newsom said in a statement. "We aren't just waiting for the next crisis to hit — this funding will support our heroic firefighters to save lives as they work to prevent and tackle destructive wildfires."
___
(c)2021 the San Francisco Chronicle
McClatchy-Tribune News Service