The blocking apparatus: A department's close call prompts a change in policy
Adding a second blocking apparatus creates an extra layer of protection
---
I've always felt uneasy operating on roadway incidents. Deep down I was concerned for the safety of our operating crews, no matter how well we attempted to secure the working area of the scene. There is one factor that you can't 100% control – the behavior of motorists. This is a true lesson that I learned as a company officer in May 2016.
While working a late-night two-car MVC on the highway, my crew was doing the best we could to protect the scene and provide emergency care. We had responded as a fire unit (heavy rescue) and a medic unit. Multiple police cars from both the South Carolina Highway Patrol and City police parked behind the rescue company. Our rescue took a position to block the shoulder and #3 lane. This protected the medic unit, the incident scene and the initial SCHP trooper who arrived prior to us.
Then all of a sudden … KAABOOOM!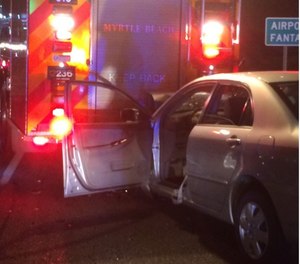 A vehicle struck the back of our rescue company, narrowly missing a patrol car as it sped into the incident scene. Fortunately, the driver and personnel working the scene avoided serious injury.
All in all, we were very lucky that night in that our members were OK. Further, our driver-engineer took appropriate positioning, and because of that, the other driver was unable to run the shoulder of the highway into the accident scene we were working. The blocking worked. That meant, though, that we lost our primary rescue company for several months in order for the repair process to play out.
AAR prompts changes
An after-action review was conducted a few weeks after this incident. The review ultimately motivated the department to look into adding a blocking apparatus to incidents on major roadways inside our jurisdiction. 
The policy was spearheaded by our deputy fire chief, who referenced some of the resources mentioned later on in this article. The policy was then vetted through our command officers, with any additional input or changes routed through them.
In a nutshell, a second fire apparatus (engine, truck or rescue company) was automatically added to any reported MVC on designated roadways. The second apparatus blocks the incident scene and primary response apparatus assigned to work the scene. The crew of the blocking apparatus deploys traffic cones, acts as spotters and coordinates with other responding agencies (i.e., police) to help control the scene. Of course, if the crew is needed to help mitigate hazards, treat patients or provide any other needed assistance, they can do that too. But traffic control and scene safety are the primary job.
The policy shift coincided with an update to our computer-aided dispatch (CAD) system. The update needed to first identify roadways that required the second apparatus. The policy listed multi-lane, high speed-high-traffic roadways within the city. This update was completed with the assistance of our policy department's supervisor over dispatch.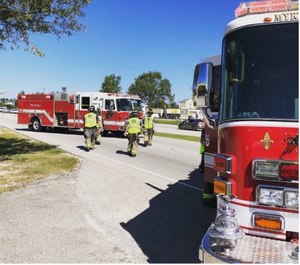 Education and other resources
There are several essential resources for first responders interested in learning more about scene safety.
The Emergency Responder Safety Institute is an informal advisory panel made up of public safety leaders with a mission to reduce injuries and deaths to America's emergency responders on our nation's roadways. The site is an encyclopedia of training resources, public education, engagement and awareness campaigns, plus updated and relevant and statistics, including near misses and incident reports. Further, the website offers training modules, broken down by topics, like discipline, and roles, like company officer or safety officer. There are also key documents, including NFPA 1091 and 1500. Additionally, templates for roadway standard operating procedures and guidelines (SOPs/SOGs) are available to help implement roadway response changes.
[Next: Watch Chief Bashoor speak to a firefighter roundtable in "Helmets, Lights and Culture."]
The National Traffic Incident Management Responder Training is a great single-day course designed to educate first responders – and anyone working on roadways – about how to effectively manage roadway incidents. This course quickly became part of our promotional class matrix for our department. Many of our main points for our drafted response policy came directly from the information provided in this program. The class applies to emergency services, as well as participants from any organization that works on or near roadways. Case in point: The class I attended included site managers from a large asphalt company.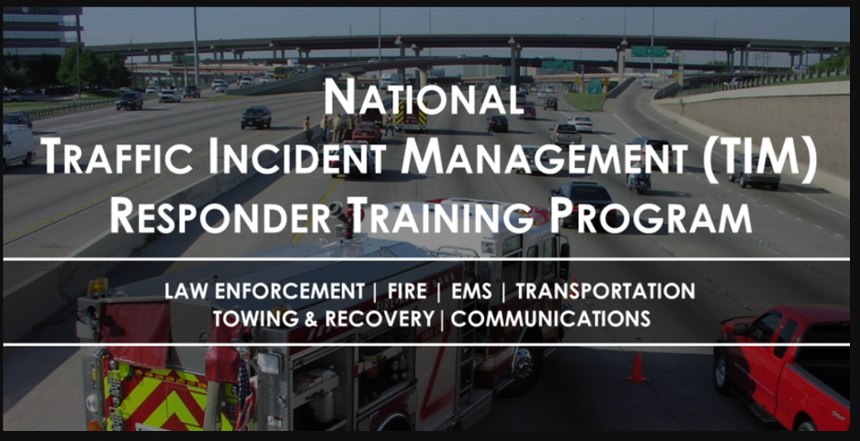 Here in South Carolina, we have the State Highway Emergency Program (SHEP), started through the South Carolina Department of Transportation (SCDOT). Although it was founded to assist motorists, the group is an outstanding resource to help control roadway emergencies that occur on state highways. For our department, the group provides assistance on Highway 17. They are contacted directly through our dispatch center. Their vehicles and crewmembers have the ability to deploy traffic warning signs and control measures, and they are even able to alert motorists via multiple social media platforms. On a local resource level, our police department employs community resource officers. They drive nearly the same type of vehicles as SHEP and are able to respond to assist on every roadway in the city limits to help with traffic control. Look and see if resources like these are available in your jurisdiction.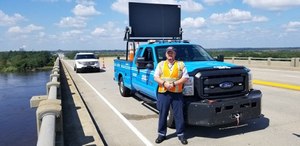 Worth the time and effort
Implementing the new response policy required some updating to our computer-aided dispatch (CAD) system, and some additional training for our dispatchers. It took about a year for the system to work how it was imagined with all of the critical components finally working together to identify the need for a second apparatus added to the incident. But it was worth it.
The potential for emergency services personnel working on roadways to be injured or killed is still real. Implementing a proactive response policy, and utilizing additional resources to either educate or assist your team members, will reduce these hazards. Your members are worth it.