Australian FF confronts 'false science,' 'outright lies' about bushfires on social media
Western Australia Firefighter Andrew Strunk addresses politics, climate change and firefighting tactics in a widely shared Facebook post
---
By Laura French
AUSTRALIA — An Australian firefighter took to social media this week to share his perspective on controversies surrounding the nation's current wildfire crisis, in a Facebook post that has been shared nearly 41,000 times.
In the post published on Monday, Western Australia Firefighter Andrew Strunk hit on several points that have been widely argued over amidst the rash of devastating bushfires that have killed at least 25 people over the last few months.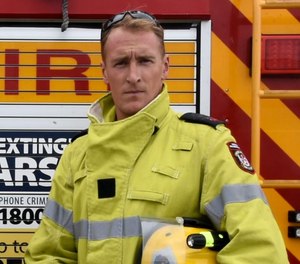 "I've felt a strong need to say something here because I just can't stomach some of the false science and outright lies being peddled on social media as news or facts," Strunk wrote.
The firefighter disputed claims that the Greens, an environment-focused major political party in Australia, were stopping hazard-reduction burns. Strunk said fire agencies are still conducting controlled burns and that state governments should provide more funding for the burns.
Strunk also struck back at claims that climate change is starting wildfires.
"Lightening strikes, people, negligence etc. is starting fires," Strunk wrote.
However, Strunk added that climate change was worsening fire conditions by contributing to increased temperatures and droughts.
"No, no one knows exactly how much climate change has contributed to exacerbating the conditions for this year's catastrophic fire season," he wrote, "however the best science available and scientific consensus is that there is an undeniable link."
Strunk also addressed aerial firefighting, saying that, in the future, Australia will need to invest in its own fleet rather than reliance on leasing from overseas. Additionally, he said recent videos of people "screaming" and "shouting" at political figures over the crisis, which have received widespread attention online, do not help to present facts about the causes of the fires.
The post concluded by encouraging readers to donate to the Rural Fire Service, Port Macquarie Koala Hospital and charities such as Red Cross, and ended with a message to those still battling the blazes.
"To all of my firefighting brethren back home in Sydney, the Blue Mountains and the whole east coast, both career and volunteer, I know you've worked harder in the last 6 weeks than you've ever worked in your entire life and I'm so immensely proud of you all," Strunk concluded. "Stay safe."
Alright. A lot of people have asked. I'm a Firefighter in Australia. Let's talk about the fires. First of all does...

Posted by Drew Strnk on Monday, January 6, 2020