21 stories that made us smile in 2021
Firefighters showed their kindness; devotion to family, animals and even food; and participated in some strange-but-true events
---
Sometimes you need a good-news story to brighten your day. Make that year.
While 2021 has been the kind of year that makes us yearn for some heartwarming tales, the good news is that it did, in fact, serve up some sweet stories that could make anyone smile.
Here are 21 news stories of 2021 that showcase generosity, family, love, food and, of course, some animal rescues. There's even a whale in the mix.
human KINDNESS
After Vista firefighter Andy Valenta was diagnosed with an aggressive form of cancer on Jan. 8, one of his fellow firefighters put out a call for help.
Within just three days, firefighters, friends and strangers had donated more than $80,000 for the 33-year-old Carlsbad native's family. Valenta's wife, Caylie, said the donations – which have since grown to $102,000 – have been a great comfort to her family in an otherwise very dark time.
Jerald Allison wanted one more ride in a fire engine.
The retired Muskogee fire department captain was overheard by residents and workers at Azalea Gardens Memory Care say that he wanted to take one more ride. One of those workers was Hope Hardesty, who also serves with the Okay Fire Department, so contacted her fellow firefighters to see what she could do.
So Allison, along with his wife, Val, residents of Azalea Gardens and members of two fire departments escorted Jerald outside to see four engines waiting for their special passenger.
A candid moment between a firefighter and a pediatric patient went viral after a Billings responder was photographed reading a book to a small child who had just survived a car crash.  
It's a Christmas miracle at the Taylor-Hill house.
Katrina Taylor-Hill said it started with a form from her daughter's school at the end of October, asking if the family needed any assistance with school or access to anything. No more than a month later did Newport Beach Fire-Paramedic Cory Freeman and Capt. Joe Harrison arrive, promising the family a Christmas that hadn't been in their household for years.
"It just felt like a complete blessing," said Taylor-Hill. "We're just thankful and so happy that people care still."
---
FAMILY First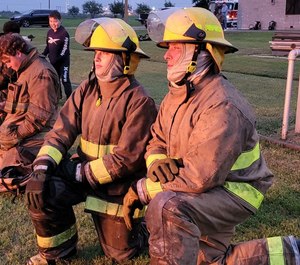 "He saw two Thompsons and asked if we're related," Billy Thompson said. "I said, 'Yeah, we're father and daughter.' He said, 'Oh, never had that before so that's kind of cool.'"
Both said they took different paths in coming to the decision to enroll in the course.
"When I was a senior last year I wasn't really sure what I wanted to do until I got out," Alexis Thompson said. "At first I was thinking about going to the military but I was also interested in becoming an EMT and decided to do that instead."
Billy Thompson said the idea of becoming a firefighter had been on his mind for some time.
Contra Costa County Firefighter Karl Taugher was heading to the hospital with his wife, who was in labor, when he realized they wouldn't make it to the hospital in time, according to WHDH. 
Taugher delivered his baby girl and called for Engine 22 and AMR Medic 3 crews to complete the transport to the hospital. 
"While Karl may have delivered his daughter, he's the first to admit that his wife did all the work and was the real MVP!" the fire department wrote in an Instagram post. 
Brandon Puckett and Heather Sutton's life as a married couple got off to an especially sweet start.
Puckett, an officer with the Cynthiana police, and Sutton, an EMT who works for the University of Kentucky, tied the knot at Donut Days Bakery on Southland Drive.
The couple had originally planned to wed in an outdoor ceremony, but Sutton said she grew nervous about that after looking at the forecast a few weeks ago.
So she asked the owners of Donut Days, Fred and Marie Wohlstein, if they'd be willing to host the wedding, and they happily obliged.
"You know police officers, they love the doughnuts," Sutton joked. 
Roanoke (Va.) Fire-EMS celebrated the graduation of its Roanoke Valley Regional Recruit Class #28 in May. And the department also had another reason to celebrate.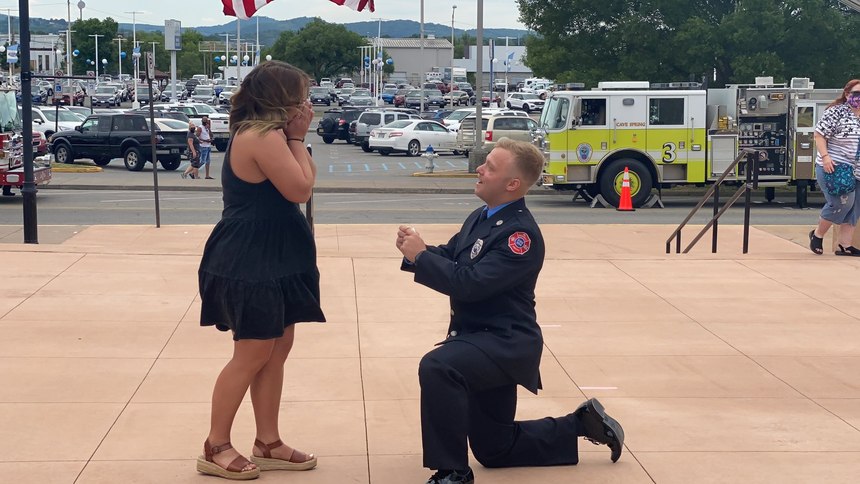 In April, the Orlando Fire Department shared that seven of its firefighters had recently become fathers. By mid-May, the number had more than doubled. The firefighters, their spouses and their little ones all came together to be featured on ABC News. 
---
FEEDING THE SOUL
 Jonathan and Matthew Burgess gained fame after participating in a burger contest in 2010, but it was their day jobs that caught viewers' attention.
Matthew is a California law enforcement officer and Jonathan is a battalion chief for the Sacramento City Fire Department. The friendly burger competition sparked an immediate passion, which ultimately led to the opening of their own restaurant in 2012.
Tow trucks from across the five boroughs participated in the second annual "Hero's for Heroes Run"  across Staten Island, honoring first responders.
The Run, organized by the Mariners Harbor-based J&J Towing Company, started last year amid the coronavirus (COVID-19) pandemic.
The bucket brigade isn't just for buckets of water anymore. Firefighters in Colorado used it to rescue 12-packs of Coors beer after a semi hauling the beer crashed in Silverthorne.
---
STRANGE BUT TRUE
Rochester Firefighter Oscar Herrera was riding the personal watercraft on the Irondequoit Bay when he saw the boat on fire, according to WHAM. Herrera maneuvered his Jet Ski toward the flaming boat, causing water to be thrown onto the blaze. 
Herrera told WHAM that he had seen videos of people doing the same thing on YouTube and thought he'd try it.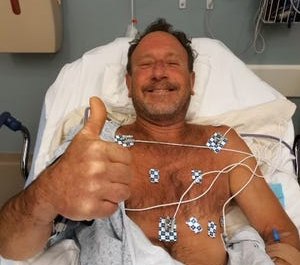 A Cape Cod fisherman is recovering after miraculously emerging without serious injuries after spending nearly a minute in the maw of a humpback whale who mistook him for a snack.
"I was lobster diving and a humpback whale tried to eat me," fisherman Michael Packard wrote on Facebook.
His physical recovery seemed to be going swimmingly.
---
ANIMAL RESCUES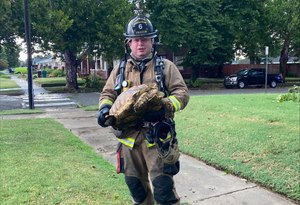 The Oklahoma City Fire Department was called to the fire, where two occupants had made it out safely, according to a Facebook post by the department. 
As firefighters were searching the home, they heard screaming coming from the back, the post says. 
Sure enough, it was a "large parrot" screaming for help — a parrot "who was more than happy" to see a rescue crew.
Escanaba Public Safety Officer Alex Moscatello found the 6-month old kittens hiding behind a couch. He says they weren't hurt but were covered in soot from the smoke-filled house.
"I had been thinking of adopting cats for a while and was waiting until I got a house, but they were sisters and I didn't want to take a chance of them getting separated," Officer Moscatello said. "They're very healthy now and they seem to love living here. I enjoy taking pictures of them."
When a kitten stuck in a pipe was brought to El Paso Station 2, multiple firefighters went to work, employing some creative tactics to free the pint-sized feline.
Video shows firefighters using a saw and dish soap to free the kitten, which was quickly returned to its owners.
"No injuries reported," reported the fire department.
Last night, a kitten stuck in a pipe was brought to Fire Station 2. B Shift crews quickly got into action to freed him.

After a successful extrication operation, the kitten was returned to his owners. No injuries reported.

🚒🐱 pic.twitter.com/CzEQk4B9VO

— El Paso Fire Department (@EPTXFire) September 28, 2021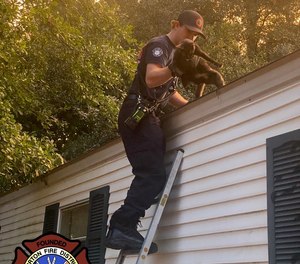 Burton Fire District rookie Cory Hagan's first rescue wasn't as daring as saving someone from a burning building, but it was plenty memorable.
Firefighters from the Burton Fire District responded to calls about a cat trapped on the roof of a mobile home, according to fire district Capt. Dan Byrne.
The cat, which does not belong to the people who live there, had been stuck on the roof of their mobile home since Sunday without food and water, Byrne said.
Huber Heights firefighters rescued an unusual feathered friend during a service call.
Crews safely removed a 48-year-old rescue macaw named Nash from a tree and returned the bird to her owners.
A photo of an "embarrassed" raccoon in the arms of a Dalton Fire Department firefighter went viral this week, and it's clear why. 
"You never know what the day is going to hold when you show up for your shift as a firefighter. Sure, there may be the occasional cat needing to be rescued from a tree, but a raccoon? That's a new one," the department wrote on Facebook.
The Frenchtown Rural Fire District got a new mascot Tuesday after firefighters responded to a house fire.
A 30-year-old parrot named Hollywood will live in one of the fire stations for the foreseeable future as his owners recover from a house fire. While the fire didn't ruin the structure of the house, it caused severe smoke damage. After extinguishing the fire, the district offered to house the parrot.
His cage placed between the Montana State flag and the American flag, Hollywood looks like he's earned a place of honor in the station.
"You should have seen the attention he got from the crew last night," said Mel Holtz, a firefighter and paramedic for the Frenchtown Rural Fire District.