Firefighters rally in DC to demand more regulation of toxic chemicals
"Now we know our own gear is part of that problem," IAFF General President Edward Kelly said about PFAS
---
By Leila Merrill
WASHINGTON — Firefighters, IAFF leaders and other protesters rallied Tuesday at the nation's capital to demand that the government do more to regulate toxic chemicals that harm communities and kill firefighters.
At the Scientists, Activists, and Families for Cancer-Free Environments (SAFE) rally, people marched to the Environmental Protection Agency's headquarters, some speakers talked about cancer clusters' appearances, and IAFF General President Edward Kelly discussed occupational cancer and PFAS in the fire service.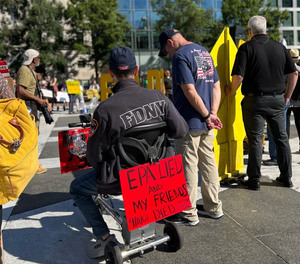 "For many years we thought our cancers were caused by smoke, off-gassing from burning combustibles, building debris," Kelly said, according to and IAFF news release. "Now we know our own gear is part of that problem. The very thing that is supposed to be keeping us safe is costing us our lives."
The IAFF and the Metropolitan Chiefs Association issued a joint statement in August advising their members of the health risks associated with firefighter turnout gear. The groups also offers advice on limiting exposure from the gear.
One of the firefighters at the rally, Jason Burns, former president of Fall River, Mass. Local 1314, said several members of his affiliate have developed and died from occupational cancer.
"We have a problem in the fire service, and it's not just my local, it's happening all over the country," Burns said. "Firefighters are dealing with cancer at rates we have never seen. I have seen too many widows and too many fatherless children now. I am no longer going to tolerate having these chemicals in my gear."
The Biden administration classified PFAS as hazardous, and the EPA recently issued guidance limiting the acceptable amounts of PFAS in drinking water.
"President Biden's actions will help us protect our communities," said Kelly.
Kelly urged the EPA to ban the production, sale, and importation of PFAS.