Sharing the lessons of 9/11 with the newest generation
Some of our newest members had not yet been born when the fire service suffered its darkest day
---
It has been 18 years since the attacks of September 11, 2001, and the loss of our 343 brothers.
Eighteen years.
That means our fire departments in the process of hiring new firefighters and bringing on volunteers who are at the hiring age of 18 are, for the first time ever, hiring members who were not even alive on September 11.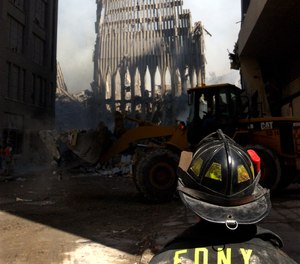 Today we look back at where we were, where we are, and where we still have to go to ensure that the impact and lessons are not lost on the newest generation.
My 9/11 experience
For me, the first word of the unspeakable horrors occurred at 8:55 a.m. while waiting for the swearing-in ceremony for our new chief, Ron Blackwell, at our County Administration Building.
We wore pagers, and those push-to-talk phones were all the rage. Everybody's started going off. This part is probably difficult for the newest generation of firefighters to understand. There was no social media back then to give us the scoop – only the ringing of the flip phones.
There would be no swearing-in that day.
As I responded north from the County Administration Building to set up our Emergency Operations Center, our fears of the unknown were heightened by the plumes of smoke we could see rising on our western horizon. Of course, we would later learn that this was the result of the third attack, American Airlines Flight 77 striking the western side of the Pentagon, less than 20 miles from our location. What was next?
As concerned as we were – and as we ramped up sending units to support the Pentagon response – it was truly unfathomable to watch what our brothers and sisters in New York were experiencing. Like a long TV horror movie, the scenes kept coming –bodies falling from the Towers, fire engines crushed in debris, building after building collapsing, Father Mychal Judge being carried lifeless back to a church. We'll never be able to erase these scenes from our minds.
Helping the newest generation understand the impact
Many of the newest members you're hiring today did not experience this trauma, nor the brotherhood and sisterhood that we experienced on September 11, 2001. It will be difficult for these members to fully comprehend that day, so we must do everything we can to prepare them appropriately.
With the events of 9/11, history handed our profession a seemingly insurmountable challenge – to learn where 3,000 others had died. Although we cannot bring back those who died that day, nor can we stop all deliberate acts of terrorism and/or destruction affecting our communities, we MUST make sure that those who remain here today – including the newest generation of firefighters – are better prepared to respond to and recover from similar attacks to which they may respond one day.
The events of September 11 exposed many fissures in our public safety and critical infrastructure façade. This is not to say that many amongst us didn't know of most of the problems that existed with interoperability, common terminology, protective measures, territorial disputes, and more; however, the events – like an epic earthquake – suddenly exposed the wide and deep differences that existed amongst our industry partners for the world to see. And we were forced to respond.
Communication, coordination and control
New York City's Office of Emergency Management was headquartered in 7 World Trade Center. The emergency communications repeater system, a vital communications link for the city, was located on the ground floor of 1 World Trade Center. Both of those buildings were destroyed in the collapse of the 20,000,000-plus square feet of office and commercial space.
There was a very public discussion of the significantly different radio systems used by the FDNY and the New York Police Department (NYPD). That fissure was exposed even further when we learned that even the Port Authority Police used a different system with different capabilities. Here were three primary response agencies that theoretically worked together every day, but couldn't talk to each other when it mattered most. Add to that the destruction of the critical communications repeater system, and communications was reduced to foot traffic for many.
As accustomed as we are to using our two-way radio systems, it is certainly difficult to imagine having to communicate face to face under the duress of the situations unfolding in New York, at the Pentagon and in the field in Shanksville, Pennsylvania. Even harder to accept was the disparity of radio systems that made seemingly routine communications between fire and EMS units impossible. While some took stock, warnings and orders of evacuation over radios, in many cases, went unheeded, unheard and unbelieved as UHF (police) and VHF (fire) frequencies were not interoperable, hampering interagency coordination. Still other warnings went uncommunicated because a different agency on a different network made the communication.
Beyond the ability to talk to each other, we continue today to struggle with territorial disputes, whether that be driven by municipal boundaries, legacy disagreements between fire companies, or disagreements over which radio system is best amongst troops that supposedly work side by side every day. A downed firefighter and Grandma Jones don't care where you come from – they care that you show up prepared, with the right equipment, to do the right thing, the right way, at the right time.
While I am aware that New York began to make strides in radio communications, I am also aware that the process became weighed down in struggles to agree on radio systems of choice across public safety disciplines. In my eyes, these are more territorial disputes over "who knows best" what will work for "my firefighters" than they are financial choices that many a politician or fire chief bemoans. The problem exists across the country and manifests in command and control through radio and equipment choices, and response policies.
And the challenges of territorial disputes before and after 9/11 are not limited to New York, by any means. While the response to the Pentagon created new and lasting change to some of the radio and response policy differences in the National Capital Region, there remain territorial response policies even there, affecting computer aided dispatch coordination and closest unit responses. Whether it's New York, Arlington, Virginia, or the fields of Pennsylvania, this is not a paid or volunteer thing – it's a service thing, that should be provided consistently through exercising industry best practices, including radio and CAD capabilities, station locating for effective response times, staffing levels and so much more.
Federal grant programs provide funding
Nationally, since 9/11, billions of dollars have been allocated and spent on improvements in radio systems, enhancements in protective clothing, development of new training programs and processes that focus on unified incident command and control.
While the Assistance to Firefighters Grant (AFG) program was initiated in 2000, it was nearly eliminated as federal budget discussions deliberated the importance of local responsibilities versus federal involvement. Jerry Brant, a senior grants consultant with FireGrantsHelp, explained that the driving force behind the program was the effort of Congressman Bill Pascrell of New Jersey and the late Senator John Mc Cain. The AFG Program, also known as the Fire Act grants, was established by Title XVII of the FY2001 National Defense Authorization Act (P.L. 106-398). 
Prior to AFG, there was no designated grant program for fire and EMS. There were small programs under the U.S. Department of Agriculture (USDA) and U.S. Forest Service (USFS) for rural fire departments, but the amounts were typically about $5,000 maximum per department every 5 years.
In 2000, the first year of the AFG program, $100 million in grants were distributed. With a new administration taking office, there were calls to eliminate the program. The mood in Washington at that time was cut the budget, and the Fire Act grant was one of the items being discussed for elimination. After all, fire and EMS funding was a local issue in their minds.
As Congress debated the AFG programs, September 11 struck.
The program was reenergized in 2002 to the tune of $360 million, increasing exponentially to $746 million in 2004. For fiscal year 2019, AFG if funded at $350 million. Over the course of the AFG programs' 19 years, $8.3 billion has been allocated. An additional $4.2 billion has been allocated through the SAFER grant program for staffing, with additional monies for fire prevention and a one-time authorization for fire station construction in 2009.
These funds have provided ample money for many departments to hire personnel, enhance volunteer programs, and to convert VHR and UHF radio systems to digital and trunked systems. Many departments have taken advantage of the grant programs; however, there remains disparity between organizational philosophies of the "best" communications systems, accountability programs, and incident command protocols. One would think that with over $13 BILLION spent on fire and rescue departments across the country, that we wouldn't still be debating these issues.
There have been various improvements to the public safety arena since 911, including an enhanced look at standards and broader best practices, including the federally developed FirstNet network. While not a radio system fix, the recent expansive rollout of the FirstNet network promises to enhance cellular connectivity and productivity for first responders.
Social media changes the game
Another major shift in communications during emergencies is social media. You'll be able to share this article in a matter of seconds across multiple platforms, instead of waiting weeks for it to show up in your mailbox. Social media also creates challenges for chiefs when one of these unthinkable events happens – instant worldwide attention at your fingertips.
In times of crisis or disaster, people can now use social media to mark themselves safe, giving friends and loved ones and extra sense of assuredness. People will naturally also use social media to share what they are experiencing and to follow the experiences of others.
Such instant information can both help and hamper response efforts. On the one hand, public safety officials may be alerted to incidents through social media and even be able to track intel. On the other hand, the intel could be inaccurate or alarmist, and officials have to work to stay in control of the message reaching community members.
Fire and EMS departments can use social media platforms to provide important and accurate information to the community about emergent situations. Emergency services in New York didn't have any of these platforms available for communications during 9/11 – fax machines, email and flip-phones was it. Our ability to communicate with each other has vastly changed in these 18 years.
Key takeaways – 18 years later
Taking a step back, these are some of the critical points to consider 18 years after 9/11 – points that the newest generation should understand as well:
Unprecedented capital and personnel investments have been made in fire departments across the United States.
Public safety agencies should be employing seamless digital radio systems that allow interoperable communications.
Social media has dramatically impacted the message we deliver and the speed with which we deliver it – the sooner we can get in front of it, the sooner we can control the facts of the message.
Work remains to be done to focus service delivery more on what's best for our firefighters and communities, and less on what's territorially expediate.
Further, there is significantly higher awareness today in the areas of cancer and suicide prevention. There has never been a time in our service where more tools or resources were available to firefighters to deal with these issues.
Final thoughts
It is fair to say there's been significant progress since 9/11, in equipment, procedures and process, personnel hiring, and grant availability. For all the progress made, there are still clearly fissures of divide between law enforcement and fire/EMS services in many areas across the country.
As I called for in my article about the fire service's next "giant leap," it is time for a federal solution to our widely disparate fire and EMS industry training and service delivery systems. From radios to automatic-aid policies and volunteer retention to hiring practices, we have a long way to go to bring our fire and EMS services to a point where our budgets and territories don't define us as much as our mission statements and service provisions.
We must not allow the 550-plus firefighters and EMS personnel who have died between 9/11 and now to have died in vain. "Never Forget" is MUCH more than a slogan, and for those coming after us, it should be a rallying cry for progressive change.