Ore. county FFs donate $20K to local food banks
Lane Professional Firefighters, the local firefighters union, donated the money to two different food banks to assist those in need during the pandemic
---
The Register-Guard
The Register-Guard, Eugene, Ore.
Lane County's firefighters came together to gift a $20,000 to local food banks last week to help assist families in need during the COVID-19 crisis.
Lane Professional Firefighters, the local firefighters union, delivered a check for $17,500 to Food for Lane County on May 4, and an additional $2,500 will be donated to Florence Food Share.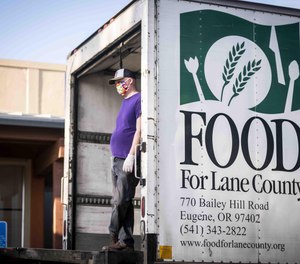 "As firefighters and paramedics, we often serve as our community's last line of defense, whether facing fires, traumatic events, medical emergencies, mental health emergencies, or weather emergencies," the union stated in a press release.
"The current COVID-19 pandemic is an emergency of a different kind ... Firefighters also saw an opportunity to respond to increased demand for food support in the communities we serve," it stated.
———
©2020 The Register-Guard (Eugene, Ore.)
McClatchy-Tribune News Service