Audi files 2 patent requests for fire prevention technology in EV batteries
Future electric vehicles may include a battery cell shut-off feature and an onboard extinguisher
---
By Leila Merrill
FireRescue1
HERNDON, Va. — Audi has filed for two U.S. patents for fire prevention features within the lithium batteries in its electric vehicles, Carbuzz reported.  Audi could use the features in its Audi e-tron, its all-electric model.
When a single cell in a battery pack operates outside of its neighbors' temperature and output ranges, it becomes a fire risk. Since the cells are connected in parallel to make up a battery, the problem can be difficult to detect in time.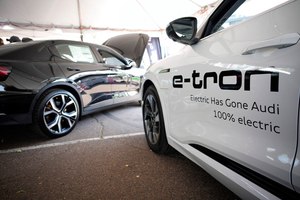 A patented battery control solution can identify and isolate individual battery cells, based on information gathered by cell-mounted sensors. This system can detect whether a cell is functioning within its safe temperature- and output range, and if there is a fire risk, switch off the individual cell or cells.
The second patent functions as the next step in fire prevention.
If the cell cutoff is not sufficient and the battery control system detects a fire risk, it will flood the battery pack's interior with a flame-extinguishing agent before a fire can start.
"If the onboard fire extinguisher runs out, a possible supplementary feed line from an external extinguisher reservoir may make it easier for firefighters to control a potential blaze," Carbuzz reported.
---

Read next
Electric vehicle fires: Where the waiting game wins
Firefighters love testing new tactics and tools, but some methods simply don't address the key issue with EV fires
---