Fla. fire rescue must hire back lieutenant accused of medical negligence, arbitrator rules
The arbitrator said the lieutenant's firing was unfair because three other medics involved in the incident were only suspended
---
Anastasia Dawson
Tampa Bay Times, St. Petersburg, Fla.
TAMPA, Fla. — The evidence against him is "clear and convincing," an independent arbitrator ruled.
But it still wasn't fair for Hillsborough County to fire one Fire Rescue medic while only disciplining three others who failed to transport or even check the vital signs of a mother who suffered a fatal stroke days after giving birth via Caesarian section.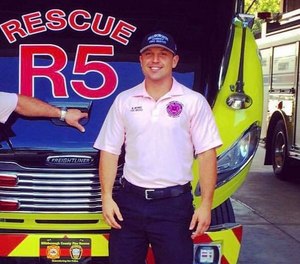 County Administrator Mike Merrill testified in recent arbitration hearings that a significant factor in his decision to fire Lt. John "Mike" Morris while merely suspending the others was the "lack of remorse" shown by each Fire Rescue employee. But Morris in particular was "extremely arrogant," Merrill said.
"In fact, he said he would do everything again in the same way and that he can tell just by looking at a patient what they need," Merrill told the Tampa Bay Times the day Morris was fired. "I think that's horrendous and so that weighed heavily in my decision to terminate him."
Morris' firing in September 2018 followed months of investigations into Fire Rescue's 13-minute response to a call for help at the Temple Terrace home of Crystle Galloway, a mother of three who was exhibiting symptoms of a severe stroke on July 4, 2018.
Galloway's mother, Nicole Black, alleges in a pending lawsuit that the fire medics were dismissive of her daughter's request for an ambulance ride to the hospital and said Black should drive her there herself. Later that night, Galloway was airlifted from another hospital to Tampa General Hospital and fell into a coma. She died July 9, three days shy of her 31st birthday.
The story attracted national media attention amid revelations that the fire medics violated multiple policies and protocols. Ultimately, Merrill issued a public apology to Galloway's family for the county's "lack of care and service."
But arguments from the firefighters' union were enough to convince arbitrator Stephen Owens that Morris was the victim of "disparate" treatment when he was dismissed from his job. In a ruling published at the start of the new year, Owens ordered the county to give Morris his job back — but only after he serves out a reduced punishment of suspension without pay, like his colleagues.
Officials declined to share details of Morris' impending return to work, citing Black's lawsuit. Lawyers are currently gathering statements in the medical negligence case, which argues that the fire medics' inaction resulted in Galloway's death, records show.
In depositions and sworn testimonies, all four fire medics described violating multiple policies and procedures during the 13-minute call to Galloway's Temple Terrace apartment — then reported that the call was cancelled or checked boxes that said "no patient was found." Owens, the arbitrator, noted that Morris made false and conflicting statements while under oath about why the fire medics failed to transport Galloway to the hospital or even take her vital signs.
Owens agreed that the county proved "just cause to support a significant degree of discipline on account of his failure to meet his responsibilities as a Fire Rescue Lieutenant." But multiple reviews found that all four fire medics were culpable for the multiple violations of county policies and procedures that night — not just Morris, Owens wrote.
At the time, Morris had achieved all "excellent" performance reviews in his six years at Fire Rescue. He had a nearly unblemished discipline record apart from once being "counseled" for denting a county vehicle. Before joining Fire Rescue, the arbitrator noted, Morris served honorably in the U.S. Army for five years, completing multiple tours in the Middle East.
"Lt. Morris' employment record was exemplary by all standards," a union attorney argued in his arbitration brief. "The employer allowed emotions and political optics to enter into the final decision."
In his ruling released in late December, Owens noted that Merrill consulted 10 advisers before deciding how each of the four employees should be disciplined. All 10 recommended that all four should lose their jobs.
Instead, Owens wrote, Merrill followed the county's "principle of progressive discipline," giving three of the four the opportunity to "correct their behavior and continue their careers with HCFR" by dolling out a lesser penalty.
Acting Lt. Cortney Barton, 38, and fire medics Justin Sweeney, 36, and Andrew J. Martin, 28, were all suspended without pay for 10 shifts, or 240 hours.
Sweeney also received a demotion to firefighter/EMT status. And Barton, a 10-year veteran of the department, was deemed ineligible to act as a lieutenant for one year, after which she must retrain before taking on any supervisory position.
But Merrill and other county officials argued that Galloway's care was ultimately Morris' responsibility. He was the senior employee who responded to Black's 911 call for an ambulance after she discovered her daughter unconscious and drooling in the bathroom. Under Fire Rescue protocol, that means it was Morris who "failed to perform the most basic function of his job" when he let Galloway's mother drive her to the hospital without ever checking her vital signs.
When the fire medics were dispatched to her apartment that night, the call was tagged "stroke/cerebrovascular attack." But instead of assessing Galloway's vital signs, or taking her to the hospital, they simply carried her down from her third-story bedroom to her mother's car, records show.
On the way to the hospital, Galloway began having seizures. Doctors determined she had suffered a stroke resulting in an aneurysm and acute subarachnoid hemorrhage in her brain. Galloway was airlifted to Tampa General Hospital, where she slipped into a coma six days after giving birth to her third child.
———
©2020 the Tampa Bay Times (St. Petersburg, Fla.)
McClatchy-Tribune News Service