Wildland-urban interface fires: How to prep the public and firefighters
Fire chiefs offer tips for mitigating and responding to the WUI fire threat
---
As emergency responders in Alberta were evacuating 80,000 residents and battling a massive wildland fire, Fire Chief Kathy Clay was thousands of miles away giving her scheduled presentation on wildland-urban interface preparation.
Clay, battalion chief for Jackson Hole (Wyo.) Fire and EMS, spoke to attendees at the Congressional Fire Service Institute's annual symposium in Washington, D.C. Getting residents to take the WUI threat serious and to take preventive measures is a tough sell, so the timing for her presentation couldn't have been better.
For Chief Clay, her department's greatest blessing has been among its biggest curses. Jackson Hole boasts a record of never losing a home to a wildland fire. And that, Chief Clay said, gives residents a false sense of security.
Compounding this problem, she said, is the fact that those in Wyoming are not big fans of rules and regulations. The area is also very affluent — the joke being that the billionaires are forcing out the millionaires.
So getting more stringent fire and building codes is near impossible.
To get around this, Chief Clay has been giving defensible-space and fire-resistive building presentations to area architects. She'll present to any architectural firm that will have her, even if it means doing it over lunch, she said.
And that has been working. But, she said, it is also important to continue educating people of the real threat and major incidents like the Alberta fire are good conversation starters — even for an area that's never lost a home.
She said she has been very clear with residents and builders that she will not put firefighters at risk to protect properties where the design increases the threat. If a home is built back in the woods with one way in and out, we'll not be sending firefighters there until the fire passes, she said.
Meri-K Appy, with Vision 20/20, said one way to improve communication with residents and municipal leaders is to avoid fire service jargon and "insider baseball" speak. Terms like "wildland-urban interface" are instantly understood by all firefighters, but mean nothing to most civilians.
Chief Clay and co-presenter Chief David Moore, with the International Association of Wildland Fire, also talked about the importance of properly equipping firefighters, who mainly fight structure fires, for WUI fires. That starts with not sending them out to fight a wildland fire in structural turnout gear.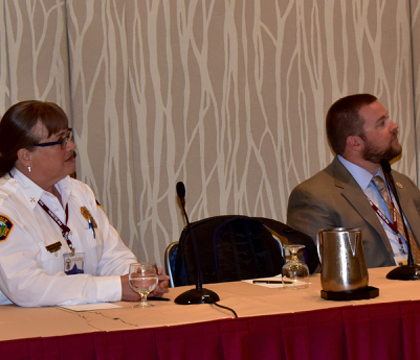 "It's important to know when to wear what," Chief Moore said.
A typical wildland shift can last from 12 to 16 hours, he said. Wearing structural firefighting boots and turnout gear will exhaust and overheat firefighters. Wildland PPE is lightweight and designed to protect against flying embers.
Cost is often cited as a reason for not buying both wildland and structural PPE. However, Chief Moore said, a set of wildland PPE costs only about $300. Some departments have moved to a dual-use PPE that can be used for everything except structure and vehicle fires.
Beyond PPE, municipal fire departments can alter their tactics to gain the advantage on a WUI fire. For example, checking the weather can save a lot effort. If it is going to rain later that day or the next, let nature put the fire out, Chief Moore said.
Another option is to let the fires burn until they reach a natural break, such as a road or highway.
As WUI expert David Driscoll recently said, nearly every urban and suburban community has some interface fire threat. And while it may never reach the scale of the Alberta fire, communities need to prepare.