Colo. bill that would limit medics' use of ketamine advances in state Senate committee
EMS, fire and police representatives testified before the committee saying ketamine is important for first responders' safety
---
By Laura French
DENVER — A Colorado bill that would limit the use of ketamine by paramedics passed in the state Senate Judiciary Committee on Monday following testimony from first responders and a man who was administered ketamine. 
The bill would prohibit the use of ketamine by paramedics to incapacitate a person in police custody "absent a justifiable medical emergency," adding that excited delirium "or any acute psychiatric diagnosis not recognized in the most recent edition of the Diagnostic and Statistical Manual of Mental Disorders is not a justifiable emergency."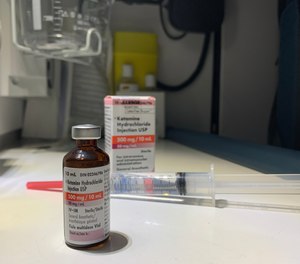 The bill would also require paramedics to weigh the patient prior to the administration of ketamine or have two trained EMS providers agree on an estimated weight to ensure accurate dosage. The option to estimate a patient's weight was added as an amendment in the House Judiciary Committee after EMS representatives argued the requirement to weigh a patient on a scale would effectively eliminate pre-hospital ketamine use. 
Additionally, the bill would require paramedics to have training in advanced airway support, have equipment to manage respiratory depression, monitor the patient's vital signs and be able to provide emergency transportation when ketamine is administered, according to the Associated Press. Paramedics will also be mandated to record any complications from the drug. 
Under the bill, police officers could receive a penalty of up to 18 months in jail, a $5,000 fine and loss of their certifications if they direct or influence a paramedic to administer ketamine.
The legislation was inspired by the death of Elijah McClain, who died in 2019 after being put in a chokehold by Aurora police and then being administered ketamine by Aurora fire paramedics. A coroner ruled McClain's cause of death undetermined, but an independent report commissioned by the city faulted police and paramedics for errors during the incident. 
EMS, fire and police representatives testified before the Senate Judiciary Committee in opposition to the bill, saying that ketamine is needed for first responders' safety in a volatile situation. They argued the bill could hamper communications between EMS providers and police due to fear of criminal penalties. 
Denver Health Chief Paramedic Gary Bryskiewicz told the committee that first responders can be put in danger while treating "uncooperative and violent patients" if they are forced to use "slow-acting options" for sedation instead of ketamine, according to the Associated Press. 
Law enforcement representatives said in a statement they believe the bill will make officers fear being held criminally responsible for paramedics' actions if they express a patient's need for emergency medical care. 
A man who was administered ketamine during a police encounter, Jeremiah Axtell, also testified to the committee, saying he was injected with the drug by paramedics while restrained on a stretcher and after telling police several times that he would be cooperative. Axtell stated the incident has had a lasting negative effect on his health and that he doesn't believe ketamine should be forced on someone in any circumstance. 
The Senate Judiciary Committee approved the bill, which will now go to the Senate Appropriations Committee. The bill was passed in the state House earlier this month. 

Listen next
The future of ketamine in EMS and how it could change
In this episode, our co-hosts discuss the use of ketamine in EMS and new legislation that may restrict its use, as well as the broader implications of legislators weighing in on EMS practices

Read more
Why every firefighter-paramedic must know the story of Elijah McClain
4 reasons the ketamine-focused case should serve as a wakeup call to first responders