'Yesterday's crazy is today's obvious': Electric apparatus in the fire service
Having seen the units in person, it's time to address some common naysayer reactions
---
"I wish things were the way they used to be."
You've all heard the refrain – probably more times than you can count.
Recently I was on the periphery of one of those discussions about "the good ol' days" when we rode the back step. One chief made the tongue-in-cheek point that trash companies still have their haulers riding the back step, "So why not us?" I noted that many trash-haulers now have reduced staffing on their trucks by implementing robotic pickup. The conversation quickly shifted to something else.
Perhaps I struck a nerve with the "good ol' days" crowd.
I continued to think about how the trash companies have streamlined a significant portion of their business in a way that not only reduces the necessary staffing but also the potential for employee injury. Let's also reflect that many trash-haulers have converted their trucks to alternative fuel sources, like natural gas and hydrogen, with electric on the horizon.
Are trash companies more progressive than fire departments?
Electric apparatus: Moving past the hyperbole
The good news: There is an avalanche of technological advancement streaming through our industry. One of these advancements – and a flashpoint in discussion – is electric apparatus.
Three manufacturers have been showcasing their entries into the EV market lately – two in-service units and one spec unit:
Pierce Volterra – Madison (Wisconsin) Fire Department
Rosenbauer RTX – Los Angeles Fire Department
REV Vector – spec unit
It won't surprise you that there have been hundreds of online comments focused on these apparatus – some constructive, some misguided, some fear-based, and some rooted in the hyperbole of days-gone-by. Fortunately, I was able to cut through some of the hyperbole by taking an in-depth look at these three units on display, and speaking with both manufacturer representatives and a few of the chiefs involved in the deployment and evaluation of the apparatus.
Madison (Wisconsin) Fire Department's Pierce Volterra pumper
Madison Fire Chief Steve Davis and staff spent time at FDIC detailing their experience working with Pierce Manufacturing on the city's Pierce Volterra zero-emissions pumper, assigned to the city's busiest station, Station 8.
While referring to the Volterra as a "traditional fire engine through and through," Chief Davis spoke to the fire department's contribution to the City of Madison's many sustainability initiatives. Davis commented: "Pierce's Volterra electric pumper allows us to keep an environmentally conscious focus on reducing emissions while maintaining our traditional pumper configuration without impacting our operational procedures. We are eager to lead change by responsibly supporting our environment together with achieving our critical daily missions."
Pierce continues to monitor Madison's use and to develop the technology based on Madison's experience. The savings on fuel has been undeniable, with the city saving $1,500 monthly. The increase in electric cost was not available at the time of this writing.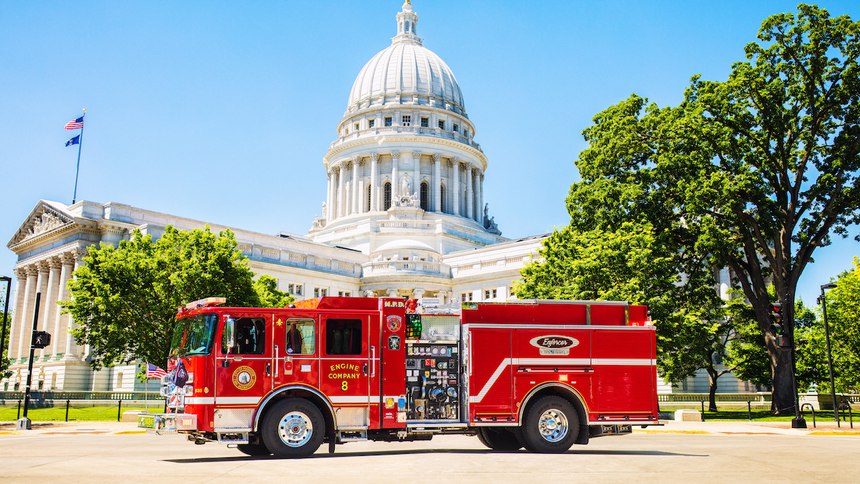 My observations of the Volterra reflect Chief Davis's comments about the apparatus looking like a traditional fire engine. While there is a much smaller "dog-house" where the engine housing would normally be, the remainder of the unit is very traditional to what you would expect.
It is important to note that none of the units have been deployed in the field with anything larger than a 550-gallon water tank. Further, it is easy to understand how the reduction in engine-noise will create a dynamically different and inherently safer (less noise) experience for firefighters riding the unit.
We will all be following this unit's deployment, and I will be particularly interested in the testing as water tanks and ladder trucks (heavier weight) can be tested.
[Read more: Wis. fire department boasts country first electric fire engine in active service.]
Los Angeles Fire Department's Rosenbauer RTX
While Madison was the first known deployment of an electric engine in the United States, the City of Los Angeles Fire Department was the first fire department in the United States to purchase an electric fire engine, taking delivery of the hybrid Rosenbauer RTX in May 2022.
Purchased for approximately $1.2 million, the LAFD unit is assigned to one of the City's busy interface-area stations. Speaking to LAFD Chief Crowley at the Metro Chiefs conference, she commented how the unit not only benefits the environment but will also reduce noise for the firefighters. She also detailed how the unit is safer for firefighters mounting and dismounting the unit.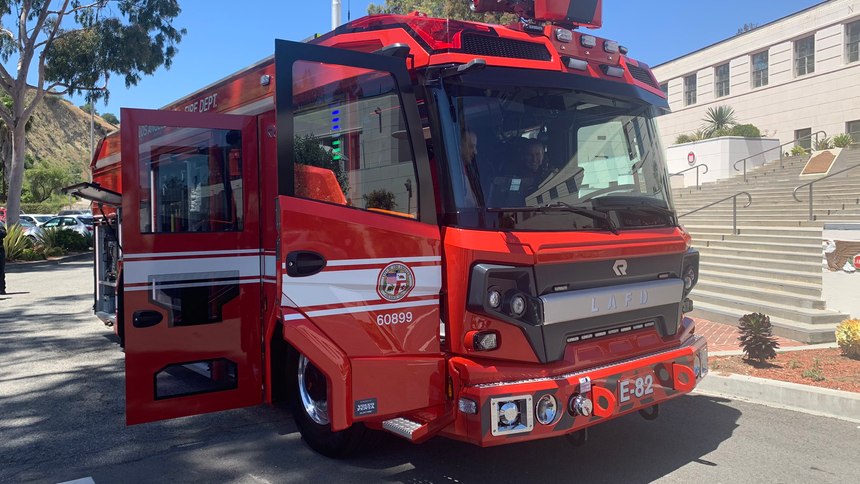 I was able to tour the unit with REV National Fleet Sales Manager Nic Kirvida who explained many of the in's and outs of the unit. As a highway safety advocate with the Emergency Responder Safety Institute, I was particularly interested in two aspects of the RTX that were unique among the three units observed.
First was the variable four-height-operation options. Similar to the air-ride lowering for ambulances or buses, the unit would normally be lowered to a very comfortable 7-inch clearance during "operation mode," providing for easy and safer access. There are three other heights: 10-inch drive-mode, 14-inch off-road, and 19-inch wading mode so the apparatus can be raised during high-water scenarios.
Second was the absence of the engine "doghouse," which, combined with the motor-home swivel-style driver and officer seats, allows for both the driver and/or the officer to easily maneuver to the other side or through the full-height crew compartment for a safer roadway side access/dismount.
[Read next: 'It's here': LAFD chief announces arrival of first electric apparatus]
Future deployments
While all three units are being actively marketed across the country, the price point remains high, and many in the fire service continue to stand back and wait for the verdict while the new options are being evaluated. And more units will be under the microscope soon.
The Mesa (Arizona) Fire and Medical Department was the first to order REV's Vector truck. The spec Vector also debuted this year at FDIC. I attended the reveal ceremony and was excited to talk about the new technology with REV engineers. Similar to the Volterra, the Vector maintains the traditional look/feel to which American firefighters are accustomed. While there are nuanced differences to battery compartmentation and drivetrain configurations, the Vector looks and feels similar to the Volterra. Remaining agnostic to the brand, the two appear to be highly complex and functional additions to the fleet.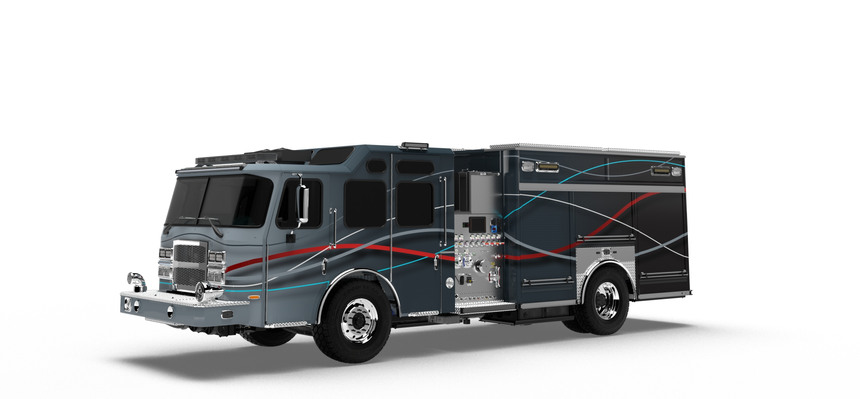 Additionally, the City of Portland, Oregon, will soon be field-testing a Pierce's second Volterra deployment. Like the Madison unit, Portland will be evaluating the Volterra unit under an agreement with Pierce.
I spoke with Jim Johnson, president of Pierce Manufacturing, who was effusive with optimism about the pace of changes like electric-power affecting the industry. Johnson commented that the Portland experiment would introduce terrain and different environmental conditions to help continue the evaluation for a better product.
Lastly, in December 2021, the Rancho Cucamonga (California) Fire District announced that it too has purchased a Rosenbauer RTX engine. The specifications appear similar to the LAFD unit, and we will, of course, monitor the progress of this unit as well.
Addressing the naysayers
It's great to look to the future and consider what might be, but it's also important to acknowledge the cacophony of comments that have permeated news and analysis articles plus social media posts since the introduction of these apparatus – many of which are quite skeptical if not downright negative.
Here are some of the more negative comments from the skeptics, plus my responses based on my observations from all three entries in the field. I will also direct you to Michael Benson's back-to-basics EV article: "Your top electric vehicle questions, answered."
"EVs cost too much": At these introductory pricing levels, I agree! My first recollection of the cost of a new fire engine goes back to the early 1980s. I was flabbergasted at the $125,000 cost for that new partially equipped engine. In today's market, you're lucky if you can find a good certifiable used engine for $125,000. With traditional new diesel-powered engines in roughly the $500,000 to $900,000 range, the $1.2 million experience in Los Angeles will be cost-prohibitive for many fire chiefs and city governments to accept. And this doesn't include the potential $200,000 cost for charging infrastructure in stations.
It doesn't take much to look back at the electric passenger-car market to understand that the vehicle and charging systems will most likely come down in cost over time and increased deployments. Many of our firefighters today are driving electric passenger cars while they're off duty, charging them at public charging stations while at the grocery store or plugged into their home's electric system.
It's also important to reflect on both the diesel cost savings and vehicle emissions reductions that will be undeniable from the use of these EVs. At $1,500 per month savings for ONE engine, it is easy to see how the fleet savings can add up.
"They'll never work in a busy area": It's easy to understand firefighters' anxiety with losing power and functionality in the middle of a firefight. I suggest that we take a breath. This isn't something that hasn't already been addressed. After all, what happens when your current unit runs out of diesel fuel on a long-duration incident? You refuel it before it runs out.
As Benson explains in his EV refresher piece: "When considering whether an EV will work at your department, you need to look at how far and how long you operate your fleet vehicles. The EVs coming out this year and in the next few years have long ranges (200-400 miles), but you may find you only need to drive 100 miles or less on a single charge. Your response district and mutual-aid responses will dictate to you how much range you need."
"The hosebed on the RTX is too high": I agree. Lowering hosebeds has been a firefighter desire for many years, providing a safer and more efficient hose-loading system. I suspect we'll see future models with somewhat lower hosebed arrangements. The Vector and Volterra hosebeds are lower and more traditional in appearance.
"Replacement batteries will be cost-prohibitive": I've heard some say battery replacements will run from $25,000 to $100,000, but let's face it, this is no more costly than $75,000 to $150,000 for diesel engine replacements, so I'm not sure this is a reasonable fear. As has been the experience with other technology, I suspect size and prices will come down for batteries as the industry continues to evolve.
"Battery systems are too vulnerable to side-impact crashes": Some will argue this point by correctly noting that current battery compartments are also vulnerable to side impact wrecks. And while they are correct, those batteries cost a lot less than an EV battery. I spoke with all three of the manufactures about battery placement and, generally speaking, I'd say all three have placed battery compartments in the center-mass (above frame rails in the traditional builds), in as safe an arrangement as can currently be made.
"I can't get past the Euro look": The age-old discussions of helmet styles, three-quarter boots, back steps and apparatus color come to mind here. Personally, I have no-issue with apparatus appearance. After all, appearance has never put out a fire. Let's focus on what matters here.
"I don't like the rear pump setup": Personally, I have never been in favor of rear-pump operations, mostly due to driver exposure in roadway environments. There are plusses and minuses to every arrangement you can come up with.
Oddly enough (or perhaps not odd at all), I have heard many similar complaints before about various non-EV fire apparatus over the past 40-plus years. Funny how that happens.
Change is knocking …
Let's face it, change can be hard. While I won't paint electric fire engines as a fait accompli, a few of them are certainly here now and likely to continue gaining momentum.
I'm a fan of renewable energy and conservation efforts in general, where practical. The reduction in diesel fuel costs and contaminates is undeniable, and I am excited about the opportunity to be a part of this particular evolution within the fire service. Does this issue consume my psyche? No, but I am a fan of having options, especially when they are good for firefighters' health! It is our responsibility to be good stewards of our business, of the public trust, of the environment and, most importantly, the safety of our members and the communities we serve.
A professionally exercised evaluation of these units will undoubtedly bring more clarity to the pros and cons of implementing EV technology. Using those evaluations as an opportunity to refine and improve the tools in our toolbox, yes, that's our responsibility, too.
Paul Darley, CEO and president of W.S. Darley, recently referenced the quote, "Yesterday's 'crazy' is today's obvious." Many have opined about the "crazy" changes, like the push for electric apparatus. Well, the trial is still ongoing, and the jury is still out for many, but mark my words, the final verdict will not be measured on whether you begrudgingly give in to the European look or the ecological change to battery-operated options. The final verdict will be measured by our ability to continue providing cost-effective services to our communities, by our ability to improve our members' health and safety, and by the measure of quality of life and environment we leave for those who come after us.
Change is knocking at the door – and it's not crazy… it's obvious!
---
Read next:
Your top electric vehicles questions, answered
As the automotive industry revs its engines for EVs, questions remain for some fire service leaders

Request product info from top Fire Apparatus companies
Thank You!