Ohio fire, EMS departments to buy body armor
Fire chief said protective gear will allow first responders to treat patients more quickly in an active shooter situation
---
MENTOR, Ohio — Fire and EMS departments in Ohio are buying body armor to keep its firefighters and paramedics safe in active shooter situations.
NewsNet5.com reported firefighters at the Mentor Fire Department have all been trained to wear and use ballistic vests and helmets. The department bought the equipment after a school shooting in 2012, where three students were shot and killed.
"Unfortunately we've had more and more occur throughout the country, nationwide, we're first responders, we are going to try to get in once police enter," said Battalion Chief Ronald Zak.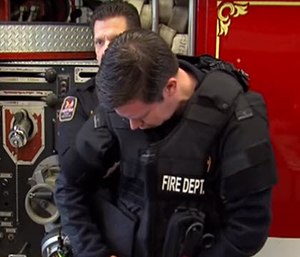 Lyndhurst Fire Department is also one of 16 Ohio departments participating in a task force program for active shooter events.
"The fire department and EMS providers, we used to wait until the whole scene was secure, now we will go in with police officers and start treating victims right away," said Lyndhurst Fire Chief Mike Carroll.
Chief Carroll said his department applied for a grant to help cover the expense of the body armor.
"It's not a matter of if, it's when it's going to occur. And it may not occur in the city of Lyndhurst, it may occur in one of the neighboring communities, and we are going to be responding there," Carroll said.